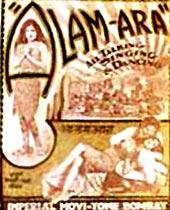 Eighty years ago, Indian cinema achieved a landmark on this day when director Ardeshir Irani made Alam Ara, the first ever Indian film with sound. The film also marked the beginning of filmi music.

Alam Ara was first screened at the Majestic Cinema in Bombay on March 14, 1931. It ran for two hours and four minutes, and used a Tanar Sound System to record the dialogues.

Irani recognised the importance that sound would have on the cinema, and raced to complete Alam Ara before several other contemporary sound films. The film was based on a Parsi play written by Joseph David. David later served as a writer for Irani's film company.

The film starred master Vithal, Zubeida, LV Prasad and Prithviraj Kapoor.

A period fantasy, the film was about an ageing king of Kamarpur, and his two queens, Navbahar and Dilbahar, and their rivalry when a fakir predicts that Navbahar will bear the king's heir.

The movie and its music were widely successful, including the hit song De de khuda ke naam per, which was also the first song of the Indian cinema, and was sung by actor Wazir Mohammed Khan, who also essayed the role of the fakir in the film.
The film was shot mostly in the night to avoid capturing the noises of the day. Alam Ara was made using microphones that had to be hidden from the camera's range.

The film, however, may be lost forever as three years ago, the Information and Broadcasting ministry official revealed that no prints were available with the National Archives of India. The last existing prints were destroyed in a fire at Pune's National Film Archives in 2003. A search was conducted across the country but no print of Alam Ara could be found.

India's first talkie film seems destined to stay silent forever, and its only place will be in the history books.