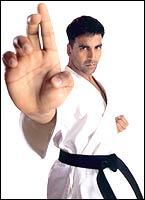 I'm not here to lecture or write a book, but to make you aware of something that can change your life as it has changed mine. I owe everything I am to martial arts," said Akshay Kumar nee Rajiv Bhatia, the khiladi who has played many roles and won rave reviews, like in the recent Khakee.
The actor-turned-television presenter for the National Geographic channel's seven-part mini-series, Seven Deadly Arts with Akshay Kumar, was the perfect spokesperson at a press conference at Mumbai's Taj Land's End recently. As the National Geographic channel's senior vice-president Dilshad Master put it, "He was credible, authentic and entertaining."
"My passion for martial arts goes back to my early teens when I went to Bangkok to master them," Akshay explained. "My father insisted I learn [martial arts] when I was nine years old. Even today, I practise for two hours. It disciplines me. Martial arts is not just about violence and fighting, but about the power to change your life."
The mini-series will see Akshay play master and learner as he introduces viewers to each of the seven arts — Shaolin kung fu, karate, taekwondo, aikido, muay Thai, capoeira and kalaripayattu.
Conversant with taekwondo, karate and muay Thai, Akshay will spar with practitioners of these art forms while playing student as he learns from masters of the other four arts.
"We had many inputs from Akshay," Dilshad Master said. "Despite our research, he pointed out stances or expressions that were incorrect. Although we approached him with much trepidation, his support has been overwhelming. If he said he would be ready to shoot at 6am, he would be there 10 minutes earlier, ready to begin. He even recommended photographer Subi Samuel for our still shoots when we were considering flying down one of our photographers from Washington, DC."
Dressed in white shirt and black jeans, Akshay hoped the series would dispel some of the myths associated with the martial arts. "A few days ago, someone told my friends he was a black belt in kung fu, but they did not know there are no black belts in this art, only three levels — student, disciple and master. Through this series, I hope to educate and motivate people to take up this art form. No one is too old. Where I learnt, the oldest newcomer was 78 years old!"
The actor shot for more than 40 days in Manali and Mumbai, free. "This is my way of giving back to the art that has taught me so much," he said, adding that he hopes to acquire at least two acres of land in Mumbai to realise his dream of establishing his own martial arts school.
Click here for
More Features