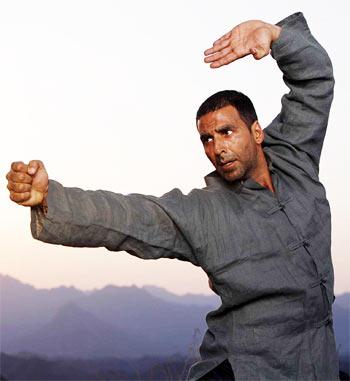 'My son Aarav recently asked: 'Whenever you are happy in a film, why do you start singing a song?' I didn't have an answer for him.'
Akshay Kumar discusses movies, martial arts and more.
Akshay Kumar is ready with his third release of the year, Brothers,, and this time, he gets to show off his martial arts skills.
Akshay, who will turn 48 on September 9, tells Sonil Dedhia/Rediff.com why he enjoys action sequences, and what his son Aarav thinks about his movies.
There are a lot of behind-the-scene videos of Brothers on the Internet. You seem to have enjoyed working on it.
Martial arts has always been my first love. I always call myself a stuntman first and then an actor.
I enjoyed working on Brothers. I was in my comfort zone shooting for this film.
I did intense training for around four months. It was really tough because the film is not about my character kicking around -- it's about the conditioning of the body. About 60 percent of the kicks and punches in the film are real.
Brothers is a remake of the Hollywood film Warrior. Have you seen the film?
I watched it, but that doesn't matter to me at all.
I have done a lot of remakes. Every person has his own take on a character.
Our film is similar to that film by only 40 per cent. The rest has been changed. The emotions in Brothers are totally different.
Salman Khan's Sultan and Aamir Khan's Dangal are about wrestling. Is there a trend in sports films?
I am glad people are making films on sports, especially martial arts and self-defence. That is the need of the hour.
There are so many other sports, besides cricket, like wrestling, kabbadi, football and hockey and they are catching people's attention.
I have always requested the government to make martial arts compulsory in schools.
I wouldn't be surprised if there's a tournament for Mix Martial Arts, like we have the IPL (Indian Premier League).
Why did you start learning martial arts?
To tell you the truth, I started learning it because of a girl (smiles).
A friend of mine was learning karate and he would impress a lot of girls. I would always feel ashamed that I couldn't do it.
I wanted to impress girls, so I decided to learn karate. Once I began learning it, I started loving karate more than the girl (laughs).
Later on, martial arts became a habit and an integral part of my life.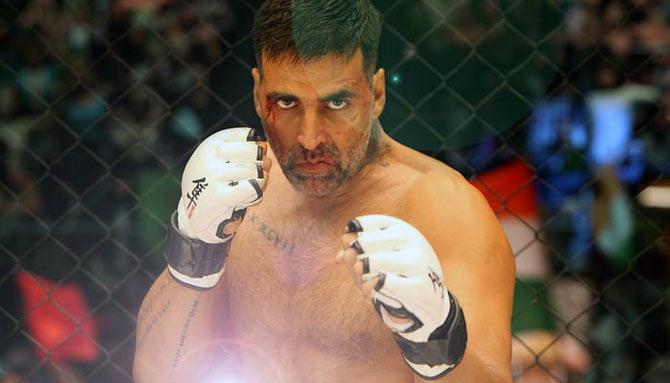 IMAGE: Akshay Kumar in Brothers.
At a time when your contemporaries are playing 25 year olds, do you think you playing your age in Brothers will set a trend?
I am not doing something to set an example. I am doing it because it is required.
Have you seen George Clooney hiding his age? No one in Hollywood tries to hide their age and people accept it. (Please click here to see the Hottest Stars at 50!)
Today, we are in an era where age doesn't matter at all. The audience is smart enough to love or hate a film.
My son Aarav recently asked me: 'Whenever you are happy in a film, why do you start singing a song?'
I didn't have an answer for him.
Sometimes I feel ashamed when he asks me certain questions.
What is your son's feedback on the Brothers trailer?
He wants to watch the film. I haven't seen him so excited about a film. He is learning martial arts, so I guess his interest in the film is more because of that.
When did Aarav tell you he wanted to learn karate?
I insisted on him learning karate.
I can teach him karate, but I did not because kids always to learn from other people rather than their parents.
Bacche humesha bolte hai na, 'Daddy, you don't know anything.' (smiles). According to my son, I don't know karate.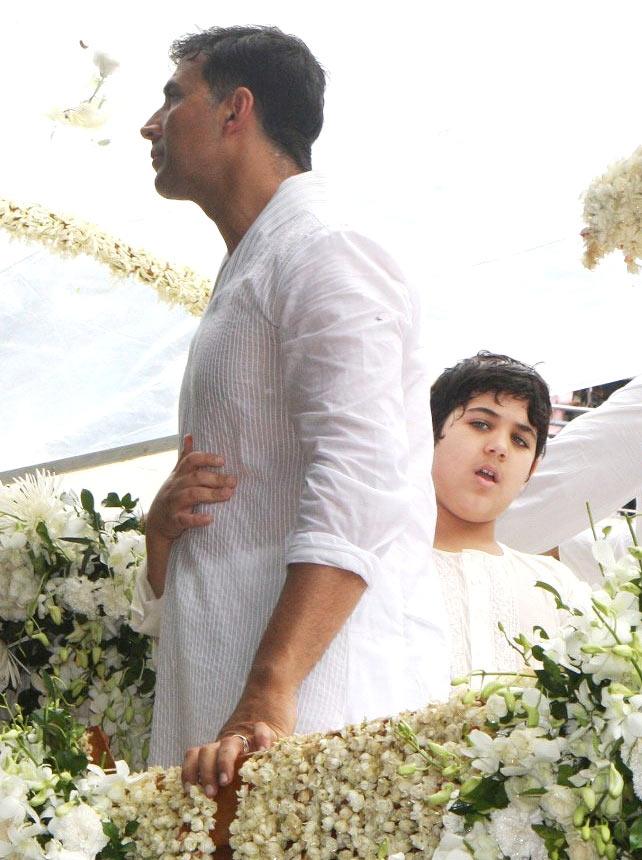 IMAGE: Akshay Kumar with his son Aarav.
What kind of relationship do you share with your son?
I share a great bond with him; he is my friend. He likes all my films, especially the action films. I am his superman.
He respects me as a father and doesn't take things for granted.
Any parental restrictions on what he watches on television?
I don't keep tabs on what he is watching. What is the point? They can go quietly and watch whatever they want.
Do you feel awkward if your son watches you romance a heroine on screen?
If I walk hand-in-hand with an actress, he would be comfortable. He is aware that it is a film, and my job.
In the past, action seemed more superficial than realistic. The trend is changing and now we see real action scenes. Do you agree?
You are absolutely correct. People want to see real action.
They want actors, rather than computers, perform by doing VFX sequences. The audience wants to see real six pack abs rather than actor artificially creating it through the computer.
You have done both kinds of action -- the superficial and the realistic kind. Which style do you enjoy?
I enjoy real action. But at the same time, we try to fulfill our audience's demands.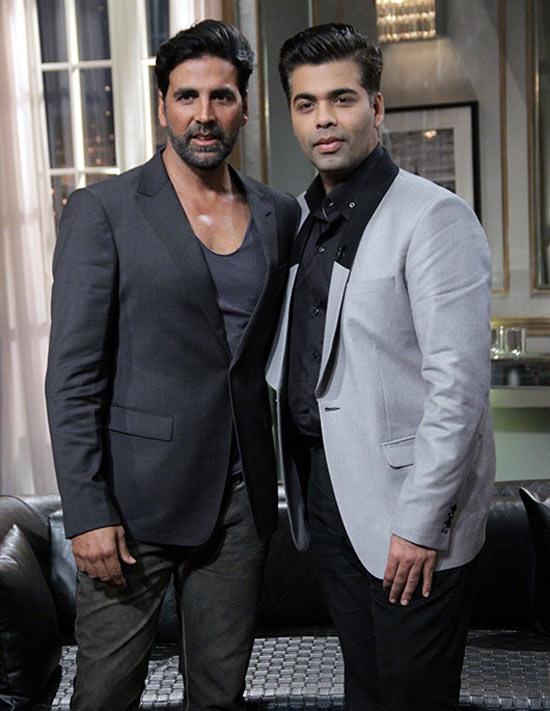 IMAGE: Akshay Kumar and Karan Johar on Koffee With Karan.
It's taken you a long time to work with Karan Johar, the producer of Brothers, one of your wife Twinkle's close friends. You were also hesitant about making an appearance on his chat show Koffee With Karan.
I am not hesitant about anything.
I was busy shooting and did not have time to go on his show. When I got the time, I did make an appearance on Koffee With Karan.
Also, for me to work in Dharma Productions, they need to offer me a role.
Are you saying Karan Johar never offered you a film before Brothers?
Yes, he has never offered me a film.
Housefull and Housefull 2 were directed by Sajid Khan. You will start shooting for the third installment, to be directed by Sajid-Farhad. Does that make any difference to you?
It doesn't bother me. Housefull is a franchise, produced by Sajid Nadiadwala. He decides the director.