It's not just the aam aadmi who has been feeling the corruption heat.
Corruption is the 'in' thing.
In fact, it has been in vogue ever since one can remember.

At times, it has been serious (New Delhi Times), at times it has been a satire (Jaane Bhi Do Yaaron) and at times thrilling (Nayak).

Now that Akshay Kumar is leading a crusade against corruption with his next release Gabbar Is Back, let's have a look at many such outings that Bollywood has taken.


Gabbar Is Back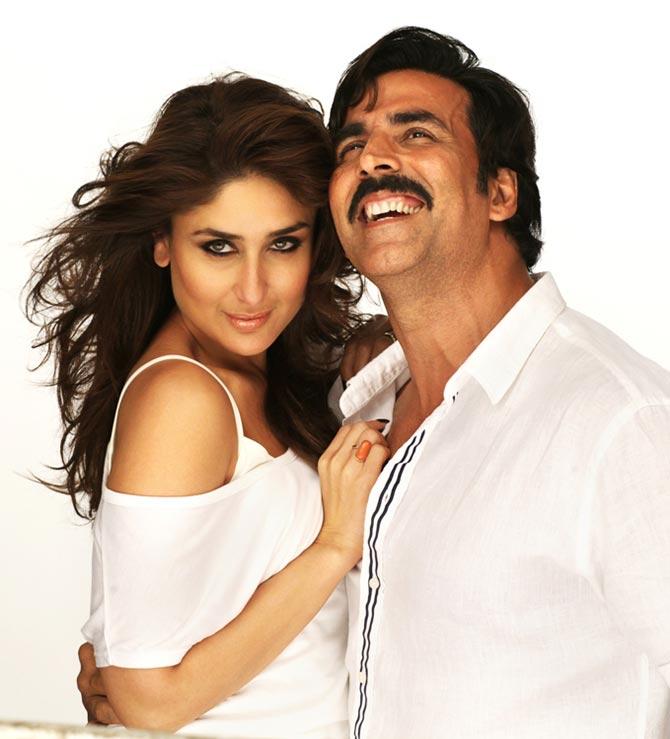 Image: Kareena Kapoor and Akshay Kumar in Gabbar Is Back.
Over the last four decades, Gabbar stood for everything that was evil in the society.

Amjad Khan made the character legendary with Sholay.

Now Akshay Kumar is giving a spin to Gabbar by bringing the 'aam aadmi' along with him in his fight against corruption.

Challenging things that are wrong at the grassroot levels, he is bringing an out and out commercial flick which is set to be a mass entertainer with a message.


Khatta Meetha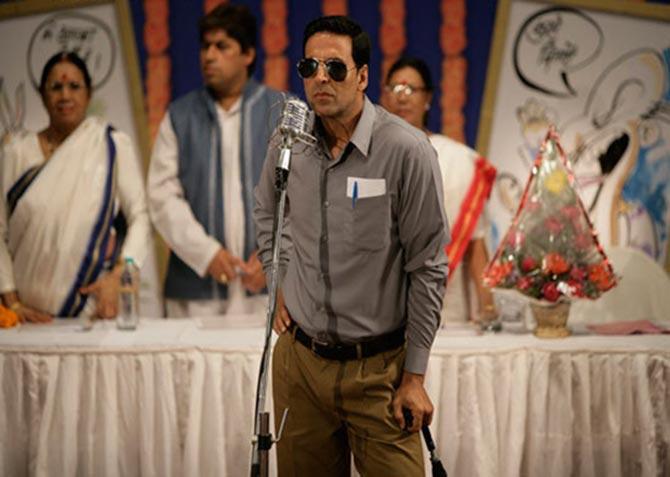 Image: Akshay Kumar in Khatta Meetha.
This isn't the first time Akshay has stood up against corruption.

He did so earlier with Khatta Meetha where along with Priyadarshan, he challenged the 'babu' system that prevails in the country.

A film, which started off as a light-hearted entertainer and went on to be serious as the narrative progressed, is still remembered for Akshay's tirade on using poor material for road construction.


Hindustani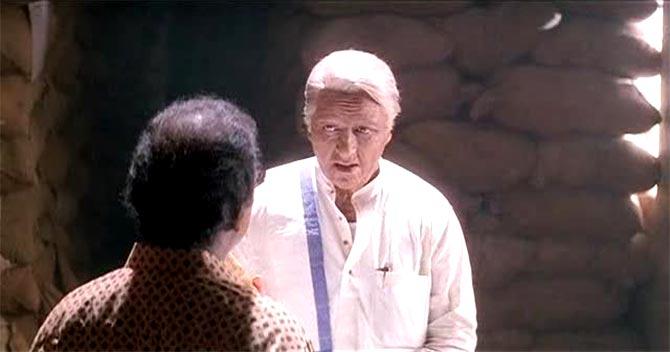 Image: Kamal Haasan in Hindustani.
One of the biggest films against corruption is still Hindustani.

Though director Shankar challenged the evil practice of bribe in quite a few films, his Hindustani managed to make an all-India impact with Kamal Haasan leading the show in a father-son double role, while also arriving in the dubbed Hindi version.

A hard hitting affair, it has enjoyed repeat viewings over the years.


Nayak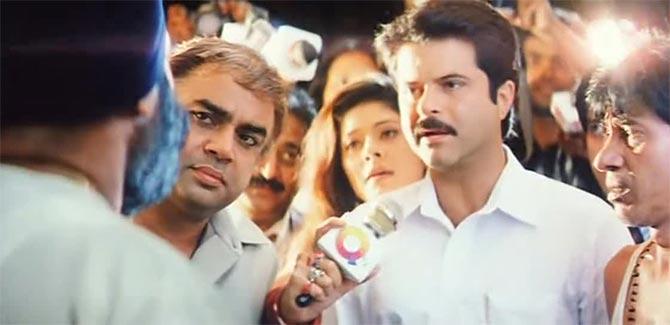 Image: Paresh Rawal and Anil Kapoor in Nayak.
As for repeat viewing, the one which could well score a record for being one of the top-five watched films on satellite television is Nayak.

The film stays on as Shankar's only Hindi venture so far, which unfortunately was a flop theatrically.

However, on the small screen, it enjoys an 'all-time blockbuster' status, with Anil Kapoor's duel with Amrish Puri on 'live' television never failing to bring on goose-bumps.


Lage Raho Munna Bhai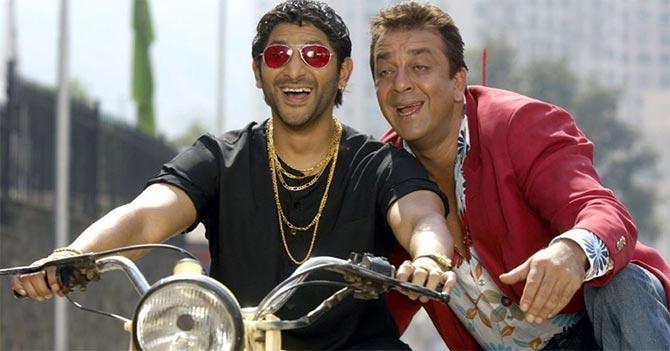 Image: Arshad Warsi and Sanjay Dutt in Lage Raho Munna Bhai.
A film that made a strong statement on anti-corruption, Lage Raho Munna Bhai is quintessentially a Raj Kumar Hirani affair.

With 'Gandhigiri' as the 'mantra' to solve all corruption, Hirani attempted to bring on a revolution in the Indian society.

His metaphor is 'Get Well Soon' is not just remembered, but even practiced till date in many quarters, hence giving the Sanjay Dutt-starrer good recall value.

Khosla Ka Ghosla
Image: Pravin Dabbas, Anupam Kher, and Ranveer Shorey in Khosla Ka Ghosla.
Anupam Kher is pretty much the face of the 'aam aadmi'.

And when it came to taking on corruption in saddi Dilli, it was Boman Irani who was chosen as the face of the national capital.

The two men impressed, and how, as they went about their cat and mouse game.

In his debut directorial outing, Dibakar Banerjee pretty much exposed the nexus between the police, law, politics, NGOs and social activists.

A fun, realistic affair.

Ardh Satya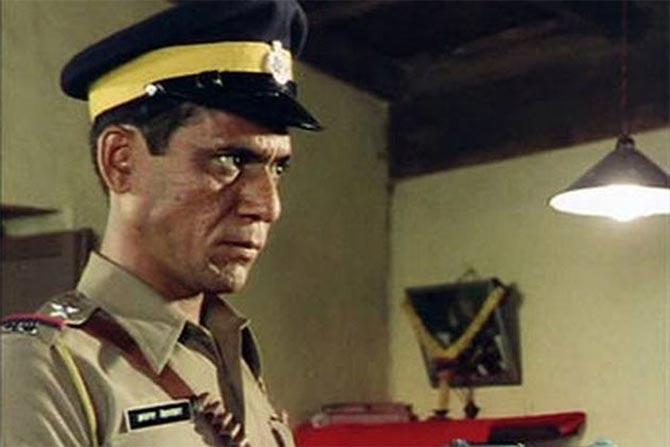 Image: Om Puri in Ardh Satya.
'Kal Aana' -- Just two words mouthed by Sadashiv Amrapurkar narrated the core of corruption back in the early 1980s.

Director Govind Nihalani told the plight of an honest cop (Om Puri) who crossed all barriers to arrest a mafia don (played by Amrapurkar) in his own den, only to be ridiculed and asked to come the next day.

The angst was pretty much on display in Puri's act who was almost on the brink of 'breaking bad'.


Well Done Abba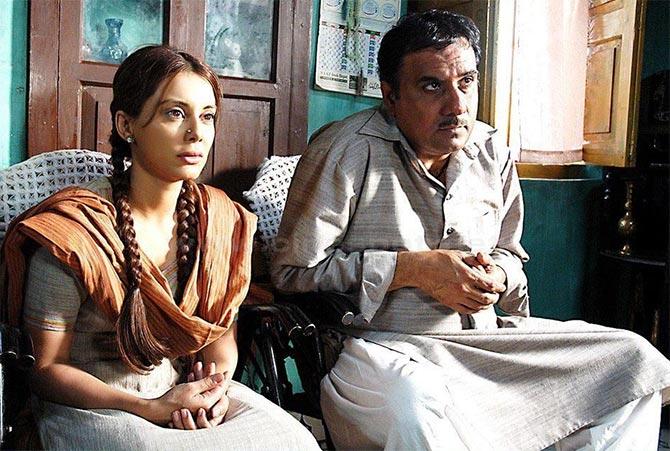 Image: Minissha Lamba and Boman Irani in Well Done Abba.
Shyam Benegal took a light-hearted route for his anti-corruption tale Well Done Abba.

This time around, Boman Irani was the victim instead of being an oppressor.

He found himself in a hopeless situation where a well was provided to him by the government, except that it wasn't there all all.

How he, along with his daughter (Minissha Lamba) went about getting his rightful due, formed the crux of the film.


Jaane Bhi Do Yaaron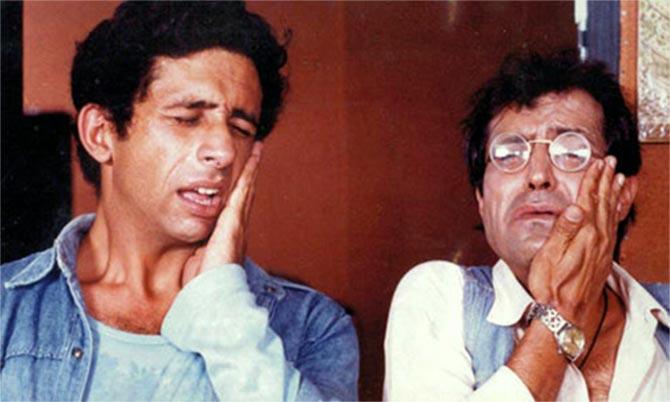 Image: Naseeruddin Shah and Ravi Baswani in Jaane Bhi Do Yaaron.
The mother of all anti-corruption films stays on to be Jaane Bhi Do Yaaron though.
No words can truly explain the kind of magic that the Kundan Shah film continues to weave even three decades after its release.

A classic affair, it took on the corruption in the construction business, government lobbies, media and even mythological tales.
A film that just got made despite all the hurdles, Jaane Bhi Do Yaaron makes for an untiring watch.

New Delhi Times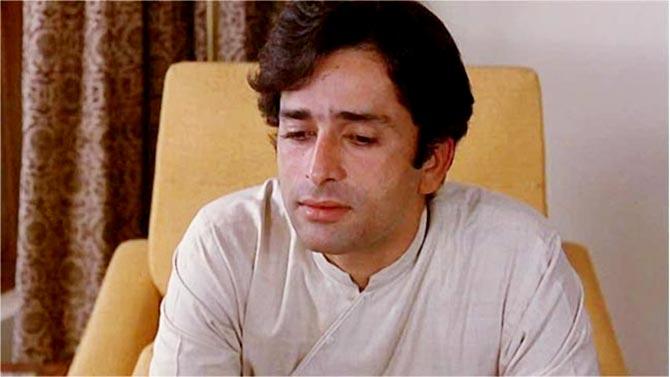 Image: Shashi Kapoor in New Delhi Times.
Another film that exposed corruption in media was New Delhi Times.
In the late 1970s and then during the 1980s, Shashi Kapoor had diverted his attention to bringing to fore some serious issues as well, and this film took many steps ahead in the right direction.

Written by Gulzar, the film was about a newspaper editor who exposes the politics-media corruption nexus.

The film fetched Kapoor a National Award for Best Actor.