'I may delude myself and say that I have made it on my merit, which I have to a certain extent. But at the end of the day, I have to accept had I not been my parents' son, no one would have known that I exist.'
'I would have had to start from scratch. It would have been far more difficult than it is now.'
'As much I'd like to say that I am not a product of nepotism, I have to accept the fact at some point, I am.'
'Had I been an outsider, I wouldn't have been sitting here now.'
Vivaan Shah gets ready for the fourth film of his career, Laali Ki Shaadi Mein Ladoo Deewana.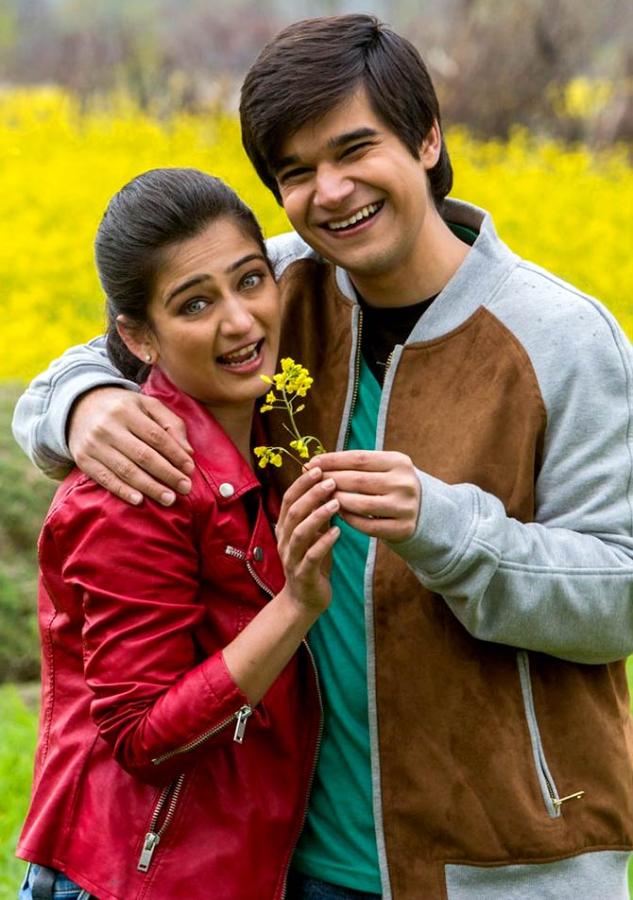 IMAGE: Akshara Haasan and Vivaan Shah. Photograph: Laali Ki Shaadi Mein Ladoo Deewana/Twitter.
Vivaan Shah is all set to romance his childhood buddy Akshara Haasan in their new film together, Laali Ki Shaadi Mein Ladoo Deewana.
The actor, who has done films like 7 Khoon Maaf, Happy New Year and Bombay Velvet, is quite happy with the films he's associated with.
He tells Rediff.com contributor Rajul Hegde about his upcoming film and much more.
You will be paired with Akshara for the first time.
Yes. We are childhood buddies.
Our parents worked on this film called Hey! Ram (Kamal Haasan directed and acted in Hey! Ram where Naseeruddin Shah played Mahatma Gandhi). Akshara and I became friends then. We were lucky to see how Hey! Ram was shot. The exposure we gained on the set is something we are grateful for.
We hit it off very easily and there's a natural camaraderie between us.
You dated Akshara for a while before you signed Happy New Year. Were there any awkward moments during the romantic scenes in this film?
Yes, we dated for a short period and parted amicably.
There was no awkwardness while the shooting. We have known each other for so long that it's beyond all that.
Actually, I manage to be on good terms with every relationship that I have had.
Tell us about your character Laali Ki Shaadi Mein Ladoo Deewana.
My character comes from a small town and works as a waiter. I like to play characters that are not affluent. I find them interesting.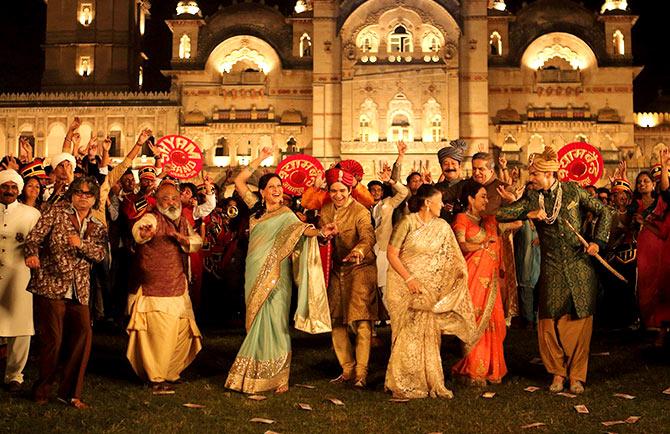 IMAGE: The cast enjoying a wedding scene in the film. Photograph: Laali Ki Shaadi Mein Ladoo Deewana/Twitter.
How was it working with Gurmeet Choudhary, Saurabh Shukla and Suhasini Mulay?
I am a huge fan of Saurabh Shukla's work. I did not know him personally before I did this film. Now, I am very close to him. It has been an amazing experience. He has a great mind and he taught us a lot. Akshara and I became his disciples.
Working with Gurmeet and Suhasini Mulay was a great experience too. She has worked with my dad and it's always fun to work with people you know.
Since this is a romantic comedy, how good are you at comedy?
Comedy is probably one of my strengths. I am better at comedy than drama.
Jim Carrey is one of my favourite actors. I am very influenced by him. He was my hero during my growing up years. I have been copying him since childhood. I try to do that brand of crazy, physical comedy.
Are you picky with your roles?
At my stage, one doesn't have the luxury of choosing work. I have to do whatever comes my way. I am just happy and grateful that I am getting work. I know better actors than me don't get the work they deserve.
You are doing diverse films. Is it a deliberate attempt not to get typecast?
Definitely! I avoid doing chocolate boy kind of roles. Most of the roles that I am offered are the teeny-bopper, rom-com type. Yet, this role in Laali Ki Shaadi Mein Ladoo Deewana has heart and soul, and has something to say.
Do you take your parents advice before signing films?
Yes. Both of them have an encyclopaedic knowledge of theatre, so I always consult them. Their advice is to be happy and grateful about the work you get. Also, don't plan and plot your career as it has its own graph and trajectory.
Nowadays, social media and PR has become so important. I still believe that the work should speak for you. Unfortunately, that doesn't work always. People have to go to social media in order to get visibility. You can't be reclusive in today's date because people might forget you.
Who is the biggest critic?
My mom. She is very critical and brutally honest about my work.
They have liked the three films that I have done but I get criticised often for my plays. It's difficult to earn praise from them (grins).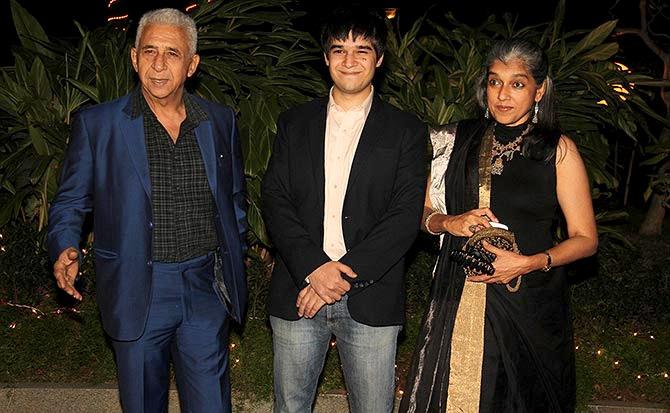 IMAGE: Naseeruddin Shah, Vivaan Shah and Ratna Pathak Shah at Farah Khan's 50th birthday bash. Photograph: Pradeep Bandekar
Since you come from a filmi background, is there constant pressure to do better?
Absolutely! It's a healthy motivational pressure. It pushes and motivates you to do better and make your parents proud.
In an earlier interview, you had said that you were confused about becoming an actor. After three films, do you think you are here to stay?
It goes without saying!
I have other interests as well like theatre writing, directing and producing but acting is my bread and butter. Had I grown up in Mumbai, I wouldn't have wondered (about acting). I would have probably assumed that I would become an actor. Since I grew up in boarding school, the career path was completely defined by academics. So I thought my studies would determine what I would do with my life.
I had that conscious rebellious thing I did not want to become an actor. But I don't know how it happened, it just did.
I am lucky to have gotten into this profession and blessed to have got the opportunity to do these films. I kind of stumbled into the movie business.
So films happened by chance for you?
Vishalji (Bhardwaj) has known me since I was a kid. We used to play cricket.
One day, he watched one of my plays. I was still in college then.
After the play, he came backstage and said he wanted me in his film. I thought he was joking because he said I would play a 45-year-old person.
He called me for an audition and it just happened. I pretty much owe my career to Vishalji. The studio was after him to get a known name but he said he wanted me.
Do you think you would have got that big break if you were not Naseeruddin Shah and Ratna Pathak's son?
I may delude myself and say that I have made it on my merit, which I have to a certain extent. But at the end of the day, I have to accept had I not been my parents' son, no one would have known that I exist.
I would have had to start from scratch. It would have been far more difficult than it is now.
Vishalji wouldn't have known me and I wouldn't have had that break.
As much I'd like to say that I am not a product of nepotism, I have to accept the fact at some point, I am.
Had I been an outsider, I wouldn't have been sitting here now.
Nepotism is nothing new, it exists everywhere. Film making is still a democratic business. But at the end of the day, talent counts, whether the audience accepts you or not.
Sarabhai v/s Sarabhai, the popular sitcom starring your mother is coming back on the web. Do you like the show?
I am a huge fan! It used to be one of our favourite shows. I have watched all the episodes.
My mom will appear with slightly older look this time (smiles).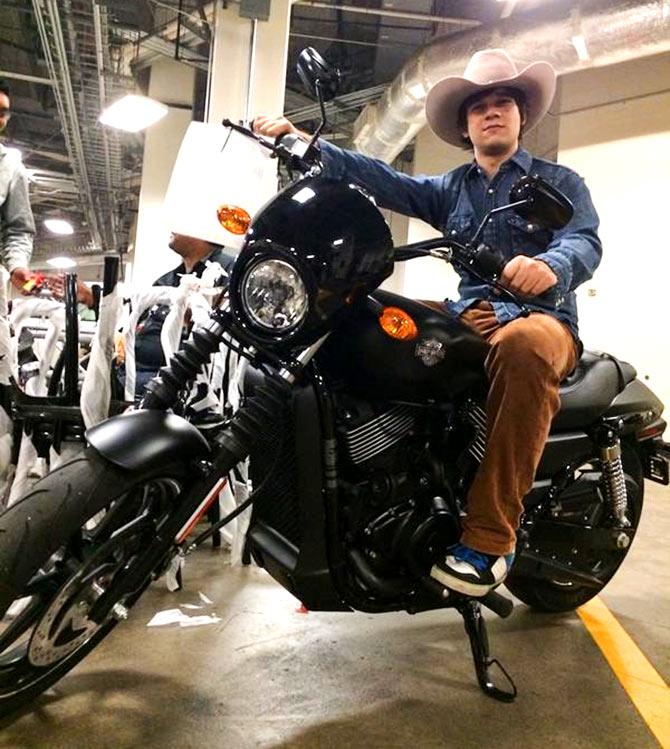 Photograph: Vivaan Shah/Twitter
What next?
I will play a voice expert in my next film. I'm training for that. It's an interesting process because I have to do a lot of things with my voice.
The casting is not complete. It's the remake of a Korean film.