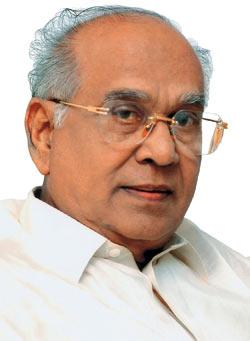 Akkineni Nageswara Rao was one of the people instrumental in bringing the Telugu industry to Hyderabad from Chennai in the 1990s.

Radhika Rajamani salutes the thespian, who passed into the ages on Wednesday, January 22.

Akkineni Nageswara Rao was one of the stalwarts of Telugu cinema, with more than 250 films to his credit. He did a couple of Tamil films as well.

He was equally at home in all genres of cinema -- historical, mythological, folk, adventure and drama. He lived and breathed cinema till the end.

Before he was diagnosed with cancer, he acted in Manam together with his son Nagarjuna and grandson Naga Chaitanya. With three generations of the family acting in it, Manam made history.

Akkineni Nageswara Rao, or ANR as he was popularly known, was one of the people instrumental in bringing the Telugu industry to Hyderabad from Chennai in the 1990s. He built his Annapoorna Studios in Hyderabad in 1976 and created infrastructure for films to be made here.

ANR was a recipient of many awards, the most prominent being the Padma Vibhushan and Dadasaheb Phalke.

ANR was simple, humble and courteous. At any public gathering, he would wish everyone present.

I had the good fortune to interview him many years ago about Ghantasala Venkateswara, the singer who sang his songs in films. He spoke highly of the singer for more than half an hour.

ANR was from Krishna district and acted in theatre before moving on to films. It is well known that Ghantasala Balaramayya asked him to work in films after meeting him at a railway station.

He dominated Telugu cinema for about seven decades.

Though he was not educated much, he could hold forth on any subject.

His versatility as an actor was amazing. He played women's roles in theatre and was equally convincing as simpleton, saint, alcoholic or lawyer in his many films.
He was the first actor to do double roles in Telugu films like Iddaru Mitrulu, Govulla Gopanna and Buddimantudu.
In the films of the 1960s, he played stylish characters that drank alcohol and smoked -- which, incidentally, he never did in real life. Of Devadasu, the venerable Dilip Kumar said that ANR was the best Devdas he had seen.
ANR was an atheist yet he acted in films with religious themes such as Vipranarayana, Kalidasu, and Tukaram, and later in Sriramadasu and Sriramarajyam. He also portrayed the role of Narada in Bhukailas and Chenchulakshmi.
Some of his good films include Devadasu, Gundamma Katha, Missamma, Mayabazar, Baatasari, Mooga Manasulu, Donga Ramudu, Aradhana, Sudigundalu, Meghasandesam, Premabhisekam, Seetharammaya Gaari Manavaraalu, Prem Nagar, Sri Krishnarjuna Yuddham, Dasara Bullodu, Amarasilpi Jakanna, Dr Chakravarthi, Illarikam, Anarkali, Vaagdaanam, Tenali Ramakrishna... the list goes on.
He acted with leading heroines, from Bhanumathi, Savitri, Sowcar Janaki and Jamuna to Jaya Prada, Jayasudha and Sridevi.
He did not enter politics like some of his peers.
His passion for films has passed on to his son Nagarjuna, grandsons Sumanth, Naga Chaitanya and Sushanth, all actors and actively involved with Annapoorna Studios.