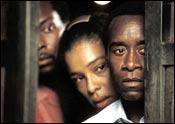 "One good man can defeat indescribable evil," director Terry George said a few days ago at the press conference for his low-profile film Hotel Rwanda at the Toronto International Film Festival.
He said he had made the film to show that "that human beings are a much more important commodity than oil or diamonds or silver or nuclear fission material."
"If we're going to mobilise huge armies, they should be mobilised for the salvation of people rather than the rescue of product," he said in obvious reference to the invasion of Iraq.
On Sunday, his well-reviewed film received yet another ovation.
Overlooking such enticing Hollywood movies such as Ray and the stirring Chinese martial art love story House of Hidden Daggers, audiences in Toronto chose the small-budget, little-hyped Hotel Rwanda as their favorite film at the 29th edition of the Toronto International Film Festival.
The award was announced on Sunday, the last day of the ten-day film festival which screened about 230 feature films from more than 60 countries.
High profile films at the festival, which draws large number of Oscar voters from New York and Los Angeles, create an instant Oscar buzz.
The film is being released in New York and Los Angeles by United Artists, a wing of MGM, to qualify it for the Oscars.
Based on the true story of a hotel manager who saved scores of lives during the genocide in Rwanda ten years ago that took nearly one million lives, Hotel Rwanda  was warmly received by audiences who gave it prolonged applause.
Past winners at Toronto include American Beauty, Life is Beautiful, and Shine; each won several Oscars.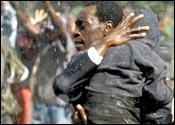 Don Cheadle's performance as hotel manager Paul Rusesabagina, who exchanged over 100 days cash and liquor to protect the Tutsis sheltered in his hotel won him strong reviews from major critics at the Toronto film event. The movie also featured Nick Nolte as the frustrated head of the tiny United Nations armed forces contingent. The role was a thinly veiled portrait of Canadian General Romeo Dallaire, who was frustrated by inaction at UN headquarters to halt the fastest genocide in Human history.
London-based George is known for scripting such politically sensitive films as the 1993 Oscar nominated In the Name of the Father.
Three years later, he made his directorial debut in the well received but little seen Some Mother's Son, based on the true story of the 1981 hunger strike in a British prison, in which IRA prisoner Bobby Sands led a protest against the treatment of IRA prisoners as criminals rather than as prisoners of war.
This year's Toronto festival had focused on African cinema that included Yesterday and Red Dust produced by Anant Singh who has been making anti-apartheid films for over 20 years.
"The past has many lessons to offer not only to the people in South Africa but also across the world," Singh told rediff.com
Rusesabagina, who was present at the press conference, spoke almost in a hushed voice about his experiences and how he felt he could be killed at any moment.
"I didn't think I would survive, and today I can see myself on a big screen," he said with a chuckle.
"Since 1994 I've been trying to convey a message," he said. "Maybe Sudan's problems might be solved. Maybe many other problems might be solved. This is kind of a wakeup call to the international community so that what happened in Rwanda must never, ever happen again."
Cheadle, who has played meaty roles in Rush Hour 2, Ocean's Eleven and Traffic, said he has never had as challenging a part as that of Rusesabagina in Hotel Rwanda.
Though it looked like the independently-produced film which cost about $5 million was going to be shuttered for lack of money, the morale of the cast and crew did not suffer, he said, because everyone believed that it was a worthy project. 
He also said though the film focused on Rusesabagina's heroism, it was also telling a bigger story.
"To try and get your arms around an entire genocide becomes overwhelming for people. Iif you take the specifics of Paul's story," he explained, "you can understand much more through that one story."
Winning the Discovery Award, voted by over 200 journalists from over 80 countries at the festival, was Omagh, revolving around the stories of relatives of the victims of a 1998 bombing in Northern Ireland, the bloodiest attack in the decades-old civil war.