Actor-filmmaker Ajay Naidu has completed his first production and directorial venture, Ashes. One can remember him from the audio of Jhumpa Lahiri's bestselling collection of stories, Unaccustomed Earth. You may also have seen him share the stage in New York with Ellen Burstyn, the Oscar and Tony winning actress in the play, The Little Flower of East Orange.
Naidu, 35, was born to Indian immigrants, in Evanston, Illinois, and was raised in Chicago. As an actor, he trained in Harvard. He has appeared in the film, Office Space, as well as Requiem For A Dream, Bad Santa, The Guru and Loins Of Punjab Presents.
He has a part in the upcoming, Accidental Husband, which costars and is produced by Uma Thurman.
His first big break came in the year 1986 in the film, Where The River Runs Black, set in the Brazilian Amazon.
Naidu has played a variety of characters over 20 years of his film career -- with roles raning from a comically disgruntled software engineer to a perfume expert to a South Asian gang member. In 2001, he was seen playing a wrongly accused man charged with terrorism on NBC's West Wing, which was billed as their most watched episode to date.
Of his directorial venture, Ashes, Naidu writes on his Web site: 'In a country obsessed with bindis, Bollywood, arranged marriage and masala as the defining factors for my community; this film represents the assimilated Indian community in the heart of the inner city. A world where money is king, survival is the only resort and race isn't the issue.'
Naidu discusses his work and much more with Arthur J Pais.
What lessons and career advice would you offer to an Indian American thinking of a career as an actor?
Get good training. If you are cut out for this business, there won't be anyone to tell you otherwise.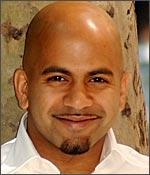 What was your mother's reaction when you told her that you wanted to be an actor full time?
I was a full-time actor before I turned 12. Her reaction was that if was going to be an actor, I should become the best actor I possibly could and to look at my work as work and not a hobby.
You are not a typical theatre person, some people may say. For one thing, your height could go against you, and then there is your ethnicity. Did these factors bother you?
You brought that up, not me. This business needs all types to tell truthful stories. It's in the presence and the talent not the physical frame. What is a typical theatre person, I wonder?
Are you a full-time actor, or do you take up non-acting jobs to supplement your income?
I do not have any other job.
How do you handle disappointments and success?
Disappointments go hand-in-hand with the good things. One really has to believe. Where one door closes, another opens. Resilience is the key -- and discipline, too.
You lost a sister to suicide, and I remember you telling me over a decade ago how difficult it was for you to overcome her death. Tell us about the healing process; perhaps your art helped you to heal yourself.
Her death was a very significant moment for me. I have made a film about some of the things she and I were going through. She was 28 and I was 21. It was extremely difficult to overcome the loss. She was my best friend and she always talked with me about everything openly. She was a filmmaker as well. We were always talking of what we would do later on in life. Both of us felt that Indo-American films were not reaching their goal. I believe that Ashes is coming at the right time for a truly rare yet fully universal story to be told.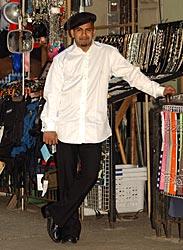 What would you tell the Indian American community about suicide?
I would say remember that is a physical act, and that often the pain that the person is going through is not something that any other person could possibly understand. That if there was a suicide that perhaps it was a liberation, at least the person does not have the same trials and difficulties as we the living have to contend with.
Tell us about the film you have just directed.
Ashes is a film about mental illness, drug use and greed. It examines how people can fall through the cracks in the healthcare system and how all of us in the world are medicated in one way or another.
Was it easy to make the film?
I faced extraordinary problems in the financing of the film until I realised no one would actually finance it without being able to tell me how to make it. Then I decided to find the means to make it instead of just trying to get the money. That worked better.
What would you tell aspiring filmmakers?
I do not encourage that kind of risk to the weak-hearted or for a story that is not personal. My next personal project is set during the state of Emergency, which then Indian prime minister Indira Gandhi, imposed in 1975.
Your character is called Dr Shankar in the play The Little Flower of East Orange, but you do not have the sing-song accent many Indian characters have in American movies and plays. Whose decision was it to make Shankar speak like an American raised here?
It was in the script. There was no indication of an accent and Stephen Guirgis, the playwright, said that the real Dr Shankar did not have one either; he was just a young hardened doctor out the New York system.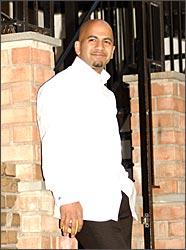 You play a doctor in this. And you were raised in a family full of medical people...
My father, who passed away some years ago, was a physician. My mother is a physical therapist and my brother has expertise in three subjects.
Did that help any way in playing a doctor in the play?
Yes. I am obviously drawing on years of visiting my father in the ER and hanging with my mother at her workplace as well. I am actually just playing my brother in the show. To draw the parallel between the doctors I have known and the doctor I play here was easy. But to inhabit the character was quite difficult. He is very different from what I am.
Tell us more about it.
When we play a character, we are trying to find a way not just to 'play' but 'inhabit'. What that means is an ease of portrayal that goes beyond technique and function. To leave no room for the audience to question the authority of the character. To 'be' someone for the audience as opposed to leaving any indication of 'playing.'
How did you get this part?
I did not audition for it. I was offered it.
How did that happen?
For one thing, Philip Seymour Hoffman and I shared the same manager many years ago. Secondly, Hoffman has directed several plays for Labyrinth Theatre Company, which had also produced my one-man show Darwaza about five years ago.
What was it about?
It looked at immigrant lives here connecting them to some lives in New Delhi. It combined characters in a mythical dreamscape between India and America. It was done through mask work, break dancing and mudras taken from the natyashastra and traditional clowning. 
How many characters did you play?
(Chuckles) 40. I played my father and mother too.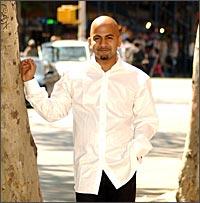 You have worked with a number of well-known directors. You have shared the stage with Al Pacino. And yet do you get occasionally overwhelmed working with someone like the director Seymour Hersh Hoffman [who directed Little Flower of  Orange]?
Not in the least. Because he respects the writer of the play and the actors. He would never allow an actor to embarrass himself. You can trust him implicitly. Good acting for Hoffman is an end by itself; it is seldom a means to achieve anything else. He will not allow you to do anything before the audience till he knows you have shaped up well. It is impossible to be cynical about anything when you are around him. In fact, I would say it is pure joy just to be around him.
You also share a few scenes with one of the most honoured artists of our times, Ellen Burstyn, who has won an Oscar and several Tony awards.
I am amazed at her talent and how she keeps active. She must be in her early 70s but we never feel we are watching someone that old. Her energy and generosity as an artist are wonderful. I learned from her that the quest for greatness never ends. Ellen is Indian in many ways: she is a qualified yogini of the stage if you want to put it that way. It becomes clear when playing with Ellen that if you keep your emotional channel open and free then that flower will never fail to bloom even after the excitement of youth in performance is gone. Actually, you learn being near Ellen that the learning never stops. Ever.