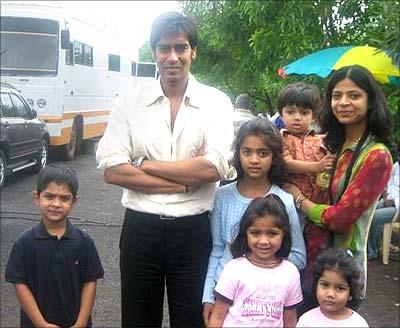 Reader
Jignesh Shah
might not be in the picture, but his wife and kids made the most of the photo opportunity when they visited the sets of a film in Pune.
Mr Shah's nephew (left, in the black shirt) is acting in the film with Ajay, and also seen in the picture are Mrs Payal Shah, the kids -- Aayush, Aasna and Ujashi -- and niece Esha Kadakia.
Jignesh, a reader from Fremont, California, mentions that his wife told him Ajay was an extremely nice and very caring person.
If you encounter/meet/see film or television personalities and photograph them, please scan the photographs and mail the pictures to us. We will feature the best images right here on Rediff Movies.
Also check out: Aamir | John | Abhishek | Kareena | Shah Rukh Khan | Bipasha | Amitabh, Rani | Yash Chopra | Ram Gopal Varma