'Salman Khan is a person who doesn't acknowledge kissing and doing all this stuff on screen. But he is also is a very wise man.'
'He knows Jai Ho did not do what it was supposed to do for me. People did not want to see a girl who was so bhenji-looking. So he said this (Hate Story) is something I should take up for because the role was a today's girl.'
Jai Ho actress Daisy Shah talks about her next film, Hate Story 3.
It's seems living under superstar Salman Khan's shadow isn't enough to guarantee a movie career.
Daisy Shah, who debuted in the 2014 hit Jai Ho, and is regularly seen partying with Salman, hadn't been offered any more films until Hate Story 3 happened.
And it was on Salman's insistence that Daisy agreed to take up this erotic thriller, set to release on December 4.
Dressed in a casual blue shirt and white skirt, Daisy seems nervous and excited in equal measure, as she sips on her coffee.
She chats with Jahnavi Patel/ Rediff.com and tells her why wasn't she ready for a film like Hate Story 3.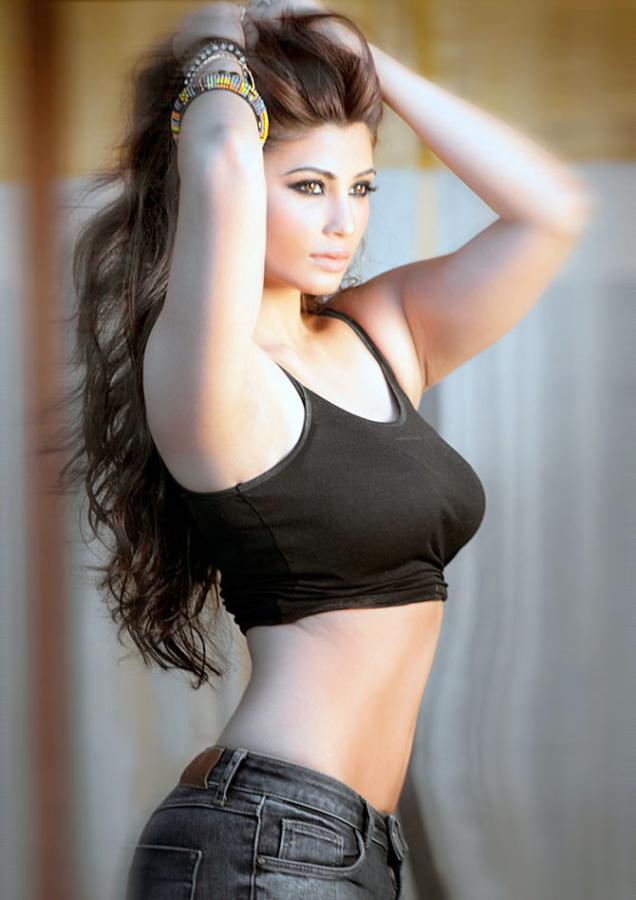 After Jai Ho, was Hate Story 3 the kind of film you were looking out for?
It's a big no.
But I had no other option because after Jai Ho, I didn't get any work.
Also, people told me I was getting typecast into a girl-next-door image and that I wouldn't look sexy and sensuous. In order to break that, I had to do this.
After making your debut opposite Salman Khan, who is became your mentor, did you think it would get easier for you in this industry?
Not even in my wildest dreams did I think I would reach this stage. I'm here because of Salman Khan. People know Daisy because of him. All the credit goes to him.
What fascinated you the most towards Hate Story 3?
To be honest, the script is very strong. I love the story, and my character. She's a strong-headed girl, and I haven't played such a character even in my south movies.
At first, I was very skeptical. I remember saying in my earlier interviews that I don't think I'll be comfortable kissing on screen. But I did not have any other option. I wanted to break the image people had of me. That is why I did this film.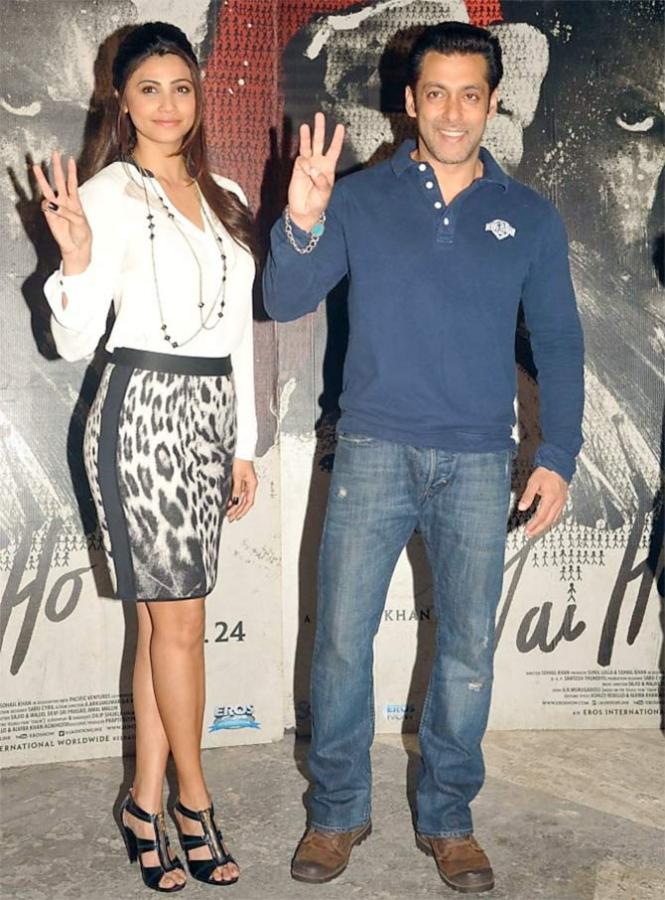 You had said that Salman convinced you to take up this film.
Salman Khan is a person who doesn't acknowledge kissing and doing all this stuff on screen. But he is also is a very wise man.
He knows Jai Ho did not do what it was supposed to do for me. People did not want to see a girl who was so bhenji-looking. So he said this (Hate Story) is something I should take up for because the role was a today's girl.
You will see this kind of a girl in every corner, or every office you walk into. So this is something that will be more acceptable. She also has an oomph factor. That's why he convinced me to do this movie.
It is difficult to be sensual without looking improper.
Exactly.
The movie is very aesthetically shot. There is no scene in the movie where you'll say 'ew!' There is no vulgarity.
Yes, there is sensuality, there is sexiness but there is no vulgarity.
The song Tu Isaq Mera has got a great response. Were you expecting that?
No, not to this extent.
It got seven million views in three-four days and we were like 'woah! This is epic'.
So we were really happy with the response.
People like the song and are appreciating our work.
I'm really happy that people like the new Daisy.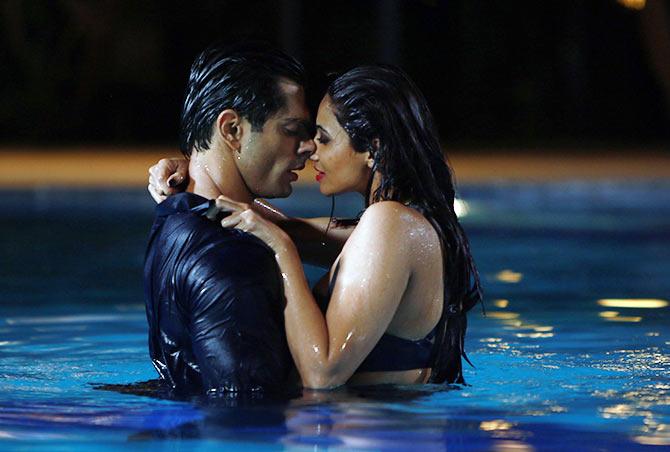 Has anyone from the industry spoken to you about your song and Hate Story 3?
I met Neil (Nitin Mukesh) recently and he kept on saying, 'what a trailer, what a song, Daisy, you're killing it'. He even spoke about Zarine (Khan, co-star) and said 'you both are killing it. The day this movie releases, you guys are there'.
I didn't know how to react to that.
How was it working with Zarine in the film?
Unfortunately, I've got no track with Zarine in the movie.
But I've met her at events. She's very sweet and bubbly. She doesn't stop talking! But she's fun to be with.
Both of us signed the film, knowing the other would be in it. So we have no problems with each other. Both of us know our scenes, characters and importance in the movie.
When we interviewed Sharman Joshi, he had said Zarine and Karan (Singh Grover) were the talkative ones, and you and he were the introverts.
He was right!
Sharman and I are the serious boring kind, and Zarine and Karan go on yapping. Karan is a kid at heart, he cannot sit at one place and keep quiet.
Since you were hesitant about doing bold scenes, was there any uneasiness once you started shooting?
The only bold scenes are in the song.
We were fine during the filming because all the scenes were according to the script.
The kissing scenes and bold scenes were only in the song. So when we were starting to shoot the song, I was palpitating, thinking what would happen, and would I be able to do it.
Thing is, if you're not convinced and don't do it properly, it would look bad. Luckily, my chemistry with Karan shows on screen and looks good. Director Vishal and choreographer Uma made things easy.
How different will this Hate Story be from the earlier films?
Very different! In this, not only the female but the male also takes revenge. So it's double the fun!
After an action drama and an erotic thriller, what would you want to experiment with next?
I would love to do something like Highway or Queen; have a de-glam look and show off acting skills.
If a role requires you to go nude on screen, would you go ahead with it?
I've done a bare back in this film, but a complete nude is something our society will not accept.
Secondly, that is beyond our limitations. No matter how modernised we get in our heads, we can't reach Hollywood's level. We have certain limitations; we can only go to a certain extent, not beyond that.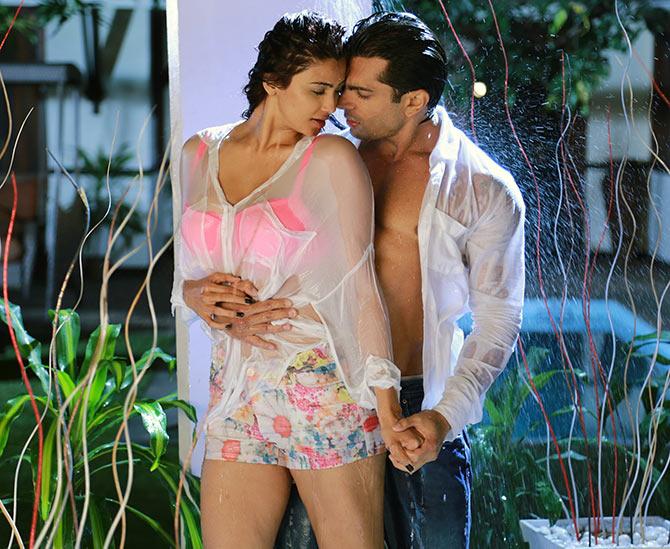 What about Hate Story 3 will you always remember?
The entire movie will be memorable because I don't know whether I'll be ready to do such things on screen again.
Specifically, I remember the time we shot in cold water at 4 am in the freezing cold. It was in Ahmedabad, Gujarat. I were freezing. I will never forget that.
We're sure you'd want to work with Salman again…
(Interrupts) Given a choice, I'll only work with him.
... But apart from him, which other actor would you like to work with?
I would love to work with Akshay Kumar because when I was an assistant choreographer, I worked a lot with him.
Are you working on any other projects?
Not yet. I haven't signed anything else but I'm in talks.