'Prabhas is only asking for what he deserves.'
Subhash K Jha tells us more.
If reports are to be believed, Prabhas, who played Baahubali is asking for a staggering Rs 75 crore (Rs 750 million) as his fee.
If a producer pays the genial Telugu star that fee, Prabhas will be India's highest paid star, far ahead of the Khans -- Aamir, Salman and Shah Rukh -- who rule Bollywood.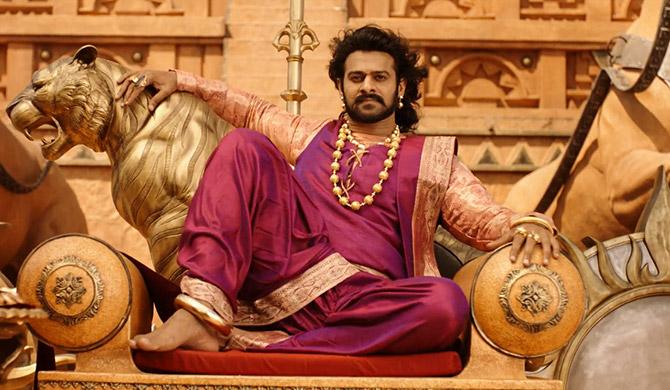 "I was keen to cast Prabhas immediately to cash in on Baahubali's success," a Bollywood producer tells me.
"I was told by his team that his next assignment is a Telugu film and thereafter his price would be up to Rs 75 crores," the producer confides.
"No actor in India gets that kind of money. If Prabhas is being advised by his team to ask for that kind of money, they need to be urgently reminded that Baahubali did not succeed because of Prabhas," the producer adds.
"If anyone, director (S S) Rajamouli should be charging that kind of money. Rajamouli, I hear, has not hiked his remuneration at all," the producer says.
Prabhas is being overwhelmed by all kinds of movie offers after Baahubali's success, a film which he spent five years of his life on.
The star, by the way, has not charged the producers of his next film Saaho an extra rupee.
"Prabhas is only asking for what he deserves," a source from the Telugu film industry tells me.
"If he was greedy he would have done four films in the time that it took to complete Baahubali."
"He signed Saaho before the release of Baahubali and is working for a nominal fee," the Telugu movie source adds.
"The rest can afford to pay."