Happy Father's Day, daddies!
Bollywood's heroes are busy people, keeping busy work schedules and sometimes, even living off suitcases.
But they always manage to make time for their little ones, and even post the cutest pictures with them.
We celebrate Father's Day by posting amazing pictures of filmi daddies spending time with their kids.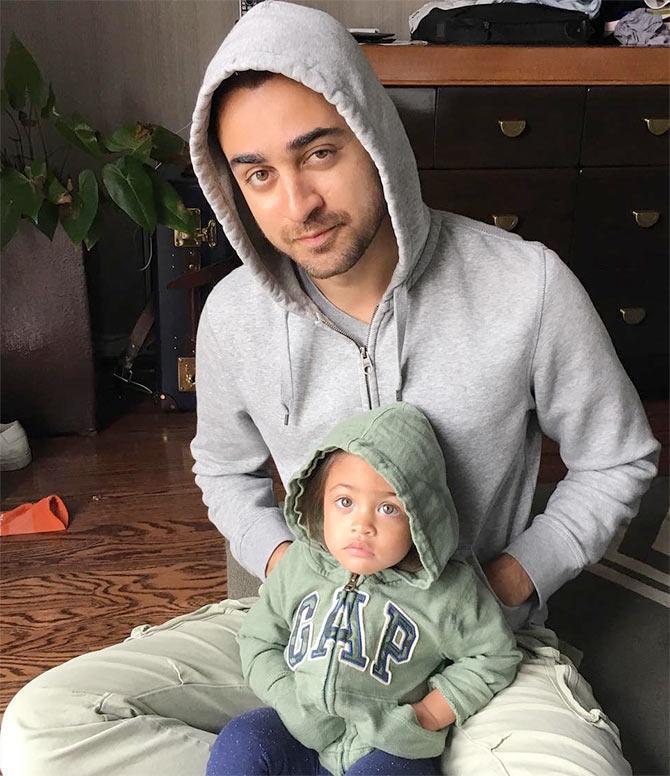 IMAGE: Imran Khan with Imara. Photograph: Imran Khan/Instagram

Imran Khan and his daughter Imara pose with their hoodies on.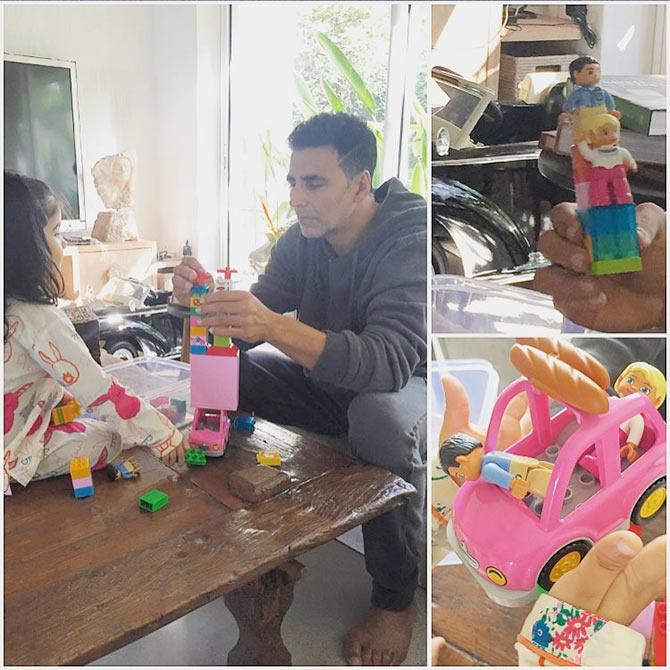 IMAGE: Akshay Kumar with Nitara. Photograph: Twinkle Khanna/Instagram

Akshay Kumar indulges his daughter Nitara with some lego love.
Mum Twinkle Khanna explains what they were up to with this tweet: 'According to the baby, this building is Lanka and the two dolls in the pink chariot (with handy for the long journey, bread rolls )are Sita and Hanuman #Ramayan2015.'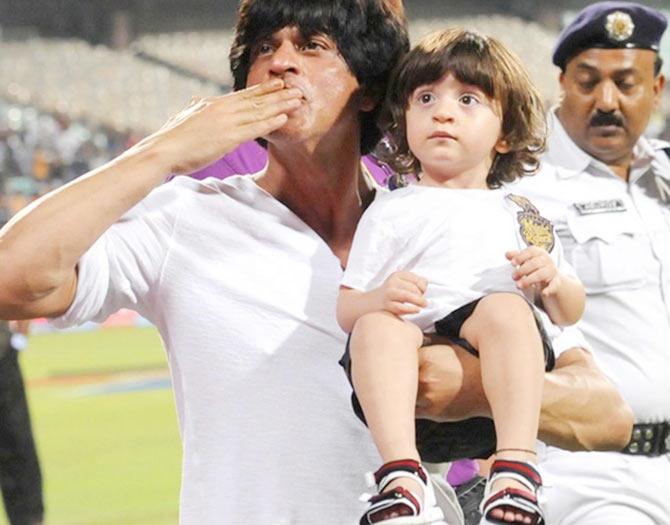 IMAGE: Shah Rukh Khan with AbRam. Photograph: BCCI

AbRam is a common sight at IPL matches, and his dad Shah Rukh Khan loves to capture his every moment with amazing pictures. Here's one of them.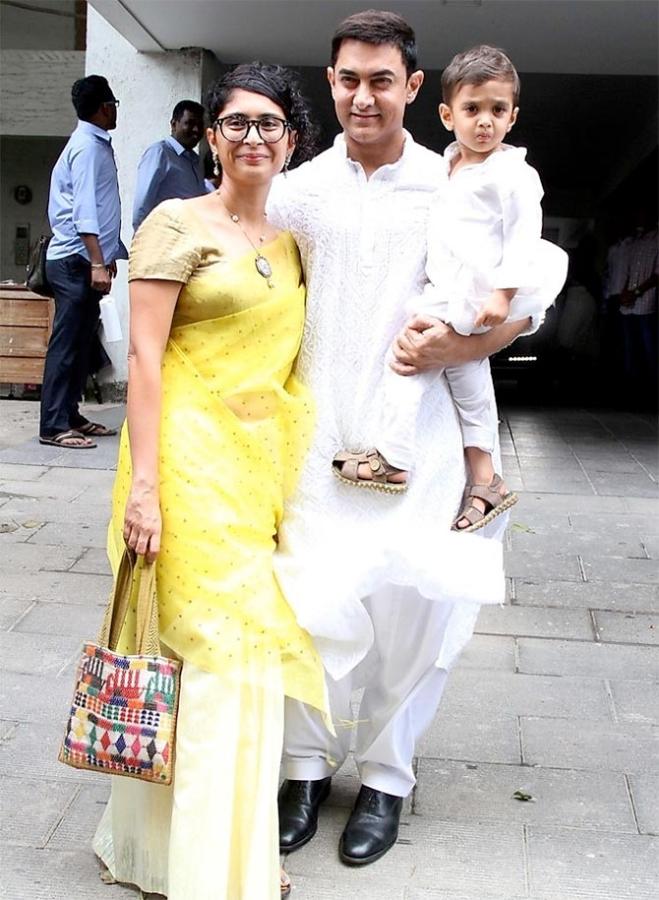 IMAGE: Kiran Rao and Aamir Khan with Azad. Photograph: Pradeep Bandekar

Azad gets dressed up for a family photograph with his parents, Kiran Rao and Aamir Khan, during Eid 2014.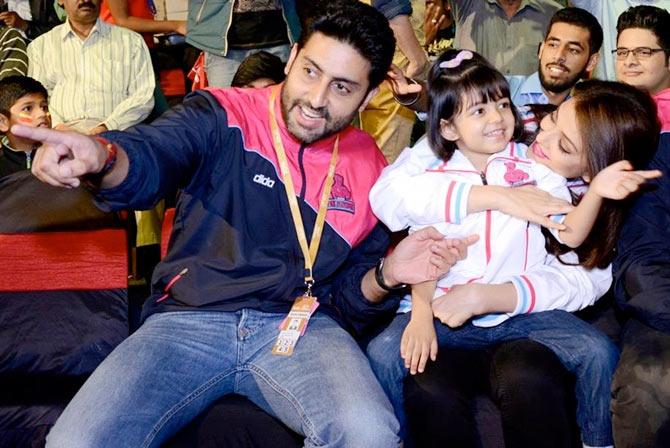 IMAGE: Abhishek and Aishwarya Rai Bachchan with Aaradhya. Photograph: Abhisehk Bachchan/Instagram

Abhishek Bachchan enjoys a kabaddi match with daughter Aaradhya and wife Aishwarya.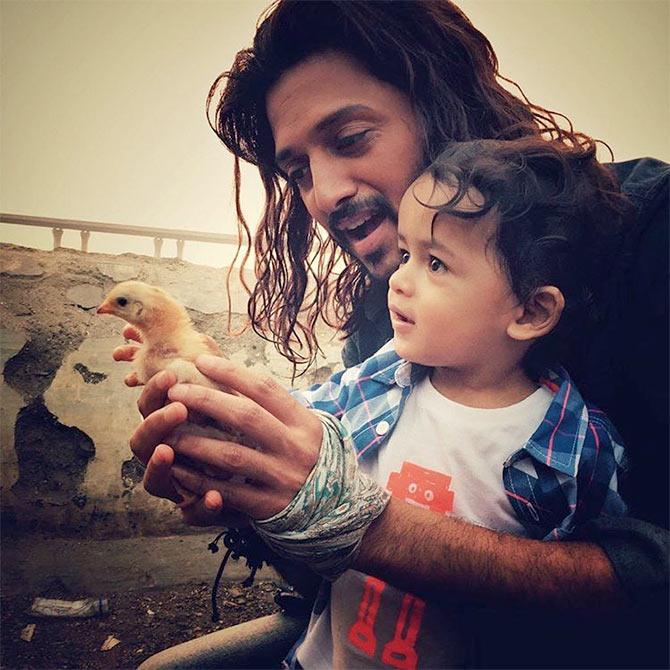 IMAGE: Riteish Deshmukh with Riaan. Photograph: Riteish Deshmukh/Instagram

Riteish Deshmukh captions this picture with son Riaan, 'Father Son & a cute Chick.'
We would all agree that the chick isn't the only thing 'cute' about this picture.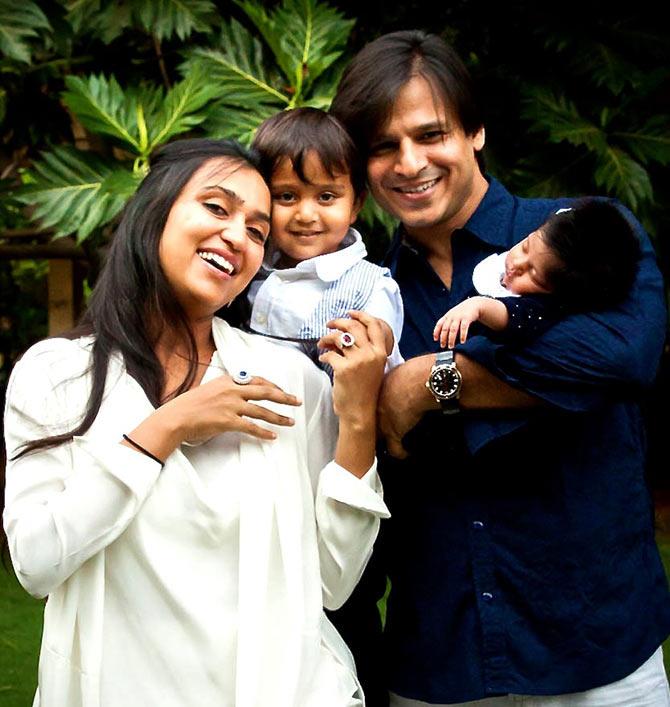 IMAGE: Vivek Oberoi and Priyanka Alva with son Vivaan and daughter Ameeya Nirvana.

Vivek Oberoi shows off his happy family -- wife Priyanka, son Vivaan and daughter Ameeya Nirvana.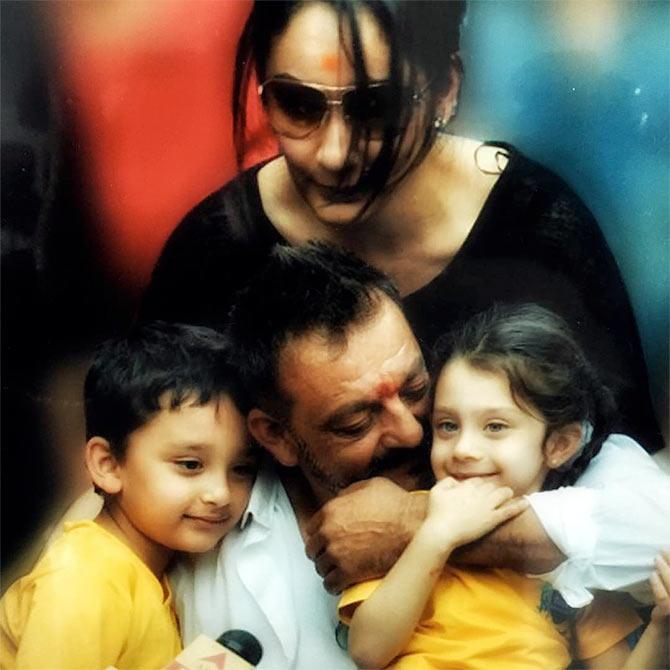 IMAGE: Sanjay Dutt with wife Manyata, and kids Shahraan and Iqra. Photograph: Sanjay Dutt/Instagram

Sanjay Dutt shares a prized picture with kids Shahraan and Iqra and wife Maanyata immediately after his release from jail.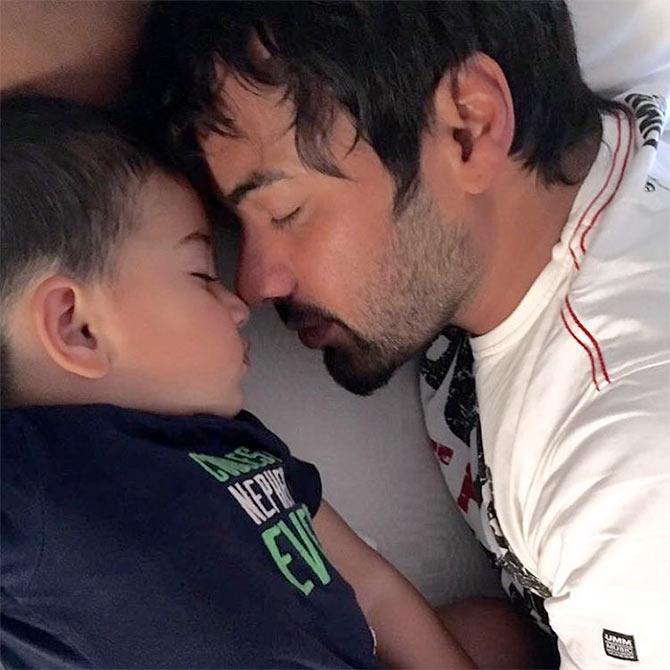 IMAGE: Shabbir Ahluwalia with son Azai. Photograph: Shabbir Ahluwalia/Instagram

Shabbir Ahluwalia catches up on some beauty sleep with son Azai.
His wife Kanchi Kaul gave birth to their second son in February.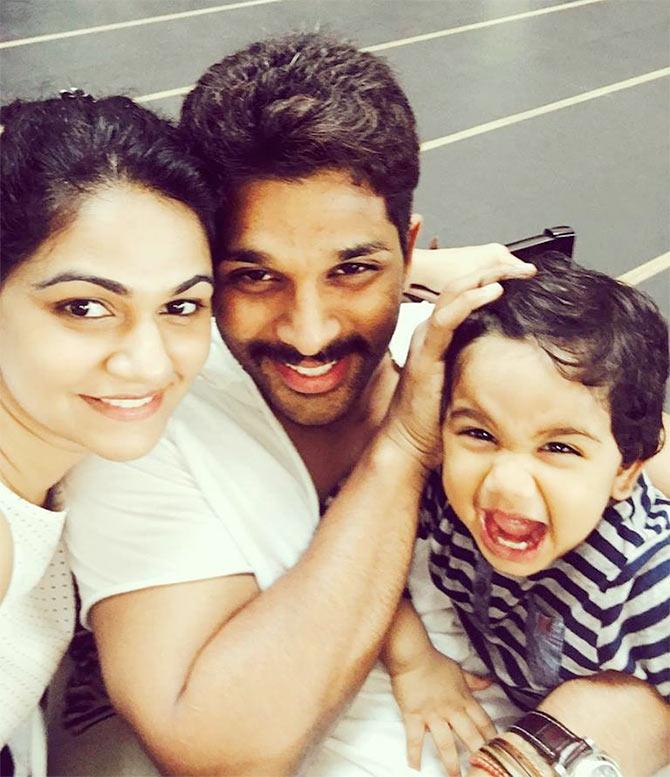 IMAGE: Sneha and Allu Arjun with Allu Ayaan. Photograph: Allu Arjun/Facebook

Telugu actor Allu Arjun shares this picture with his super-excited son Ayaan and wife Sneha.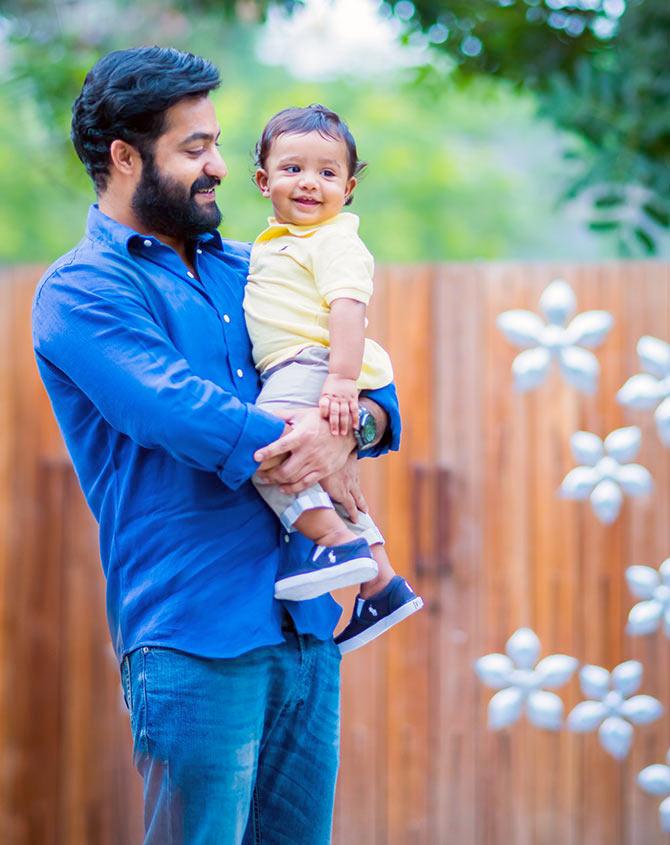 IMAGE: NTR Jr with Abhay Ram. Photograph: NTR Jr. /Facebook

Telugu actor NTR Jr introduces his son Abhay on social media.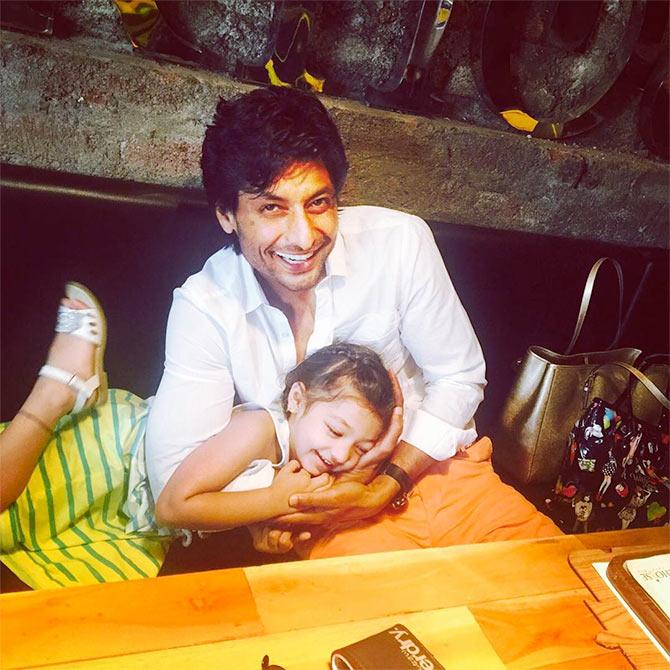 IMAGE: Indraneil Sengupta with Meera. Photograph: Indraneil Sengupta/Instagram

Indraneil Sengupta has some fun with daughter Meera.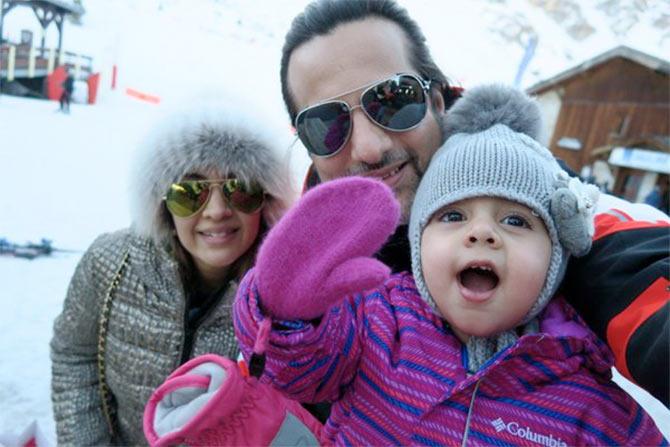 IMAGE: Fardeen Khan with Natasha and Diani. Photograph: Fardeen Khan/Twitter

Fardeen Khan holidays with wife Natasha and daughter Diani Isabella Khan.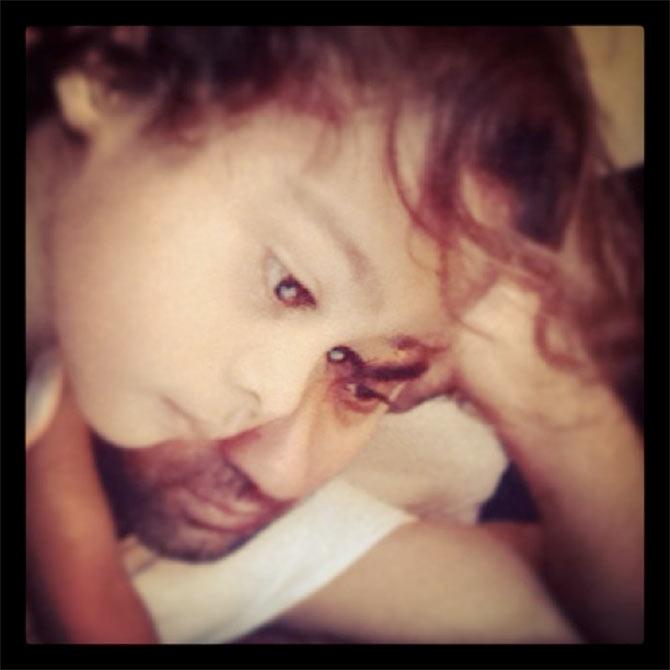 IMAGE: Ranvir Shorey with Haroon. Photograph: Ranvir Shorey/Instagram

Ranvir Shorey catches up with his son Haroon and captions the picture: 'Living Curious.'