Master filmmaker Adoor Gopalakrishnan has started shooting again.
What's more, he is not making one feature film, but two.
Each film will have three short stories, based on Jnanpith Award-winner Thakazhi Sivasanakara Pillai's works.
Adoor made his first film Swayamvaram in 1972. In the last 35 years, he has made only nine feature films (Swayamvaram, Kodiyettam, Elipathayam, Mukhamukham, Anatharam, Mathilukal, Vidheyan, Kathapurushan and Nizhalkuthu).
But he has made quite a few short films and documentaries. In fact, after his last film Nizhalkuthu in 2002, he has made two documentaries.
The acclaimed director -- who has been honoured with the Padma Shri, the Padma Vibhushan and the 2004 Dadasaheb Phalke Award -- spoke exclusively to Shobha Warrier about his new films. Excerpts:
You made your last film Nizhalkuthu in 2002, but one gets the feeling that it was made quite recently, and there was not much gap between your new film and Nizhakuthu.
I made Nizhalkuthu five years ago, but in the last five years I have made two long documentaries of 50 minutes each -- one was on (Kathakali legend) Kalamandalam Ramankutty Nair and the other on (the dance form) Mohiniyattam. The film on Mohiniyattam has just been completed and will be ready in June. The plan is to premiere it in Paris at the Museum of Dance and Music.
Has the idea to make a feature film based on Thakazhi's short stories been there with you while you were making the documentaries?
Actually the idea to make this film came from Doordarshan, Delhi. They were planning to make films based on the works of outstanding writers from Indian languages. They chose the writers and wanted filmmakers of repute to make films based on the stories. I was asked to make a film based on Thakazhi Sivasankara Pillai's work.
A feature film?
Though they called it a film, it was meant for telecast on Doordarshan; that is, for television. I was not particularly excited about making a film for television. If you make a film just for telecast, it will be shown (a few times) and soon forgotten. I told them I was interested only if they gave me the theatrical rights of the film. They happily agreed.
As the selection was left to me, I started reading Thakazhi's novels and short stories for the next six months. I wanted to make a film based on a story that had lasting values and was relevant even today.
Although all his stories are based on the lives of people who lived in the Kuttanad area (of Kerala) which spans around Alapuzha and Ambalapuzha, where Thakazhi lived, I found many of the ideas are relevant even today.
I was looking for human stories. He has written several short stories, more than 600, and several novellas too. So, the selection itself was a long process.
I had decided on the short stories and not novels because short stories had the quality of giving a glimpse of life in a short period.
How did you choose the short stories? How many have you chosen?
In the final list, there were nine short stories. From the list of nine, I chose six.
Did you pick up only characters and situations and connect them for a feature film?
No, each story is different and the only connection between them is the theme. Instead of elaborating a short story into a long feature film, I decided to keep them as short stories.
So, are you going to make a feature film which has six short stories?
No, I am going to make two feature films, and each will have three short stories each. The first feature film is Moonnu Pennungal (These Three Women). One story is about a woman who is forced to live as a spinster because of the social situation. Nandita Das plays the spinster and Kavya Madhavan plays the role of her sister, whose role is as important as Nandita Das's.
The second story is about a housewife played by Manju Pillai. And the third story is about a street prostitute, and Padmapriya is the actress.
So, the first feature film is about three faces of women belonging to the Kuttanad area. There is not a single character who will appear throughout the film. The only connection between these three films is 'women.' The duration of the film is 100 to 110 minutes.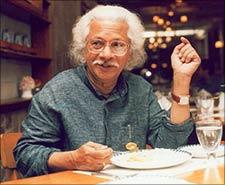 When you move from the story of one woman to another, will it be continuous?
It will be another story. I am not the first person to make films like this. (Akira) Kurosawa has made a film like this. (Satyajit) Ray had made a film called Teen Kanya -- they are three separate stories and again about three women. But, generally, we are not used to seeing different short stories in one feature film.
Has Teen Kanya anything to do with you choosing three stories on women?
No. It just so happened that those were the stories I liked the most. In fact, I chose the stories first and then realized that they were about three women; thus discovering the connection.
What is the second feature film about?
The title of the second feature film is Kallante Makan (Son Of A Thief), which is the title of one of the stories. The hero is a 9-year-old boy.
The second story is Niyamavum Neetiyum (Law And Justice), which has Nedumudi Venu, Siddique and Jagathy Sreekumar in the main roles.
The third story is Oru Koottukaran (A Friend), and has Mukesh and Jagdeesh in the lead roles. Actually Thakazhi had written about a friend of his, so the third story is autobiographical. The common theme running through these three films is law and justice.
It was reported that Mohanlal was acting in your film.
No, he is not there.
Is Kuttanad also a character in your films?
Kuttanad will not be in the foreground; only in the background. Yes, the place is like a character in all the stories.
Would you have thought of making a film based on Thakazhi's stories if Doordarshan had not asked you?
I don't think so. The credit should go to Doordarshan for making me look at his stories from a filmmaker's point of view. Even as a schoolboy, I used to read Thakazhi's work, and I used to admire him a lot the way I admired Basheer and Kesavadev.
He (Thakazhi) has been one of the most celebrated writers in Malayalam. He has become a part of our culture.
But this time, when I read his short stories, I looked at them with a different perspective. I wanted to see whether they would work in the medium of cinema. So, I had to look for human interest stories whose relevance will go beyond the time of its making. It also should be relevant to other cultures.
Chemmeen, based on Thakazhi's novel, is loved and talked about even today. Don't you feel it's a film that has withstood time?
Yes, the film was made by Ramu Kariat in 1965 and it was the first Malayalam film to win the President's Gold Medal. It was an important film in many ways. It was a colour film; in fact a very colourful film with impeccable photography by Marcus Bartley.
That also brought other bright talents together like Salil Chowdhury composing music and Manna Dey singing. Ramu Kariat was a mega director, like his hero David Lean. In many ways, it is a very interesting film.
The characters in Chemmeen -- the fisher folk in Kerala and their beliefs -- were unique and rooted in their culture. Similarly, did you also choose stories and characters rooted in Kuttanad?
Thakazhi wrote about the people and the place he knew the best. When you are truthful to your writing, it will show in your work. Similarly, when you choose subjects and emotions that are universally relevant, the characters will also be rooted.
The stories are about our social structure and the human condition, which is the same everywhere. Vegetation may change but life is the same wherever human beings are.
Are you going to shoot each short story as a different film?
I will shoot each story one after the other.
You had Mankada Ravi Varma as your cinematographer, and he told me in an interview that you used to first share your ideas first with him. Now that he is not well, do you miss him?
Of course I miss him. Last time, when he came to shoot Nizhalkuthu also, he was not in good health. Sunny Joseph was there to assist him but he insisted on having Sunny's name along with his in the titles.
M J Radhakrishnan, who shot my last two documentaries, will shoot these two feature films.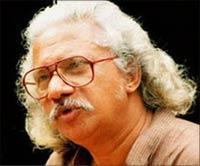 You made your first feature film more than 35 years ago. You must be very relaxed after all these years of experience.
No, the feeling is the same even today. You are jumping into the unknown. Till the shooting is over, there is no relaxation for me. I have been planning the production work for the last couple of months and there is no end to the preparation.
Will these films go to festivals first?
I don't think of festivals when I make my films. Once the films are completed, I will think of those possibilities.
It is quite unlike you that you are making two feature films at one go. There used to be such huge gaps between your films.
(Laughs) I have to fill up the gap!