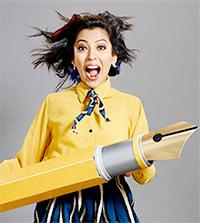 Who knew jumping around in a shop as a kid could lead to a career in acting?
Barkha Singh certainly didn't.
Today, with more than 500 ads , four serials (Bhagyalakshmi, Love By Chance, Fanaah and Yeh Hai Aashiqui) and a movie (Mujhse Dosti Karoge) under her belt, Barkha is grateful for that chance encounter.
She has already had the honour of working with Amitabh Bachchan, Hrithik Roshan, Rani Mukerji and Kareena Kapoor and hopes her repertoire will include many more such glittering names in the future.
Barkha talks to Rediff.com contributor Rajul Hegde about her journey in the world of glamour and her new show, Girls On Top.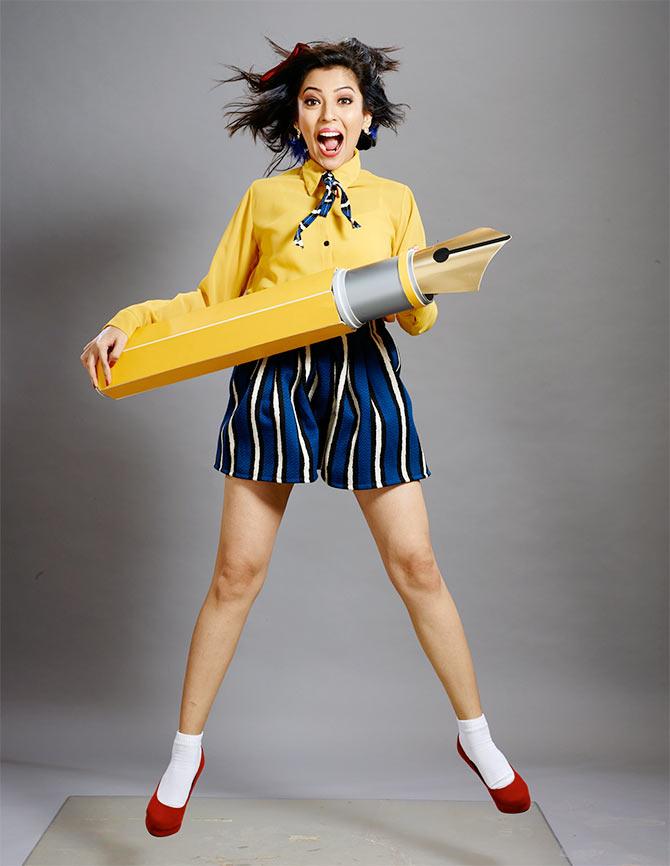 IMAGE: Barkha Singh in Girls On Top

How she prepared for Girls On Top.
I play a journalist, so my character has to run around for sources and leads for interviews. My respect for journalists has increased; it's so hectic for them -- work pressure, deadlines... And yes, I came to know how irritating the boss can be at times (laughs).
Girls On Top shows the dilemma journalists have to face -- between what sells and how to present the truth in a way that will appeal to readers.
After I was selected to play Gia, I observed journalists at events and incorporated that in my character. The only difference between Gia and me is that Gia doesn't believe in love because her parents are divorced and I am a hopeless romantic.
I admire Barkha Dutt; she is so courageous, so dedicated to her job.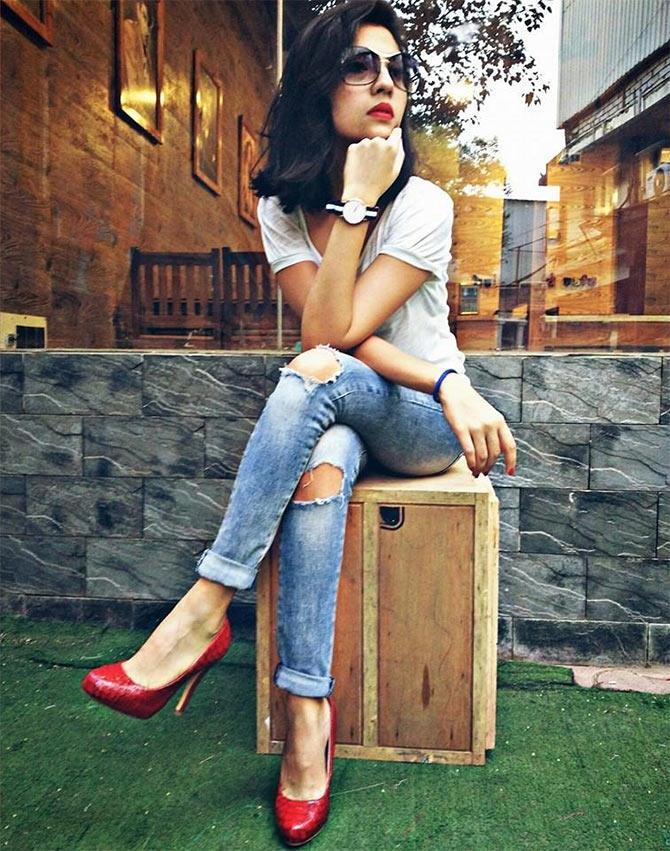 IMAGE: Barkha Singh. Photograph: Barkha Singh/Facebook
About her advertisements
I have done more than 500 television commercials like Tata Docomo, Cadbury, Coco Cola, Clinic Plus… I have done lot of ads down south for saris and jewellery.
I did my first ad at the age of four. My mom tells me some casting guys saw me jumping around in a shop and asked her if I could do an ad. It was for Burnol (a medicated cream to soothe burns). It was a nice Diwali sequence. I was excited about the shooting but didn't know where the camera was so I sat with my back to it (laughs).
Once it went on air, I got lot of ads. I was lucky to get really good campaigns.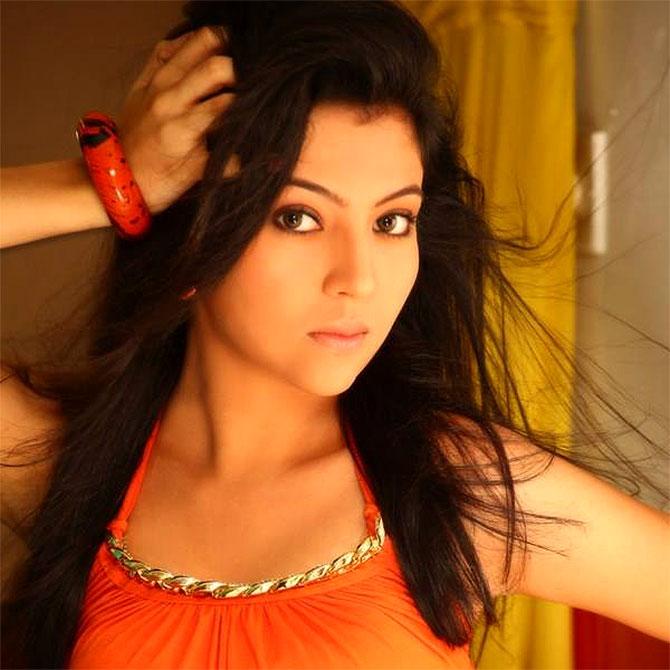 IMAGE: Barkha Singh. Photograph: Barkha Singh/Instagram
Kuch meetha ho jaye with Amitabh Bachchan
I have done a Cadbury ad with Amitabh Bachchan. I was around 14-15 years old then and went with my mom for the shoot. As soon as we reached, he came and shook hands with her. He was really nice and warm and punctual.
But I don't do ads opposite stars any more since the focus will obviously be on them. Why should I waste my time and energy on just being a star's friend in an ad? I consciously avoid ads in which they are going to cast a hero or heroine.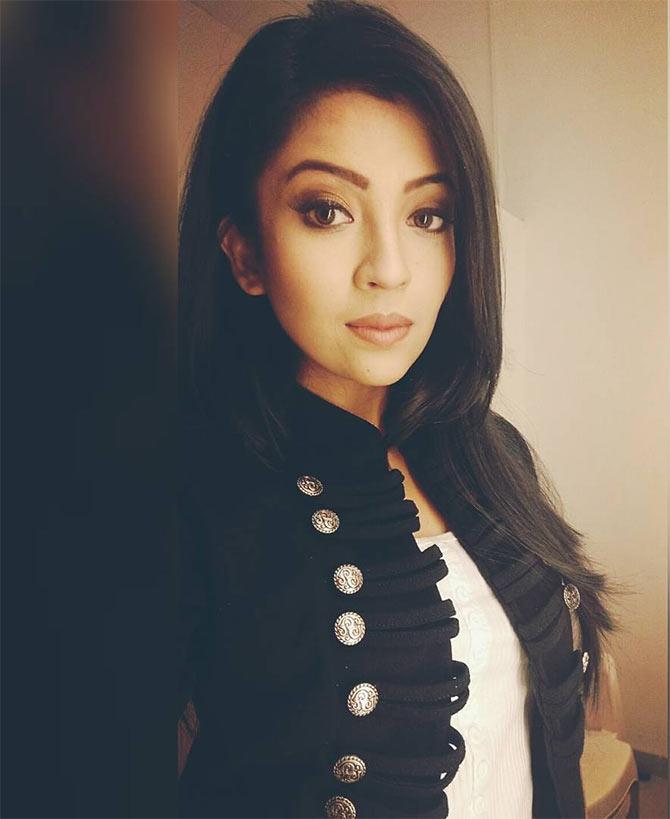 '
IMAGE: Barkha Singh. Photograph: Barkha Singh/Instagram
Yashraj and Mujhse Dosti Karoge
I did a movie with Yash Raj Films when I was child.
I played Kareena Kapoor's younger version in Mujhse Dosti Karoge, which also starred Rani Mukerji and Hrithik Roshan. I was in Class IV then.
The shooting happened mainly in Switzerland and Manali. Yash Raj is extremely lavish. When we were travelling, they booked the entire plane. They booked the whole resort in Manali for the cast and crew.
I was a fussy eater when I was young. My mom would run behind me to coax me to eat. One day, Rani saw that. From then on, every day, she would make me sit with her for dinner and eat one bowl of dal-chawal (rice and lentils). She would tell me, "'Till you don't finish this, you are not getting up."
Rani, Kareena and Hrithik were very chilled out. Since we did not have long shooting hours, we had lots of time for ourselves and would go cycling around the place.
Hrithik and Kareena gifted me a Cinderella Barbie doll. I have not opened it till date; it is still in its original packaging.
I am not in touch with any of them but, a couple of year years after the film, I was asked to host an award function for (the children's channel) POGO. Hrithik was to give away one of the awards. I asked him if he remembered me and reminded him about Mujhse Dosti Karoge. He was shocked and said, "Oh my God, you have become so big!"
Hrithik remembered the flight from Chandigarh to Manali in a 17-seater plane. We were crossing a mountain (in the Himalayas) and there was a lot of turbulence. It was a scary ride and everyone was screaming.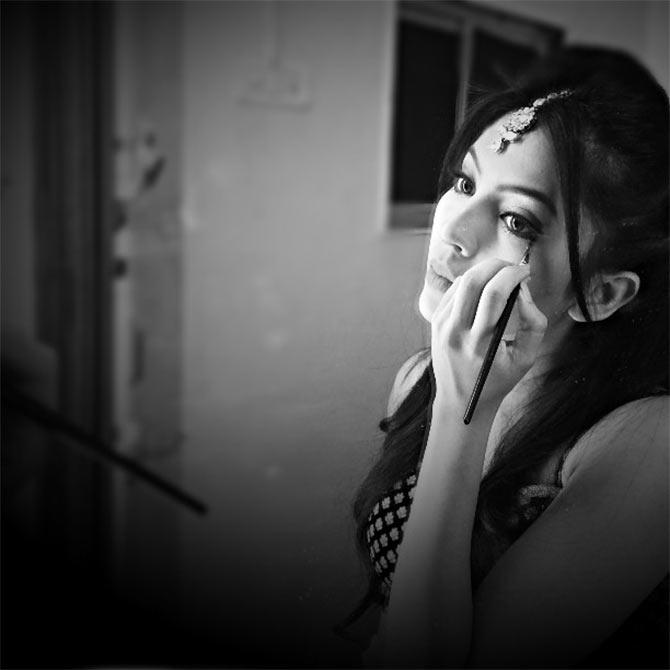 IMAGE: Barkha Singh. Photograph: Barkha Singh/Instagram
Telly time
I have been in the industry for a long time now. I started my career with television commercials and veejayed for some time.
I didn't make an effort to get into acting; it just happened.
When you do so many ads, you get noticed. The casting agents keep circulating your profile. One day, someone called me for the audition of Bhagyalaxmi (television show).
I did not have to go for millions of auditions and wait for a role. I am thankful to God and I hope it keeps on happening and I get lucky all the time.
I haven't done a course in acting. No one can teach you acting, it is either in you or not. Acting courses are very useful; they teach you technicalities but they can't teach you how to act.
I don't act; I just get into the character.
I never planned on becoming an actor; I preferred the field of advertisement and marketing.
I have always been educationally inclined. I like intellectual conversation. I love reading non-fiction.
I topped Maharashtra in my Class XII board exams. I hold a Bachelors degree in Mass Media and a Masters in Marketing and Business from Berkeley University and a Masters in sociology. With the kind of insecure profession we are in, I think we should keep our options open.
Plus there is a myth that actors and models are dumb. I want to break the stereotype and prove we are educated and intelligent too.
My father is in Indian Navy. My mom was a lecturer, but now she is at home. My older sister is a designer.
Most of my (extended) family serves in the military. They are happy and appreciative of my work.