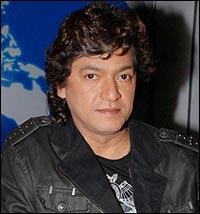 Composer Aadesh Srivastava is peeved with his composing colleagues Salim-Suleiman for walking away with the credit for the score of Prakash Jha's Chakravyuh.

Speaking from Los Angeles where Aadesh will release his first international single, he fumed, "I had earlier worked with Prakash Jha in Raajneeti, in the song Mora piya which was a big success. So I agreed to contribute an item song called Paro for Chakravyuha. But I am not happy with the way my song is being neglected in the marketing of the music."

Aadesh claims the credit for his track Paro is going to Salim-Suleiman, who have done the rest of the score. And neither the composers nor Prakash Jha is doing anything to rectify the misapprehension.

Says Aadesh, "I am shocked and disappointed to see credit for my song going to Salim-Suleiman. Surprisingly, they haven't come forward to clear the air regarding who has composed the Paro song. Neither has Prakash Jha. I've sent him a long message requesting him to ensure I get credit for it."

Meanwhile, Prakash Jha is far from amused at the allegation. "First of all, why blame Salim-Suleiman? The marketing and promotion of a film and its music is the producer's responsibility. As the producer of Chakravyuha, I know exactly how to promote the songs. I don't know what Aadesh is insecure about. Salaim-Suleiman have done two songs and the entire background score for my film. Naturally, they are the face of the film's soundtrack."
He added that Aadesh's track would get its attention and recognition at the right time. "It's a catchy dance number featuring Abhay Deol and Arjun Rampal. When the song is on air, Aadesh will definitely get credit for it. I see no reason for this negativity."