'Why does it exist in the film industry?'
'It is because we are culturally nepotistic.'
'The son always grows up to carry on the work of the father; that's where we come from.'
'So if you have to tackle nepotism in the film industry, you have to tackle it in our culture.'
It's 5 pm, and Abhay Deol announces he is hungry.
The actor has still not had lunch.
He orders chicken tikka with two rotis and sits down for the interview before the food arrives.
Abhay's last film Happy Bhaag Jayegi released in 2016 and that was when he did his last round of media interviews.
As he promotes Nanu Ki Jaanu, he is very chatty.
Rediff.com's Patcy N takes notes.
Tell us about Nanu Ki Jaanu.
I play Nanu, a criminal. He makes people sell their houses to him cheaply, then sells it to others for more money. Apparently, this happens a lot in Delhi.
One day, a ghost enters his life.
After that, it is difficult for him to continue his life of crime because he is scared out of his wits.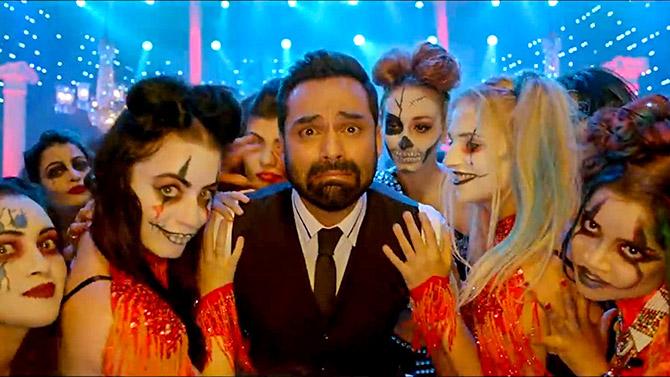 You reunite with the Oye Lucky! Lucky Oye! team. What was that like?
When you get along with people, you have a nice time. It's easier then.
I have great memories of Faraz (Faraz Haider, who acted in Oye Lucky! and directs Nanu Ki Jaanu) and, of course, Manu (Manu Rishi Chadha, writer).
I was hoping the script would be something I like because they are people I admire and respect. And sure enough, it was something I liked!
I go for stuff I can relate to, and this is it.
It is a mix of horror and comedy, and it's very hard to strike a balance when you have two extreme emotions.
There is a bit of challenge making this film. That was very attractive for me.
We have not seen you on the screen for two years.
People do approach me, but it is tough making independent films.
I may like something, but it may have a debut director and producer. Two people starting off together always makes it a difficult journey.
You need some experience, some clout, because this is a market-driven industry.
I always take a chance with people who don't have a track record.
Then it becomes difficult to sell them, so immediately the money given to the project drops.
It is tough getting a film out there.
But having said that, in the past one year, I have done five movies.
Out of these, three are character roles in multi-starrers and two leads.
I have signed two more for this year.
When I was making Manorama Six Feet Under, Oye Lucky! Lucky Oye! and Dev D, they weren't really that common.
People thought I was thinking out-of-the-box and going against formula. But today, a lot of people are doing that and I find myself saying yes to a lot more scripts.
I am choosy about my scripts, as every film is an extension of yourself.
You are making a statement with everything you do.
When I watch a film, I imagine that the maker believes in it, he relates to it. I don't imagine he did it for the money.
Now it is even more difficult to be part of the out-of-the-box even though a lot more people are writing. It is more difficult to make those movies.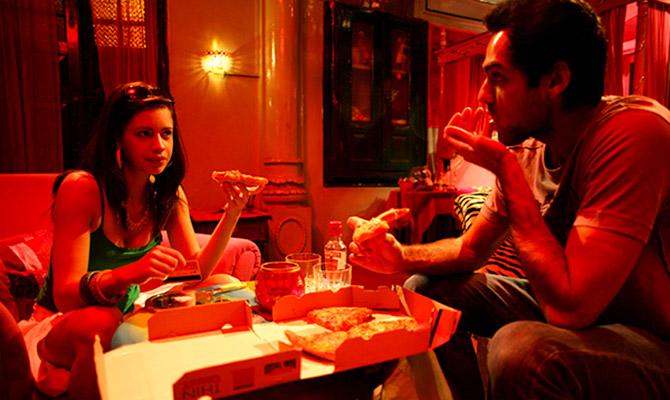 Have you regretted rejecting films when you see them on the screen?
I have rejected some films which I thought were mediocre. When I saw them in theatres, they were still mediocre, but they did really well.
I have no regrets because they are still mediocre films.
I don't care if it has been embraced by the public.
It is good for that XYZ actor, but it is not for me.
People identify you with certain kind of films. Does that put pressure on you when you sign films?
Yes. When you have been accepted with a certain kind of cinema, there are certain expectations from you. You don't want to disappoint them.
The more people say, 'If it's your film, it must be good', it gets scarier.
But that is what you want people to expect from you -- to deliver a quality product.
Film-making is not a solo project, it is a group effort. There is a director, actors, editors, the director of photography, the producer... so it is not always in your control. That's why it's slightly scarier.
The Deols are known for working in commercial cinema, and yet, you work in a different kind of cinema.
I keep saying 'Ignorance is bliss'.
I was completely ignorant on how difficult it is to make those kind of movies then.
I think I was able to hold on to my ideals because I was ignorant of the challenges I would face.
All I knew is that I wanted to prove my individuality and the best way to do that is to do what one believes in.
It is disheartening to be interpreted as 'arrogant' or a 'know-it-all', but I was trying to stick with the vision.
Who am I to tell people what kind of film I want to work in when I had not proven anything?
After my first film Socha Na Tha, not a lot of work came my way as it had not done well.
The people who were involved with it -- Imtiaz (Ali, director) and Ayesha (Takia) did formula films. I did not follow that path and that made me question if I was on the right track.
I believe in the films I have done, whether they did well or not.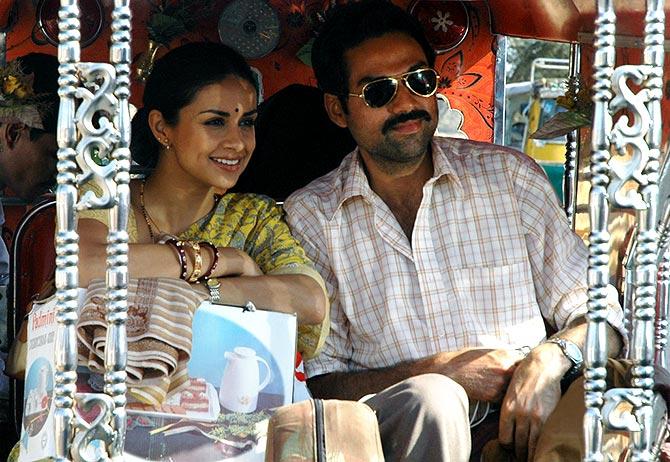 You are doing a Tamil film, Idhu Vedhalam Sollum Kadhai. What made you take that up?
I have known the film-maker (Rathindran R Prasad) for years. He is really talented. I had read one of his scripts and really liked it.
He came to me when most of his film was already shot. He needed me to play a particular role.
I agreed on one condition -- that I would help him finish the production and do the distribution.
That way, I would play a larger role rather just being an actor.
I can bring some attention to the film, help in the marketing process.
You balance your kind of cinema with commercial cinema, like Happy Bhaag Jayegi and Nanu Ki Jaanu. Is that a conscious decision?
Everything is about striking a balance.
I have done mainstream movies even before Happy Bhaag Jayegi.
I always walk in the middle of the road.
Happy is somewhat in the middle, you can call Nanu more towards the commercial zone.
So was Socha Na Tha or even Dev D and Zindagi Na Milegi Dobara.
It seems box office pressure doesn't get to you.
I don't take any pressure from the box office.
I am not a competitive person.
I am not in a rat race.
I am not here to be a star or even be in the Top 10. I don't care for that stuff.
Even if someone is in my space, you can still add value. We can still co-exist.
I want more Nawazuddins, Irrfan Khans, Rajkummars and Vicky Kaushals.
I would care if being in the Top 10 will get me my next movie.
If doing formulae films will keep me in the business, that's the only reason I would do them -- to survive.
But if I can somehow create a niche for myself that can co-exist with Bollywood and constant deliver, that would be my ideal position.
I may never become a number one or a huge star, but then I will never go down either.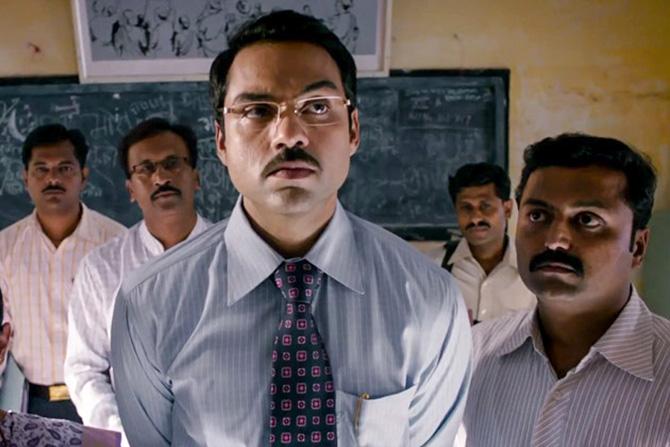 Does a movie character stay with you after it is completed?
It used to.
I went through a phase where it was very difficult to get it out of my head because I took my work home.
I could not shake off a character.
A friend of mine pointed it out to me and said, 'You are still in that zone.'
I denied that, I did not face it then.
After a few years, when I was in a better space mentally, I agreed with my friend.
I don't do that any more.
For which movie did you go through this?
I can't tell you.
Was it Dev D or Shanghai?
Shanghai wasn't so intense.
Dev D then.
You said it, not me.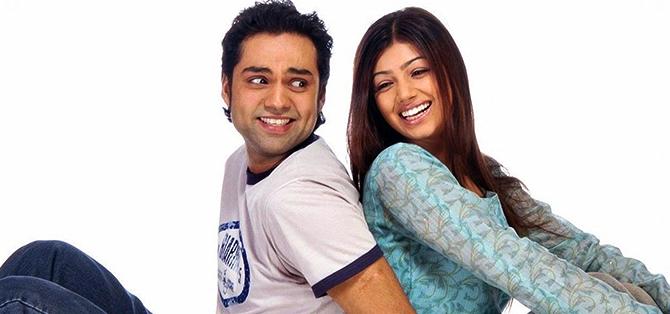 How much have you changed from Socha Na Tha?
I have become more secure, and that leads to everything else.
From the place of security comes productivity in everything that I do.
Like, I can play someone who is far removed from who I am, do mainstream films I wouldn't normally do, entertain one and all even in a formula film...
What are your insecurities?
You want a film to release well. You give it your all, and if it isn't marketed well, if it doesn't release well, that is an insecurity.
It may not work even after putting a good product out.
I learnt that through Manorama, where we made a good product and it became a cult on DVD, but Shemaroo did not have the ability or desire to release it well. So it suffered at the box office.
I think that is why people work with established producers.
That's a risk I take all the time. The kind of subjects I do are not supported by powerful producers.
For a lot of people, Dev D was too risky. So many people turned me down.
When it released, the same people who rejected me wanted to make a Dev D kind of film with me.
I would tell them if you want to do make a Dev D, take another risk. But they don't want to.
Do you think our writers are influenced by Hollywood?
We have always copied Hollywood films. It has become less now because we cannot obviously plagiarise as you can get sued, thank God for that.
But we (still) borrow the style from there and there is no copyright law infringed on that.
It is just that you lack your own voice and originality, and that is unfortunate.
It would be nice to be innovative on our own; this is where I started drawing parallels to culture, why do we do certain things...
For example, nepotism.
Why does it exist in the industry? It is because we are culturally nepotistic.
The son always grows up to carry on the work of the father; that's where we come from.
We see that in business, politics... you may have seen it in your lives also.
So if you have to tackle nepotism in the film industry, you have to tackle it in our culture.
Similarly, when it comes to being innovative, we tend to invest in the industry that will survive, like call centres.
We are service oriented; we are not encouraged to be innovative.
Two hundred years of British education has made us this way, and we don't even know it.
We follow Victorian values, thinking they are Hindu values.
There are so many remakes and adaptations. Are writers running out of ideas?
Nanu Ki Jaanu is an adaptation of a (Tamil) film, Pisaasu.
Adapting a film doesn't mean it is not original.
Pisaasu is a horror, dramatic, feature. They took that and made a horror comedy out of it.
Also, originality comes when you are taking it out of the south and placing it in the north -- the language changes, the people who inhabit this place speak differently...
Dev D was my idea.
I adapted a book, which was written in 1917, and brought it to 2009.
I felt Devdas is a commercial element to my plot, which I am selling to the audience and drawing them in.
Contemporisation is a twist I added to take it further.
There is nothing wrong with remakes, but if there are more remakes than originals, there is a cause for worry.
I think the people who put in the money want to feel safe.
It is not just Bollywood, it is there in Hollywood as well.
Everything is a superhero film or a Part Two of something.
Are you doing the sequel to Happy Bhaag Jayegi?
I don't know.
If they offer me, I will happily do it.
I had a good time with Mudassar (Aziz, the director) and Aanand (L Rai, the producer).
Aanand and I are friends. I love working with him. I just did a cameo in his film, Zero.
Two other films release with Nanu Ki Jaanu -- Omerta and Beyond The Clouds.
I have to be positive. I hope all the films do well.
It will show that the industry is making money, people are watching movies.
All of them look interesting.
Majid Majidi is one of my favourite directors.
Half the time I say, go watch his movie, don't watch mine.
It is not that I don't want people to watch my film. It is just that I want people to encourage these film-makers to make such movies because then you, as an audience, will get a choice.
Otherwise, you will only have formula movies.
Avengers: Infinity War releases a week after your film. Who is your favourite superhero?
I am not a superhero fan. They bore me.
The special effects are great, I get entertained, but they are predictable.
They make franchises just to make money.
We live in a world where there is war around us.
There are superheroes in the form of everyday people who make great sacrifices. It is sad we show nothing of them.
We just glorify violence through superhero films.
We just follow the American narrative. They do more disservice than good.
Superhero films are the worst thing that can happen to cinema.