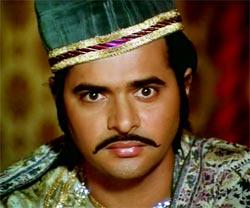 With his boy-next-door persona and understated style, Farooque Sheikh made his entry into films at a time when the parallel art cinema was making its presence felt. He went on to work in some of the best movies of that
era.
Sheikh passed away in Dubai on December 28 after a heart attack. He is survived by wife Rupa and daughters Shaista and Sanaa.
As someone who trained as a lawyer, Sheikh came to acting after failing to relate to his profession in law. Theatre was something that he was already doing in college.
Sheikh made an impressive debut with MS Sathyu's Garm Hawa, one of the greatest movies ever made on Partition. He often joked that he did the film for a princely sum of Rs 750.
He played the youngest son of Balraj Sahni in the movie that depicted the dilemma of a Muslim businessman who decides to stay in India even though the political-social climate is not very supportive and half of his family has already moved to Pakistan.
Sheikh was born into a 'zamindar' family near Baroda in 1948. He was the eldest son of his lawyer father Mustafa Shaikh. The family moved to the then Bombay as his father had a successful practice, which in part, prompted Sheikh to take up law initially.
He met his wife Rupa during his college. They were very active in theatre during their college days.
Sheikh's performance in Garm Hawa attracted the attention of Satyajit Ray. Ray cast Sheikh in the role of Aqeel in Shatranj Ke Khiladi.
The actor along with Shabana Azmi, Smita Patil, Om Puri, Naseeruddin and Deepti Naval was instrumental in keeping the parallel cinema movement alive in the 1970s and 1980s.
His most notable films of that era include Ray's Shatranj Ke Khiladi, Noorie, Chashme Buddoor, Kissi Se Na Kehna, Katha, Umrao Jaan, Faasle and Sagar Sarhadi's Bazaar.
In a career spanning almost four decades, Sheikh's body of work is not huge as he ignored the alluring, money-spinning world of commercial cinema to focus on roles that were nearer to reality.
Sheikh and Deepti Naval formed a successful pair and worked together in Chashme Baddoor, Kissi Se Na Kehna, Katha and most recently in Listen... Amaya.
In Chashme Baddoor -- about three college students trying to impress a neighbourhood girl -- Sheikh played Siddharth who falls for Naval's character when she comes to sell washing powder.
Katha saw him playing a negative role of good-for-nothing flirt, who ditches the girl at the last moment.
He played the role of Nawab Sultan opposite Rekha in Umrao Jaan. They paired up again for commercial drama Biwi Ho To Aisi.
In recent times, he acted in fewer films like Saas Bahu Aur Sensex, 'Tell Me O Khuda and Lahore. He won the 2010 National Film Award for Best Supporting Actor for his performance as a boxing coach in Lahore.
This year he had three film releases -- Listen Amaya, Yeh Jawaani Hai Deewani and Club 60. He will be seen next in the Jacky Bhagnani starrer Youngistan.
Sheikh was equally active in the world of theatre and TV.
His most famous stage play was Tumhari Amrita with friend Shabana Azmi, which completed 20 years in 2012. The play, an unrequited love story read out through reams of letters, received great success. The play was a major hit in Dubai last year.
He also acted in a number of television serials like Shrikant, Chamatkar, Ji Mantriji besides hosting the popular chat show Jeena Issi Ka Naam Hai in which he interviewed many celebrities.