'If you want Ranbir to get the girl, this film isn't for you.'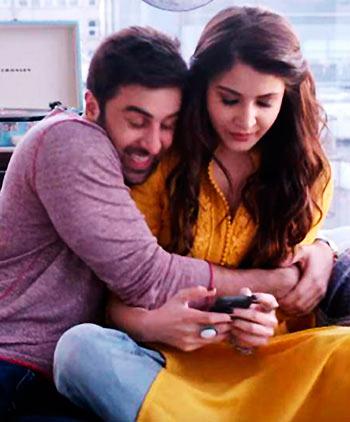 No, we're not against Fawad Khan or any Pakistan connection that Ae Dil Hai Mushkil may have.
The reviews are decent and we're not criticising any cinematic expression director Karan Johar has used in the film.
Yet, ADHM may not be for you. Syed Firdaus Ashraf tells you why.
1. The film's lead actor Ranbir Kapoor is 'private jet' rich.
If you don't travel in one yourself, you'll probably not understand the people who do.
2. Ranbir and Anushka Sharma don't have to bother with a job.
Their luxurious lifestyle is sponsored by their parents, who never show up in the film!
All we get to see is a glimpse of Ranbir's family.
If your parents can't support such a lifestyle, this film is probably not for you.
3. India may see flare-ups about issues like 'love jihad' and 'ghar wapsi,' but these things don't concern the high-flying (literally!) wealthy characters who inhabit the film.
So the fact that this is a Hindu-Muslim love story is never actually a problem.
Ayan falls in love with Alizeh, but they never discuss religion.
If you feel religion is important, this film may not appeal to you.
4. Urdu is a dying language in India.
Many Urdu poets have eked out poverty-striken lives because they could never sell what they wrote.
They should have met Aishwarya Rai Bachchan!
ARB plays an Urdu poet who has just published a book of Urdu poems, in Vienna! Which is in Austria!
We don't know what she does for a living, but she's obviously living it up in the picturesque city.
And she's even got an audience.
She's shown reading out one of her Urdu poems to a room of about 15 students.
5. Anushka feels Mohammad Rafi is a singer who cries more and sings less.
No wonder Rafi's son Shahid has demanded an apology from Karan Johar!
Now, Goa Director General of Police Muktesh Chander has appealed to the public to boycott the film.
He obviously didn't 'get' the film and if you're a fan of Rafisaab, you might not either.
6. Ranbir never seems to want to actually get the girl.
When he started his career in 2007 with Saawariya, he lost the girl (Sonam Kapoor) to Salman Khan.
In 2016, he loses her to Fawad Khan; later, when that relationship ends, she's not interested.
If you want Ranbir to get the girl, this film isn't for you.
7. Lastly, what do women want?
Anushka says, 'Dosti mein sukoon hai, pyaar mein junoon hai.'
She wants a friend who is not sexually attracted to her because she wants to keep friendship and love separate.
If you don't agree with that funda, don't watch Ae Dil Hai Mushkil.