Sairat is the first Marathi film to break the Rs 100 crore barrier.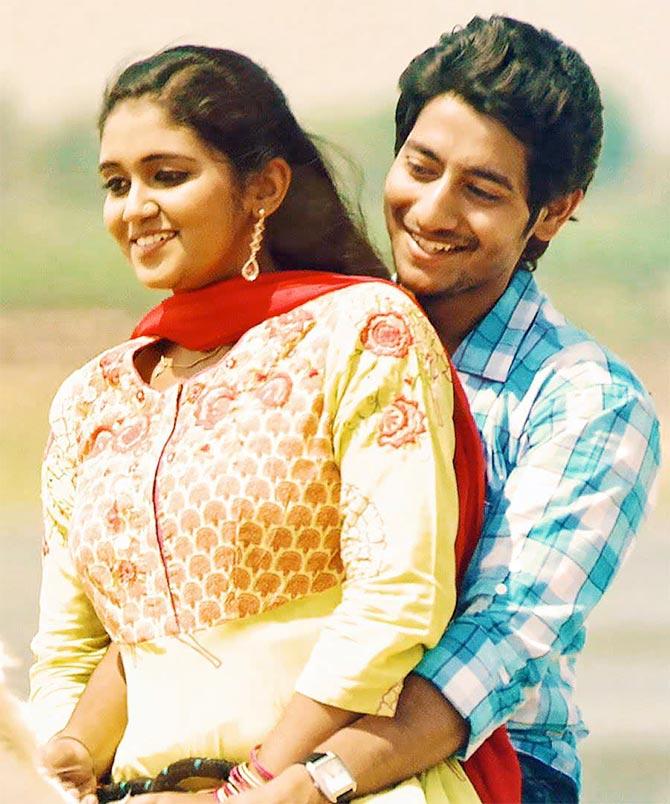 IMAGE: Rinku Rajguru and Akash Thosar played Archie and Parshya in Sairat.
The Marathi film Sairat emerged a strong winner in 2016, becoming the first in the language to cross Rs 100 crore in box office collections.
Rajinikath's Kabali, the Bengali romance Praktan, Telugu film A Aa and Punjabi movie Sardaarji 2 were also instrumental in growing the share of regional films at the Indian box office to 18-20 per cent, from 15 per cent in 2015. Content is credited as the main reason.
"Regional cinema has witnessed some excellent content this year, which has contributed to its significant growth pan-India. Also, a lot of our films, like Sardar Gabbar Singh (Telugu), were given a huge release platform outside of the regional market/state.
"Encouraged by our success in the regional markets, we have scaled up our pipeline across languages -- Bengali, Telugu, Malayalam, Tamil, Marathi, Punjabi, among others," says Sunil Lulla, managing director, Eros International.
Appetite for good content in regional languages is evident from the fact that movies like The Jungle Book (Hollywood) and Dangal, released in Tamil and Telugu, saw significant collections from the language dubs.
IMAGE: Rinku Rajguru and Akash Thosar in Sairat.
The star of the year was Sairat, produced by Zee Studios, the movie studio arm of the Punit Goenka-led Zee Entertainment Enterprises. It released in around 450 screens across Maharashtra and in 200 more outside the state.
Running for more than 100 days, it was released with English subtitles in Goa, Gujarat, West Bengal and Delhi, among other destinations. It found appeal and an audience in the southern states as well.
It is now set to release in the UAE and Korea, the first Marathi film to do so.
Goenka had, in an interview with Business Standard in August, mentioned that they would focus on the studio business, along with broadcast. Also, that Zee would look at breaking cliches and customs when it came to business practices in regional films, as with Sairat, where the revenue model was designed to link the performance of the film to the remuneration of the talent.
This is a practice increasingly adopted by studios for Bollywood, but not heard of in regional cinema for the most part.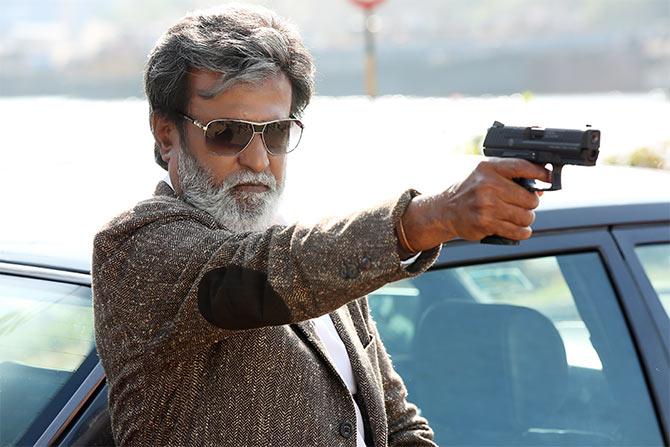 IMAGE: Rajnikanth plays the title character in Tamil film Kabali.
After content, budgeting has been another factor in ensuring growth.
"Ex-south, most of the regional movie business is not particularly star-driven. This means the talent cost is fairly rationalised, the movie not front-loaded with high talent cost.
"So, profit delivery is high in the regional markets, which will help grow the market in terms of output because studios and producers will have more money to put into future projects. It is an extremely return-driven market and that has helped maintain profitability," says Ajit Andhare, operations head at Viacom18 Motion Pictures.
Creating good content which also has commercial potential has meant regional films now become lucrative for remakes, adding another revenue stream for intellectual property owners.
Lulla explains, "As owners of the IP of our regional content, we see a growing trend of remaking our existing films which have worked at the box office in other languages, with the budgets specific to that market.
"A big budget Telugu film (say Rs 50-plus crore) can be remade in another language like Bengali at a much lower cost with top talent, at even Rs 3 crore.
"Even Bollywood is embracing regional directors to remake regional hits in Hindi (for example, Eros and Color Yellow producing Shubh Mangal Savdhan with southern director Prasanna)."
IMAGE: Sonam Bajwa and Diljit Dosanjh in Punjabi film Sardaarji 2, was a huge hit.
However, while the south and Marathi markets have shown sustained growth, there are hurdles to be crossed in the regional space.
Distribution continues to be a major challenge, as they go up against Hindi and Hollywood films. It means they might not get their share of shows at multiplexes, where there is scope to earn more (since the average ticket prices there are higher than single screen theatres).
Lulla says this becomes all the more relevant when the sector has seen consumption of regional content beyond the local market (a Marathi film doing well outside of Maharashtra, etc).
"Apart from distribution, there are individual challenges for certain language films. For example, while Bengali did do well, it was not commercially consistent as Marathi was. Similarly with Punjabi films. There needs to be a steady output of content to maintain commercial viability. Punjabi films, specifically, still face the lack of a good distribution platform on broadcast," adds Andhare.
He does, however, say that the aggression shown by OTT (audio, video, and other media content delivered over the internet without the involvement of a multiple-system operator in the control or distribution of the content) players for acquiring regional content is a big positive for the regional movie market.