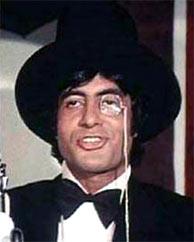 Celebrating Amitabh Bachchan.
Whether he's singing paeans for his ladylove in autumn, beating the bejesus out of baddies, darting accusations at a deity's idol in a temple or indulging in drunk babbling about two varieties of cockroaches, Amitabh Bachchan is the king of every genre.
And even though it's the angry young man that caught on like a rage, my most favourite is Amitabh Bachchan -- the funny man, the farceur, the fool.
Ever so uninhibited and on the button, I am regularly awed at how readily he conceals his refined reality to become a man committed to inanity.
On his 73rd birthday, here's celebrating 10 hilarious moments when AB cracked us up with his lively antics.
Chupke Chupke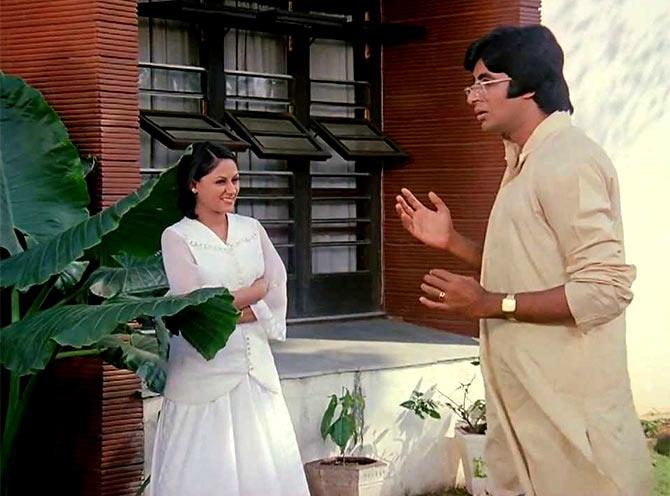 As if it's not bad enough to appear married in the eyes of the girl he has a crush on and balance a 'nazarbattu' on his nose, AB has to shift faculties too in Hrishikesh Mukerjee's eternally droll, Chupke Chupke.
That time when he stumbles over the function of a corolla and sidesteps his nonexistence botanical expertise with a raucous cackle continues to unfailingly tickle.


Namak Halal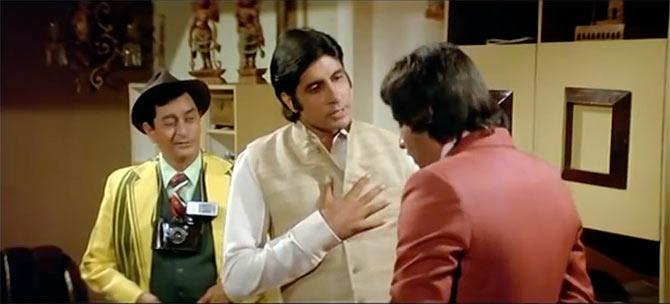 Adlibbing at its best, Big B brings the house down in a one-of-a-kind job interview for Prakash Mehra's Namal Halal.
His cracking monologue asserts claims to walk and laugh in English and a long ramble on cricket stars -- Vijay Merchant, Vijay Hazare, Wasim Raja, Wasim Bari.
'Considering the consideration,' he did get hired and we got one heck of a AB scene to delight in.
Satte Pe Satta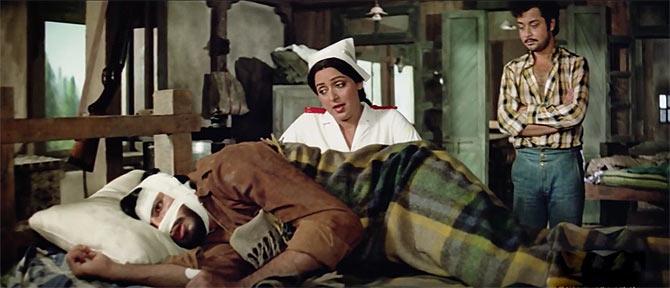 Sporting rolls of phony bandage, Bachchan feigns suicide and injury to gain Hema Malini's sympathy in one comical moment of Satte Pe Satta.
The dressing down he receives for the same -- 'Arre yaar tum toh mera kachra hi karti chali jaa rahi ho' -- is alone worth the price of admission.
Yaarana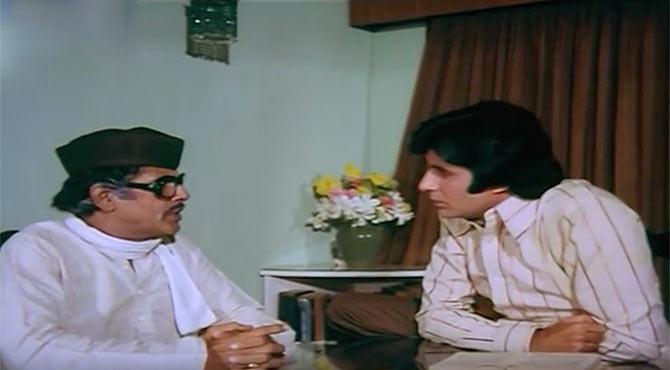 The rain in Spain stays mainly in the plain but our desi Eliza Dolittle has no difficulty coming up with his brand of tongue twisters on the home turf.
Kachcha Pappad Pakka Pappad, for the win.
Amar Akbar Anthony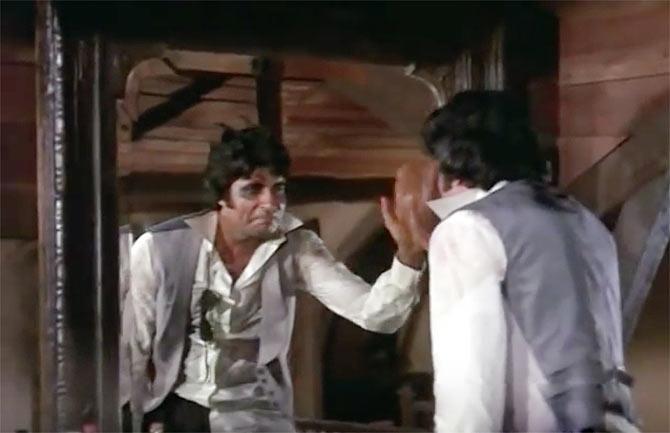 From Suhaag to Shamitabh, Big B has played the drunk frequently but nothing comes close to the amusing one-on-one with (and subsequent tending of) his own reflection in the mirror following the thrashing his gets at the hands of Parveen Babi's bodyguard Zabisco.
And, hey, there's a moral to it all: Daru mat pi, mat pi, mat pi.
Sholay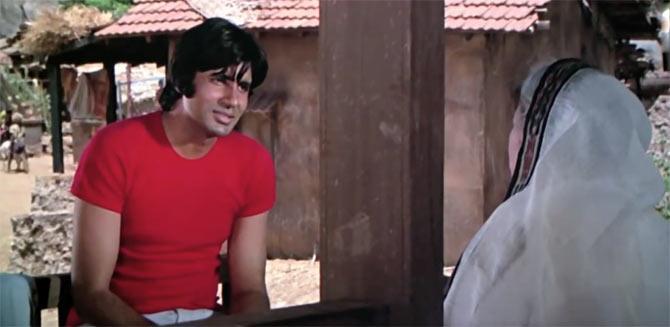 Never send a wry-humoured friend to propose on your behalf is what Jai's mischievous prank on Veeru underscores in one of Sholay's innumerable memorable scenes.
Between Mausi's bewildered expressions on learning about Veeru's indiscretions and Bachchan's smooth but mock persuasion, witness the virtues of understated comedy.
Coolie
There's nothing subtle about Big B's antics as a coolie caught in a radio station mash-up. French omelette meets flex-your-body yoga, anyone?
The upshot of this nearly nine-minute long shtick is over-the-top and oh-so-funny.
Mr Natwarlal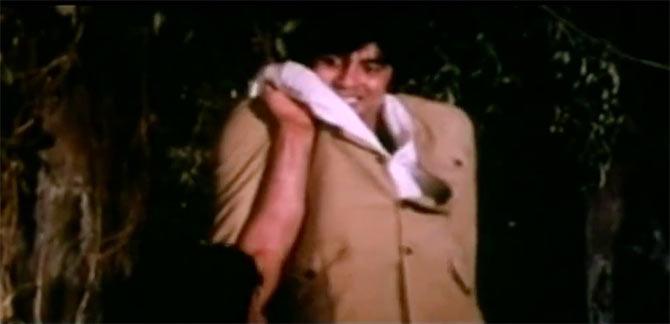 An eternal favourite among kids, the entertainer aims to amuse in and as Mr Natwarlal even when he's fighting off a burly baddie in the middle of a deserted forest.
Okay so, fight off is a bit of a stretch. It's only after the giant brute tumbles in a swamp, his mousy appeals transform in stout swagger.
Lawaaris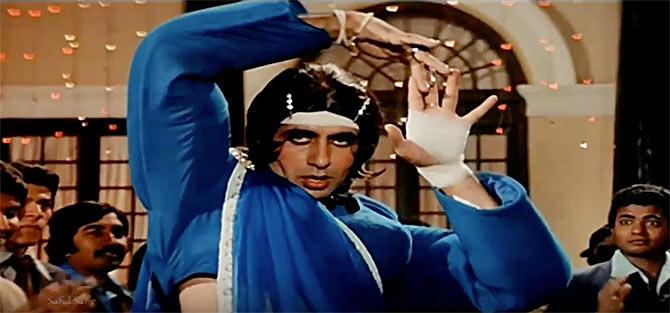 Lambi, moti naati, kaali, gori -- Bachchan pokes fun at a variety of better halves in an uncharacteristically sexist tone while slipping into drag mode to perform the folk ditty, Mere angne mein.
Designed for polarised response, there's no denying the playful number's popularity or AB's sense of adventure.
Kaalia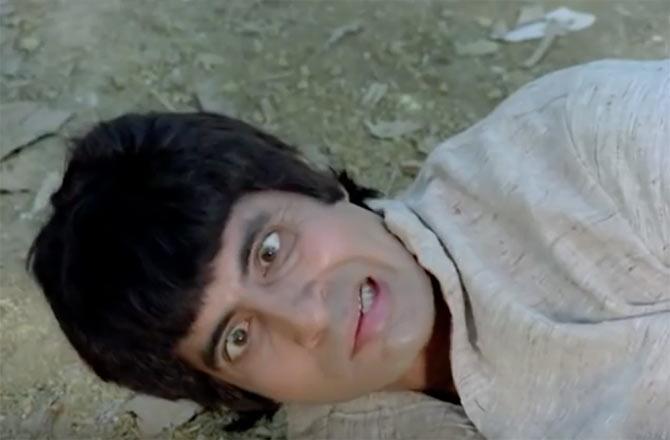 'Haan toh bachchon, Mukhtar Singh ka naam suna hai tumne?'
A delightfully animated Big B's tall tales to impress a bunch of gullible kids, of how he trounced his intimidating nemesis as well as a fierce Alsatian (or Al-Session as he puts it) take an embarrassing turn after he frantically flees at the sight of a barking mongrel.