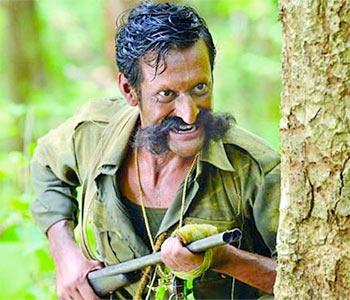 Beware of the Bollywood outlaw.
With a striking black tilak marked on the forehead, bullet-loaded belt around the waist, a perennially furious gaze and a tone as threatening as that rifle in hand, the dacoits are, understandably, a dreaded community.
And yet, their imposing histrionics and ferocity makes them a truly fascinating antagonist around a plot set against a rural backdrop. Only recently, our filmmakers have begun to portray this profession in a more realistic light.
As appears to be the case with Ram Gopal Verma's latest venture Veerappan which is slated to hit the theatres this week.
Here's a closer look at RGV's film and some of the best-remembered portrayals of Hindi cinema's big, bad daakus.
Sandeep Bhardwaj in Veerappan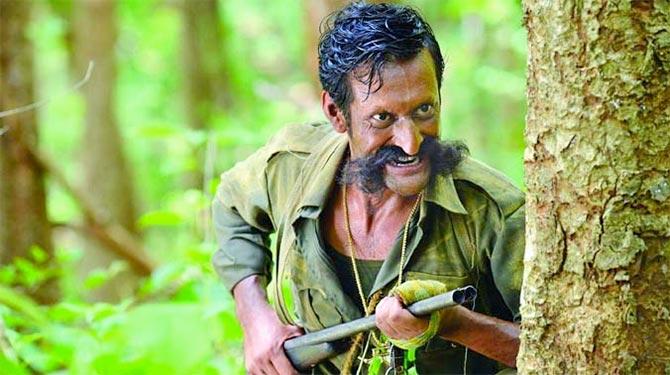 Directed by Ram Gopal Varma, the film is based on the life of notorious Indian bandit Veerappan, and the events leading to the Operation Cocoon to capture and kill Veerappan.
There is a great buzz around the film as it is based on Varma's super hit Kannada docudrama Killing Veerappan. Sandeep Bharadwaj, an alumni of National School of Drama, plays the titular role in film.
The Kannada version, which released in January, also starred Bharadwaj as Veerappan.
Irrfan Khan in Paan Singh Tomar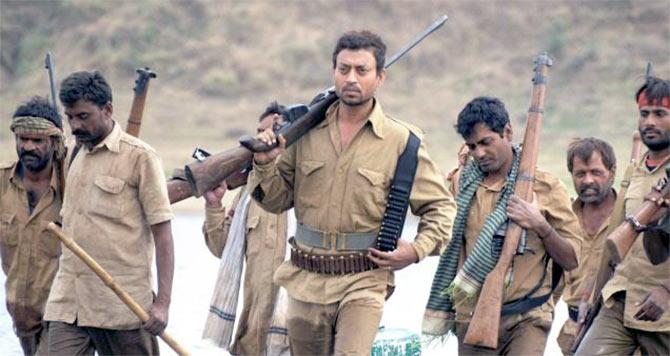 Irrfan Khan as Paan Singh Tomar was an absolute visual delight. The big screen adaptation of the real life athlete-turned-rebel, directed by Tigmanshu Dhulia, was such a compelling narrative that it not only impressed the critics but also tasted commercial success at the box office.
The biographical drama even fetched Khan his first National Award. Paan Singh Tomar also ended up winning the National Award for best feature film.
Amjad Khan in Sholay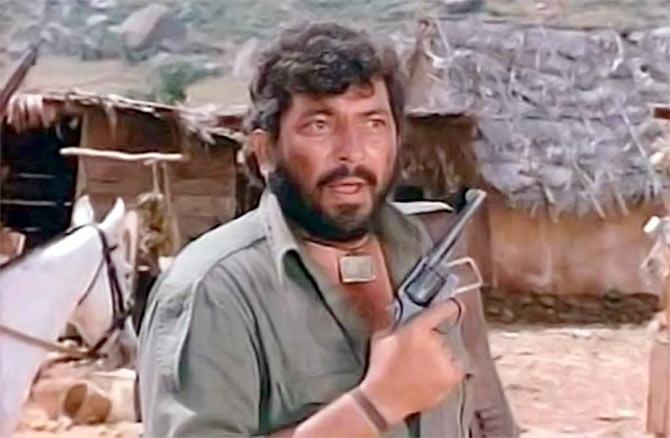 He's the man mothers warned their kids about with the still quoted, 'Soja nahi to Gabbar Singh aa jaayega.' Amjad Khan's iconic Gabbar Singh is synonymous with terror that has been both -- revered and referenced to epic proportions.
Gabbar's smooth but creepy baritone and morbid punishment in Ramesh Sippy's classic produced several chilling moments in and outside Ramgarh.
Sunil Dutt in Mujhe Jeene Do, Praan Jaye Par Vachan Na Jaye, Mother India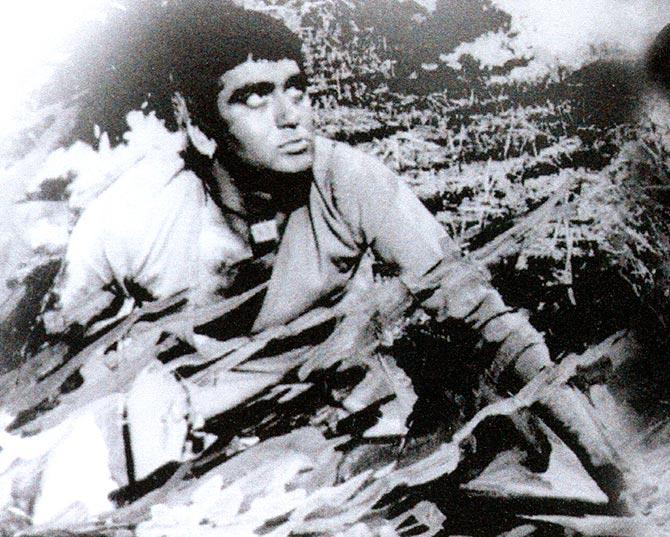 The mild-mannered Sunil Dutt could be a powerhouse of intensity when he chose to be.
After offering a glimpse of his bad-tempered ways as a avenging bandit in Mother India, he provided a better insight into the human side of one with his award-winning portrayal as Jarnail Singh in his home production, Mujhe Jeene Do.
His third effort as a blustering dacoit in Pran Jaye Par Vachan Na Jaye, however, didn't live up to the charisma of its predecessors.
While son Sanjay has had good luck playing villains, his attempt at dacoit dramas produced embarrassments like Jeeva and Jai Vikranta.
Dilip Kumar in Gunga Jumna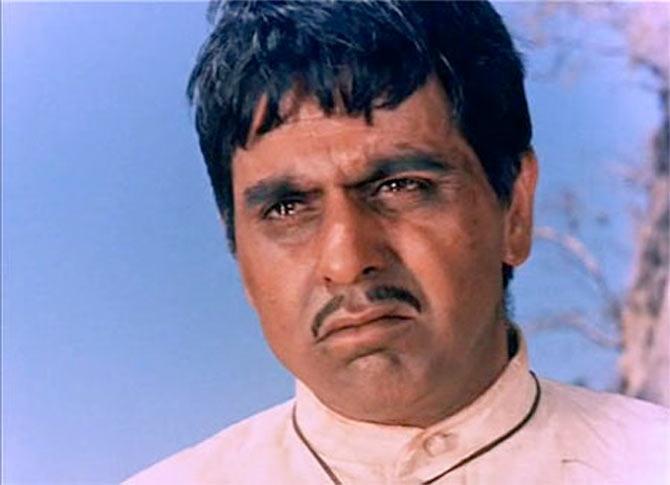 Bollywood legend has played everyone from a dejected lover drowning his sorrow in alcohol to an alternately timid/daring pair of twins.
And he's spewed a thick Bhojpuri accent and a myriad of complex, conflicting emotions to essay the brother on the wrong side of law as Gunga in his home production, Gunga Jumna.
Apart from gathering acclaim for its compelling contents, the film was a huge box office success.
Vinod Khanna in Mera Gaon Mera Desh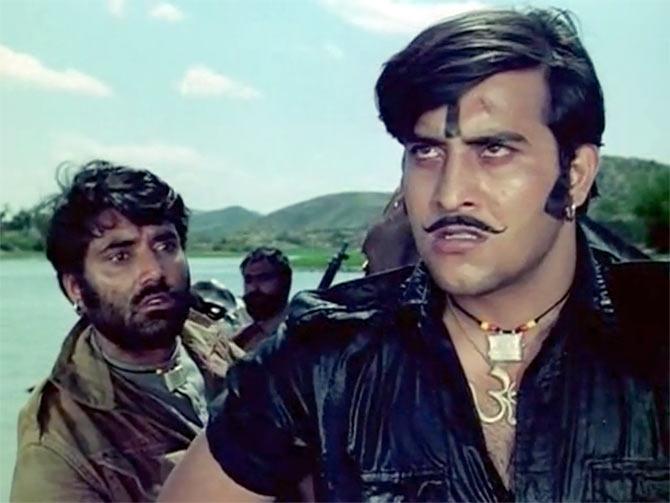 Before he became popular in cop roles, Vinod Khanna made quite an impression as a scowling dacoit in films like Mera Gaon Mera Desh, Kachche Dhaage and Patthar Aur Payal.
And even though MGMD had him pitied against Dharmendra, Khanna stole the thunder with his simmering intensity.
While not in the same league of memorable, his work in Kachche Dhaage and Patthar Aur Payal reiterated his reputation as one of the hottest bandits of Bollywood.
Pran in Jis Desh Main Ganga Behti Hai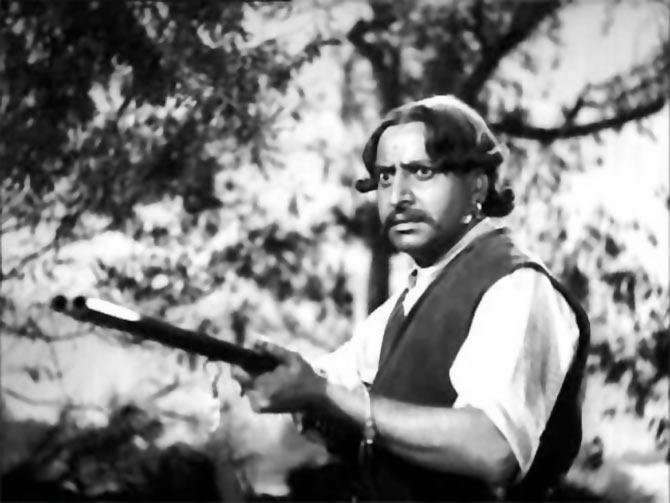 The stern look in his eyes, the ruthless intent of his words and that oh-so-fierce get-up ensured Pran make one heck of the unsettling, self-seeking dacoit Raka in Raj Kapoor-starrer, Jis Desh Main Ganga Behti Hai.
His onscreen malice perfectly underscored RK's innocent, righteous appeal and went on to become one of the best roles of his career.
Sunny Deol in Dacait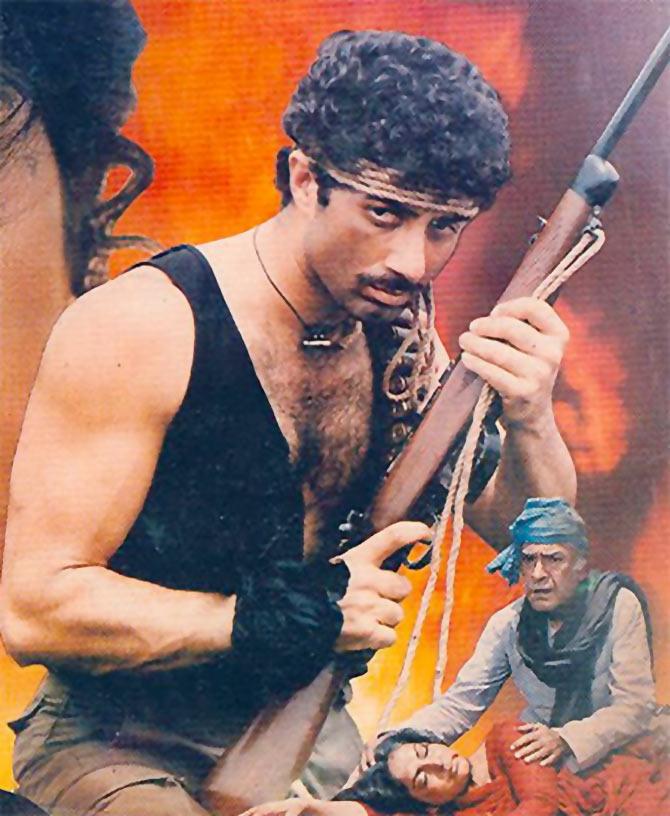 It's not easy to digest a visibly urban Sunny Deol in the garb of an earthy Dacait in Rahul Rawail's film of the same name.
But the Deol-Rawail chemistry worked its magic on this dramatic exploration of how an innocent man turns joins hands with his outlaw buddies after his entire family is massacred owing to the evil Thakur-corrupt village police nexus.
Despite its gripping temperament, Dacait wasn't a commercial success. Nor J P Dutta's Yateem, starring Deol again, in a similar, arguably better directed, theme.
Mukesh Tiwari in China Gate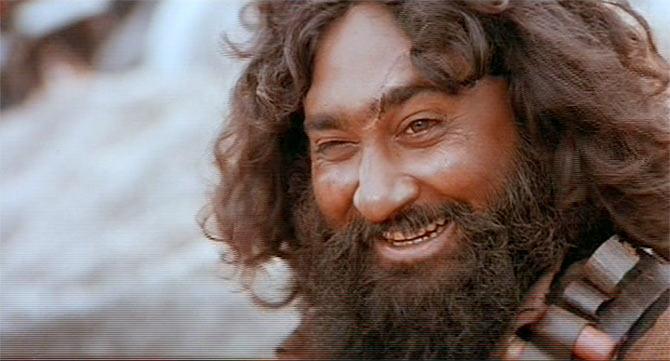 Although Raj Kumar Santoshi's China Gate wasn't exactly the Sholay of Mukesh Tiwari's career, it launched his innings on a fairly decent note.
He plays Jageera, a disheveled, manic bandit with a penchant for bizarre one-liners like, 'Mere mann ko bhaya main kutta khaya,' to convey his insane personality.
Seema Biswas in Bandit Queen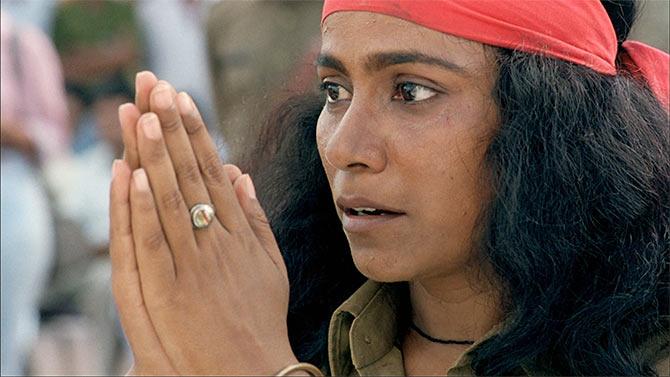 Following hilarious attempts to pass off wannabe dakus by mainstream heroines like Zeenat Aman, Raakhee, Dimple Kapadia and Sridevi in films like Daku Hasina, Taaqat, Zakhmi Sher and Sherni, Seema Biswas took the screen by storm with her disturbing, poignant portrayal as real life bandit, Phoolan Devi in Shekhar Kapur's National-award winning gem.
Though its explicit content attracted controversy, Bandit Queen continues to be one of the most authentic films of its genre.
Amitabh Bachchan in Ganga Ki Saugandh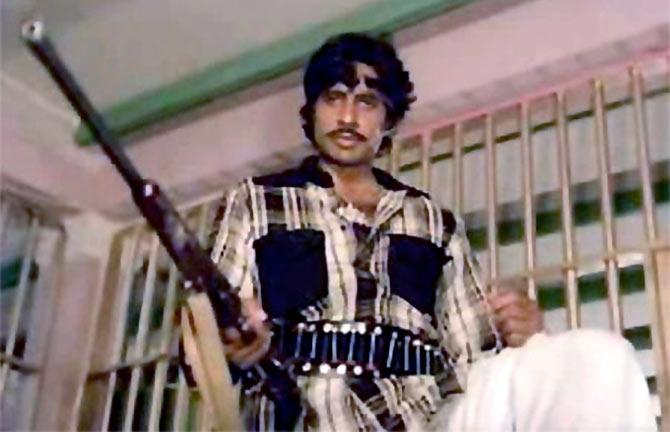 The same year he played Don and Muqqadar Ka Sikander, Amitabh Bachchan also slipped into the skin of a forced-by-circumstances dacoit in Sultan Ahmed's successful potboiler, Ganga Ki Saugandh.
Feudal oppression is often a recurring theme for scrupulous individuals to take the path of rebellion.
Here too, Amjad Khan's tormenting ways as the quintessential, evil Thakur prove too much for Big B to put up with.
Ajay Devgn in Lajja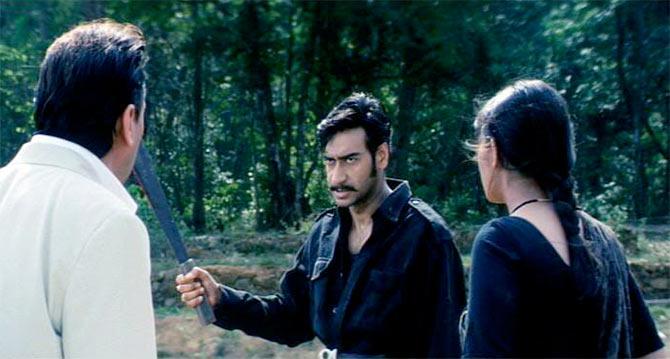 Although it was a brief role, Devgn garnered maximum wolf whistles for his verbose delivery and unabashed swagger as the brigand Bulwa marching forth to the damsel's rescue in the women-oriented Lajja.
Perhaps his conviction as a rural chap in this film made him a perfect candidate to play the title character in Vishal Bhardwaj's Omkara set in the UP badlands.