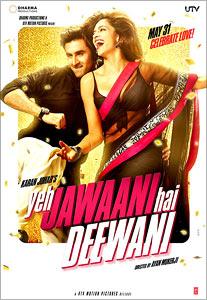 Actor Ranbir Kapoor, who has teamed up with this ex-girlfriend Deepika Padukone in Yeh Jawaani Hai Deewani, says there was no awkwardness while working together as he shares a comfort level with her.
A lot of gossip mongers spoke about the two actors getting back together as a couple but Ranbir no awkwardness while working together as he shares a comfort level with her.seems unperturbed by it "I don't take such talk seriously. We don't come as a package. Deepika and I have moved on as individuals and as actors," Ranbir said.
When asked whether he felt working with Deepika the 30-year-old actor replied, "Not at all. That would be unfair to the film. We are all professionals."
Ranbir, who worked earlier with Deepika in Bachna Ae Haseeno (2008) is full praises for the actress. "She is passionate and ambitious. When you come across someone who is as motivated as you are, the experience of working together is terrific. I share a deep comfort level with her," he said.
In 2008, Ranbir Kapoor acted in Siddharth Anand's Bachna Ae Haseeno. It was a classic Bollywood romance; Since then Ranbir went on to play a politician in Rajneeti, (2010) a musician in Rockstar (2011) a deaf-mute guy in Barfi! (2012) among others but he mostly stayed away from typical romances.
Yeh Jawaani Hai Deewani will see him revisit the genre. Ranbir argues that this isn't his comeback to romantic films, "All my films have had a strong romantic tale underneath. Yeh Jawaani Hai Deewani is a story of a guy who grows up from a 21-year-old boy to a 30-year-old man. It's an urban film with characters that are closer to today's youth."
Ranbir is also back to working with director Ayan Mukherjee. The duo teamed up for Wake Up Sid (2009). Talking about his association the actor said, "In Wake Up Sid, my character was a slacker, but in this film I have found myself. It deals with the relationship, heartbreak and ambitions of four people."
Produced by Karan Johar, the film will release on May 31.