'Ashwiny Iyer comes from a school of Nil Battey Sannata.'
'The writer of the film Nitesh Tiwari made Dangal'.'
'So you can see the kind of cinema they have done and how they will treat the film.'
'That will make Bareilly Ki Barfi different.'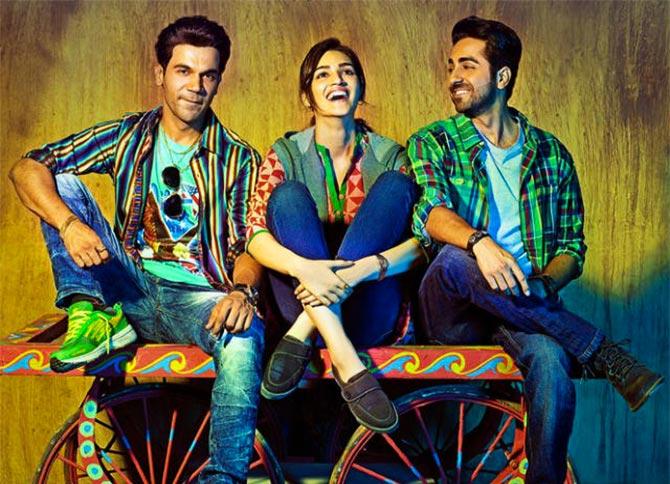 IMAGE: Rajkummar Rao, Kriti Sanon and Ayushmann Khurrana in Bareilly Ki Barfi.
Bareilly Ki Barfi actors Ayushmann Khurrana and Kriti Sanon met up for interviews twice in seven days.
The first time, they looked exhausted, and apologised for making us wait for two hours.
The interview was short as they had to rush for a screening of Toilet: Ek Prem Katha.
The second time, they made us wait for two hours again.
The interview was hurried once again even though it lasted longer.
The third actor in Bareilly Ki Barfi's love triangle Rajkummar Rao was missing from both interactions.
Rediff.com's Jahnavi Patel asked Ayushmann and Kriti what the film is about.
Director Ashwiny Iyer Tiwari and her husband Nitesh Tiwari had read Ingredients of Love and this film is reportedly inspired from that French novel. What ingredients have gone into making Bareilly Ki Barfi?
Kriti: I didn't know about this book at all. It's basically a line which they loved that they took from a book.
The script was reworked from that idea.
It's not that if you read the book and watch the film, it's the same thing.
Ayushmann: It's the basic germ, not the entire story.
The characters in the film, the bizarre situations and how they eventually get their love, it's about that.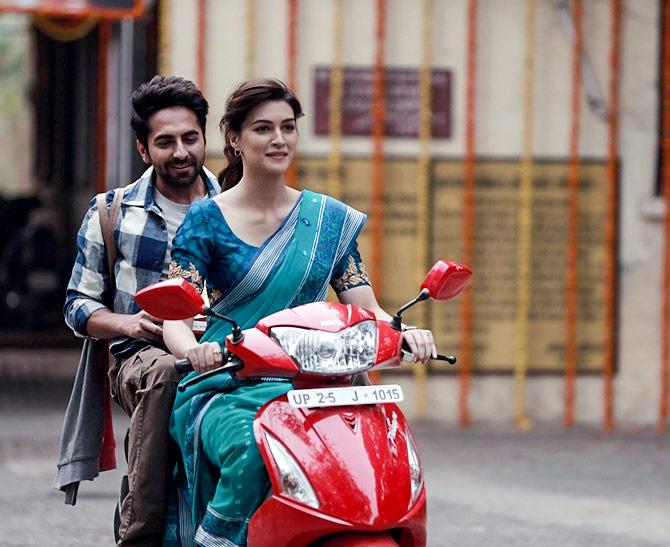 IMAGE: Ayushmann and Kriti in Bareilly Ki Barfi.
The trailer reflected the UP flavour.
Kriti: Absolutely. Bareilly Ki Barfi has that UP flavour which sometimes is by-the-way-funny, not in your face.
There are situations that turn out to be comical and there's a lot of drama.
There's a lot of relatability with every character, be it three of us (Ayushmann, Rajkummar Rao and Kriti) or Seema Pahwa or Pankaj Tripathy.
You will see the nuance.
There are comparisons being drawn between Bareilly Ki Barfi and Saajan.
Ayushmann: It can be compared to any love triangle film, but the thing is, the director and the writer bring a lot to the table.
The treatment is different.
She (Ashwiny) comes from a school of Nil Battey Sannata.
The writer of the film, Nitesh Tiwari, made Dangal. So you can see the kind of cinema they have done and how they will treat the film.
That will make the film different.
Ayushmann, you play an aggressive guy for the first time.
Yes, this is the first time I am play a bully. I have never done that in real life.
As part of growing up, of course, you get bullied by kids. But I haven't done it in a film.
But he's not an outright bully or a schemer. He's probably selfish, but he has his vulnerable moments.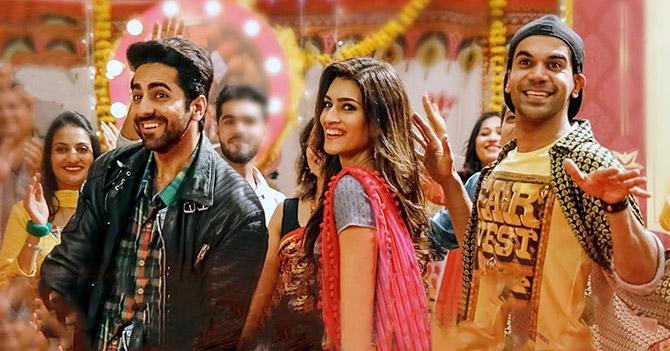 IMAGE: Ayushmann, Kriti and Rajkummar Rao in Bareilly Ki Barfi.
Kriti, you made your debut opposite Mahesh Babu in 1: Nenokkadine. Did you get any more offers in Tollywood or do you want to stick to Bollywood?
I did another film post Heropanti, Dohchay, but after that, I don't want to do things just for the heck of it.
You need to have enough time to be able to give your hundred percent to a film.
I have been busy enough here, but if I get something interesting, be it in any language, I will take it up.
What's the most endearing and challenging part about your characters?
Ayushmann: The most endearing part of this character is that he has a good relationship with his mother. There's an undertone of love and callousness at the same time.
The challenging part is that Chirag is not a likeable character and yet, he's vulnerable.
So how does one toe that thin line? And, he has to take the story forward.
He has all the funny lines in the film.
Kriti: The most endearing part of Bitti is the relationship she shares with her father (played by Pankaj Tripathy).
I don't think it has been seen in Indian cinema before especially when the girl comes from a small town like Bareilly.
You will even see a scene where the father and daughter smoke together.
He understands her and trusts her completely. He's protective about her.
He's the kind of father who knows she is not going to do anything wrong, but at the same time, at night, he will be at the door waiting for her to come back.
The most challenging part is that when you get a character who is so moophat, so outspoken, and she is occasionally smoking and drinking too, does break-dance too, it's very important to ground that character.
It's important to make people feel for her character and not just have this bubbly character going on.
They need to feel what she goes through and what she actually wants from life.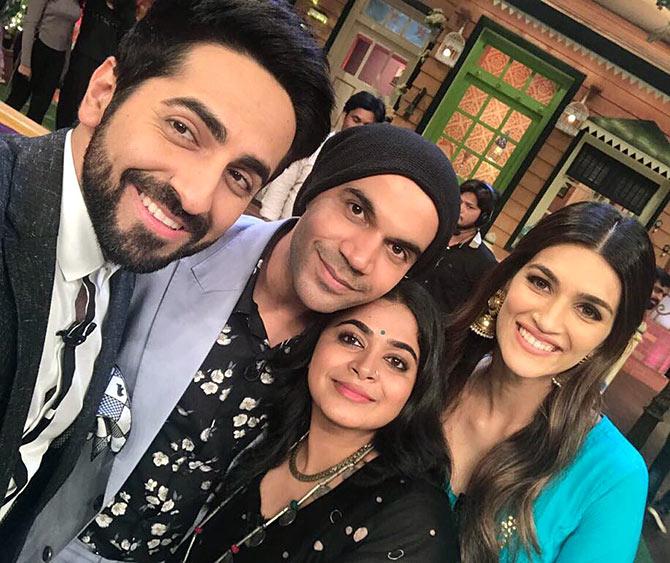 IMAGE: Ayushmann, Rajkummar and Kriti with director Ashwiny Iyer Tiwari. Photograph: Kind courtesy Kriti Sanon/Instagram
When the story is established in a small town, we tend to make the accent caricaturish.
Ayushmann: It depends on the director and the school of thought you are coming from.
In this particular film, we are very true to the region in Bareilly and Lucknow, people talk like that. In India, after every 10, 12 km, the accent changes.
We had a language coach, Rohit Chaudhary.
He acts in the film too. He plays my best friend.
Kriti: If you talk about dialect, it also changes with your education.
Someone who is very educated will have a polished way of speaking Hindi.
In this film, Bitti and Chirag speak in a similar manner whereas Rajkummar's character isn't as educated. So he speaks closer as to how my parents (in the film) speak.
Ayushmann, for the first time, you are doing a film with two heroes. How was your reel and real chemistry with Rajkummar Rao?
It is always fun to work with somebody your age.
On set, there was this give and take, but off set, we were very friendly.
On set, sometimes, I would bully him.
Then, there would be his character transformation and he would get back at me.
How long does it take for a dialect to fade off? Does it affect other films?
Kriti: Dialect and body language take a little while; it sticks to you a little longer because it's a matter of practice.
The way Saira walks in Raabta used to come into me and I had to tell myself I can't do that here.
I had to consciously keep myself alert that I wouldn't get into Saira mode.
Bitti also has certain quirks and expressions; it's more boyish.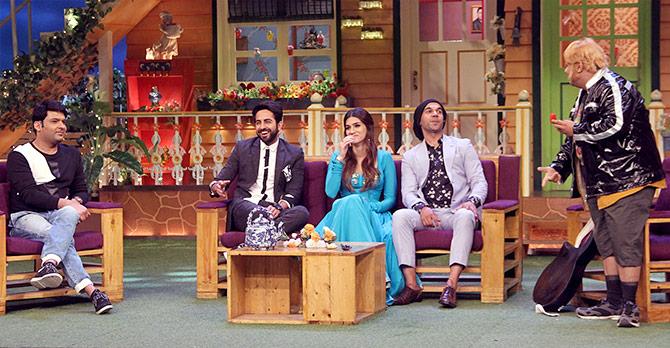 IMAGE: Ayushmann, Kriti and Rajkummar promote the film on The Kapil Sharma Show.
How was it working with Ashwiny?
Ayushmann: She is culturally aware because of the fact that she is a Tamil Brahmin, born and brought up in Chembur (north east Mumbai).
Her Maharashtrian connect is great, South Indian connect is great.
She is married to Nitesh Tiwari, so her UP connect is great.
She incorporates those nuances in her scripts and films.
It was fun working with her.
Kriti: All my directors, except Rohit sir (Rohit Shetty, Dilwale), have been first or second time directors.
Ashwiny is very rooted as a person, like Ayushmann said.
She gets the nuances right. She is very sure of what she wants in a scene.
She knows the sur. She understands the simplicity.
Her way of looking at things is very different and relatable.
She is a very good human being and that reflects in her films.