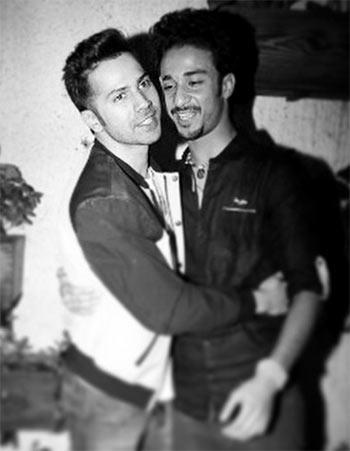 'When I go to small towns for shows people say 'yeh cockroach hai instead of crockroaz.' But I don't mind it because they call me out of love.'
Dance India Dance choreographer Raghav Juyal gets ready for ABCD 2.
Dehradun-based Raghav Juyal, 23, who made his acting debut in Rohan Sippy's Sonali Cable last year, is set for a big screen release with Remo D'Souza's ABCD 2, alongside Varun Dhawan and Shraddha Kapoor.

The dancer-actor shot to fame with the reality show Dance India Dance (season 3).
"My love for art and the passion to do everything pushed me towards acting. ABDC 2 has a different feeling and it has helped me improve as an actor and evolve as a dancer," he says.
He says his character Raghav in the film is a "funny and emotional guy."
"You can call it a second lead and an integral part of the film's suspense. The film gave me the chance to do all that I love -- dance, travel, act and have fun with friends," he says.

The dancer-actor is not affected by the lukewarm response to his first film Sonali Cable.

"I always go by the saying, fame is a devil and art is an angel. I take everything in the right spirit. I got noticed, learnt a lot about acting, which helped me in ABCD 2," he explains.
Raghav has showcased his slow motion style of dance in the song Bezubaan Phir Se. He has also taught some cool steps to co-stars Varun and Shraddha.

"Both are humble and good students. I remember once after the shoot, the entire cast, including Varun, stayed at my place. He missed his father's call at night. So when in the morning his father called, he was tense, just like any kid who has probably bunked college/tuitions and is about to be shouted at for the same," he says.
Actor, director, choreographer Prabhudheva plays guru in ABCD 2. Raghav says he has grown up watching his dance moves.
"He has his own style, which is amazing. Working with him was a dream come true experience," he says.

Raghav's stage name 'Crockroaz' was given by his friends.
"It's an amalgamation of being powerful like a crocodile and creepy like a cockroach," he explains.
"When I go to small towns for shows people say yeh cockroach hai instead of crockroaz," he smiles. "But I don't mind it because they call me out of love."

Raghav says he draws inspiration from nature and observing things that move.
"I am not a trained dancer, everything is self taught. I get inspiration from nature and also I believe in learning from day to day life observation."

The dancer-actor is thrilled that he got to write his own dialogues and choreograph his moves in the film.
"Remo Sir would keep my conversation blank and ask me to write how I would react in that particular situation.
"So you will get to see a lot of my punch lines in this film. Remo sir is cool and relaxed on the sets. We ended up doing a major part of the shooting while having fun in Las Vegas."

Of his signature step, the slow motion walk, he says, "I would tell my friends in the classroom to punch me and I would fall in slow motion. Every time I did this, I was asked to stand outside the class.

"I was weak in studies, so I decided why not make this weak point a strong point. That's how I came up with a different style of dancing," he says.

Raghav left his home against his parents' wishes and came to Mumbai, slept on benches, had no work and no idea where he wanted to reach.

"Now my parents have accepted my wish to pursue a career of my choice. I have slight dyslexia; I'm bad at mathematics. So my parents take care of my finances. When I require money, they transfer it to my account," he says.
On an average, he does five or six shows a month if he is not shooting.

Watch: Raghav's Bezubaan kab se performance



"I am a simple guy who can live on omelettes and wear 100 rupee tee-shirts. I like to enjoy life spiritually. Sometimes when I go out with my friends, I like to buy tickets for them as they have helped me during my bad days."

He has made some investments in Delhi, but is yet to buy his own home in Mumbai. "I don't feel like buying a flat here because they are so small, not like we have in Dehradun," he says.
Raghav enjoys acting, dancing, writing and trekking in Rishikesh and other places.
He will soon host a dance reality show called Dance Plus. Remo D'Souza will judge the show.

ABCD 2 will release on June 19.

Image: Raghav Juyal with ABCD 2 costar Varun Dhawan. Photograph: Raghav Juyal/Instagram