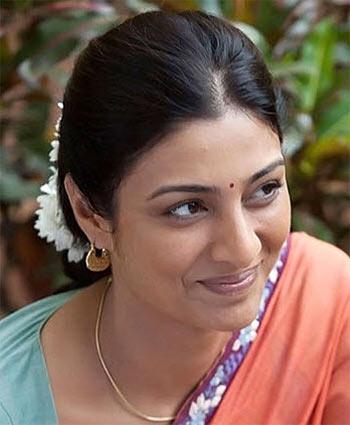 'Acting is a very crazy profession to be in. Mentally and emotionally, we have to go into a particular zone and come out of it and keep on doing it. I am sure acting takes a toll on everyone and maybe that's why logon ko actors pagal lagte hai.'
Tabu shares some beautiful nuggets with Rediff.com's Savera R Someshwar and Sonil Dedhia.
'Tabu, you are in a very tough profession. They make the best of the best doubt themselves.'
The "truth" of this observation, made by one of her close friends, "hit" her like very few things have, says one of India's finest actress.
"The film industry is actually a tough place to survive."
There are unsaid rules to follow, clear divisions of loyalties, rivalries, backbiting and a harsh, glaring public spotlight that, in this era of mobile phones and social media, does not allow a whiff of privacy to sneak in.
Tabu skirts it all. Her armour consists of her incredible talent and of her felicity of slipping away into her private world, sometimes for a couple of years, when she feels like it.
"It's (the film industry) a trap and I think you need to be aware to disengage from that trap and still do your own thing," she says.
"I am Tabu unwound," she laughs. "I like to spend time with family and friends and share my experiences with them. I laugh, cry, go for movies, eat popcorn. All these things are pretty relaxing for me."
Ah yes! About the popcorn.
It plays a very important role in her life. She carries packets of the microwave variety with her everywhere, especially when she has to sit down to publicise her films.
And she's pretty willing to share it, even as she fiercely guards her private life.
"I am only unwinding," she laughs. "Actually, wind karne main time lag jata hai (It takes time to wind me up)."
Don't let the languid demeanour fool you; it hides a pretty sharp brain.
This was why, instead of indefinitely waiting for the release of what would have been her first film, Prem (produced by Boney Kapoor to launch his youngest brother, Sanjay, it saw multiple delays), she opted to debut in Bollywood with Pehla Pehla Pyar, where she co-starred with Rishi Kapoor.
Prem released a year later, in 1995, by which time she already had her first hit, Vijaypath.
It also allowed her to take a drastic career turn when she found herself instinctively leaning towards the cinema of realism and natural performances.
"I was really excited when films like Kaala Paani, Maachis, Chandni Bar and others came my way," she says. "The sheer fact that I would get to portray various emotions was thrilling. I also got an opportunity to showcase my talent."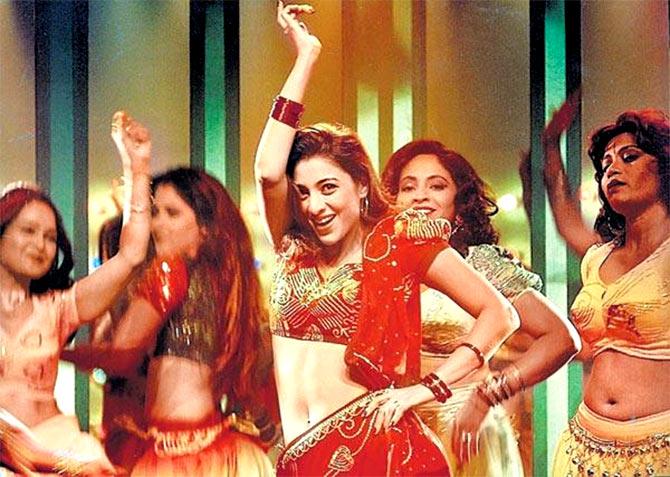 IMAGE: Tabu in Chandni Bar.
Even today, she insists she will only do films that allow her to express herself "in a way that comes naturally to me. It's a little self-indulgent to think like that, but that is how I have always worked."
This 'indulgence' has allowed her to play characters that were deeply challenging. How does she play such draining characters, like Ghazala Meer in Haider for instance, without letting it affect her psyche?
"Acting is a very crazy profession to be in. Mentally and emotionally we have to go into a particular zone and come out of it and keep on doing it. Most of the time, I can switch off once the camera is off. I am sure acting takes a toll on everyone and maybe that's why logon ko actors pagal lagte hai(people think actors are mad)" she laughs.
It could also be the reason why she refuses to to judge her work.
"It is a very subjective thing to do," she says. "When a film doesn't work, everyone thinks about what went wrong. I have been very fortunate that the audience has never rejected me. They have respected, loved and supported my work and have always been with me."
At the same time, she says that movie-goers will never allow actors to forget their past. "That is such a terrible thing because you like to disengage from the past and move on."
The good -- and the bad -- thing about being an actor, she says, is that you can never completely forget.
Tabu has played a wide variety of roles in her extended career and, each time someone comes and talks to her about any of them, the memories come flooding back.
"There are times when I see myself on television and I am like, 'Arre, yeh main thi, yeh maine kiya tha.' I wonder if it happens to everybody else too."
Sometimes, she says, people tell her to sit and watch her movies once more. "I have been a part of this industry for a long time and once I have done something and experienced it, I feel that I have grown out of it and need to move ahead. But I think it will be a good exercise for me to sit back and see my films," she laughs.
Tabu may not remember all the characters she has played, but there is some moments that will never fade from her memory.
IMAGE: Tabu receives the National Award for Best Actress for Chandni Bar from then President A P J Abdul Kalam. Photograph: Sondeep Shankar/Saab Press
Like the National Awards.
In a strange twist of irony, in 1996, while Tabu was honoured with the National Award for best actress in Maachis, a film directed by Gulzar, whom she looks upon as a surrogate father, she lost the Filmfare Award to Kajol in Dilwale Dulhania Le Jayenge.
"The National Award (for Maachis) was one of my most memorable and fantastic experiences. I remember I was unwell and had 102 degrees temperature. I was totally unhealthy. I was thin, scrawny and had short hair. When I look back at my photograph with the President of India (Shankar Dayal Sharma) receiving the award, I wonder how I could have been so dumb? Koi make up nahi. Sirf neend se uth ke naha ke, salwar kameez pehen ke main chali gayi award lene (I wasn't wearing any make up. I just got up in the morning, had a bath, wore a salwar kameez and went to receive the award.)."
Her second National Award for Chandni Bar and the Padma Shri "were nice", if a bit "unsettling."
"People around you make you conscious. They start advising you about what you should do and what you cannot do. It almost felt like there was something wrong with me," she laughs. "But I didn't take anyone seriously."
There's something else Tabu does not do. She has never chased after a film or a role, even though she wishes film-makers would exploit her range and talent in all kinds of films and not just serious cinema. "I want to do a role like Biwi No 1 which is loud and hilarious. I had so much fun doing that film," she says and laughs, "I don't think I have ever chased a film. Karna chaiye tha na (I should have done that)?"
It was a different story, though, when it came to her mother, Rizwana. Her mom, says Tabu, was "thrilled" when her younger daughter -- Tabu's stunning looking elder sister, Farha, who is now the mother of an 18 year old, was a popular star in her time -- did films like Life of Pi and The Namesake.
"She is very happy because when she goes for her morning walks, her friends talk about me and give her news that is related to me. They get press cuttings and show it to her. Later, when she comes home, she says, 'Unko sab malum hai ki Tabu toh Hollywood movie kar rahi hai (They all know that Tabu is doing a Hollywood film).' For them, the word Hollywood is a big thing. My mother is very simple, but really proud about my work."
IMAGE: Tabu and Irrfan Khan in The Namesake.
What about Tabu? What does working in Hollywood mean to her?
"There was a huge growth with those experiences. Any new experience always increases the bandwidth of an actor. I worked in a completely different atmosphere, with new people who have different approach to life, who have different thoughts. It changed and altered so many things which are intangible," she says.
But there are some things that Tabu will not completely submit to. Like paying the price the public demands of every celebrity.
"I can never ever come to terms with the fact that everything about me is always been documented and so many people always want to know about me," she says, looking uncomfortable. "I am aware that these things are a part of the industry, but I still cannot accept it. It will always bother me, but I think it is like a package in your life. When you get a lot, you also tend to lose something."
Tabu, too, has had to make sacrifices at the altar of her decisions.
"I feel I could have educated myself," says the actress, who was barely 20 when her first film, Coolie No 1 in Telugu, released.
It could be one of the reasons why Tabu is an avid reader and traveller and values her leisure as much as she values her success.
"I want to focus on contentment and satisfaction. Hamesha nahi milta hai satisfaction. Kabhi kuch cheezein choot jaati hai and experience incomplete reh jaate hai (You don't always get satisfaction. You lose out on a few things and the overall experience remains incomplete). I think if I get that, then I am successful. I'd rather put it this way... I should be successful in being content and satisfied."