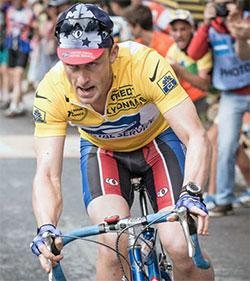 'It was a spectacular crime, wasn't it? Sepp is on the same scale. He's up there with Lance.'
'I don't think Lance's a fascinating man. He lied and cheated. I never got the impression that he was Einstein.'
Director Stephen Frears, in an exclusive interview with Aseem Chhabra/Rediff.com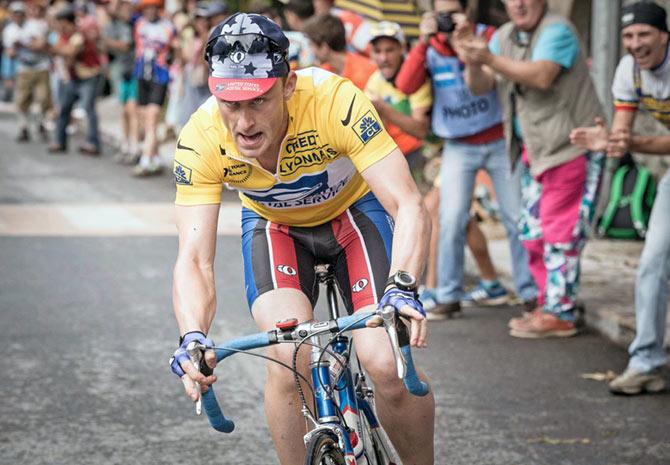 IMAGE: No, that's not Lance Armstrong. That is Ben Foster playing Armstrong in Stephen Frears's film, The Program.
Stephen Frears is a two-time Oscar-nominated filmmaker (for The Grifters and The Queen), a director who has made a range of terrific films -- The Hit, My Beautiful Launderette, Sammy and Rosie Get Laid, High Fidelity, Philomena.
In his latest film The Program, Frears takes on the rise and fall, and the crimes of Lance Armstrong, the seven-time Tour de France winner who finally admitted to taking performance enhancing drugs.
The Program is based on the book, Seven Deadly Sins: My Pursuit of Lance Armstrong by The Sunday Times sports writer David Walsh.
American actor Ben Foster (Kill Your Darlings, Lone Survivor) plays Armstrong while Chris O'Dowd (Calvary, St Vincent) is David Walsh.
Aseem Chhabra/Rediff.com spoke to Stephen Frears at the Zurich Film Festival about crime in sports and the fall of Lance Armstrong.
I believe you are a big football fan. We are sitting in Zurich, so what do you think about Sepp Blatter and the scandal?
It's absolutely wonderful isn't it? It's really entertaining. It's very, very satisfying. It's really good fun.
Fun? Is it damaging for football?
I couldn't tell you about the damage to football. But the scale of his corruption seems to be monumental and it's very satisfying to see him get caught. What more do you want in life?
Do you see a story there?
I don't know. A story about a fat corrupt man? Where does he live?
I am not sure, but in Zurich.
In one of the big houses?
Maybe it is close to where we are sitting.
Close to here? I can feel the corruption seeping through the streets. He is a perfect example. You can see his denial is complete. Does he think 'I wonder if I did anything dodgy?' I doubt it, or maybe he does. I don't know.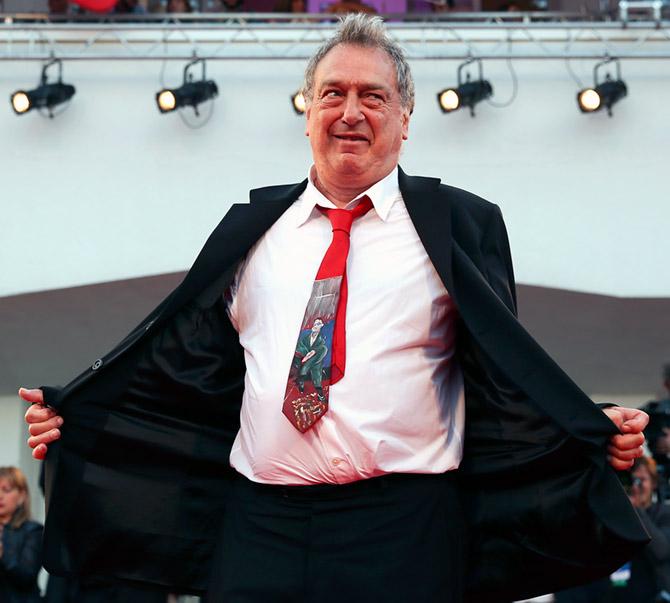 IMAGE: Director Stephen Frears at the Venice Film Festival, August 31, 2013.
Are you drawn to dark stories? I have seen several of your films and they all have characters that live through dark situations.
I don't think about it.
People get attracted to subjects without planning it. When you look at your work -- it's such a great body of work, from The Hit to Hanif Kureishi's scripts to The Queen. What takes you to these stories?
You read something you like. The truth is the more unconscious it is, the better.
In The Grifters and Dirty Pretty Things they were really dark people.
Yes, I can see that. I guess it's what Harold Pinter said. Pinter was writing something and was advised, 'At this point we really need a happy scene.' And after a few days Harold came back and said, 'I don't know how to write happiness.'
It was a spectacular crime, wasn't it? I mean Sepp is on the same scale. So he's up there with Lance. Big time. It was all those votes in the African countries that was so interesting. I will give you this much money and you vote for me. Easy, simple idea.
Tell us about Lance's crime.
What stealing the Tour for seven years in a row? Well, it is like stealing the Mona Lisa. Isn't it shocking?
What was your opinion about Armstrong over the years?
I didn't have an opinion because I didn't know of his existence. So I didn't have to get through the heroic years.
Here you have a 21-year-old young man who overcomes cancer and -- he was probably cocky to begin with -- but he was so full of himself at all times.
When he was young?
Yes, when he was young.
It doesn't surprise me.
I wanted your sense of the person and the crime that was being committed all the while. But getting over cancer made him believe that he could do anything he wanted to.
Yes, I have conquered life. That's sort of like Icarus isn't it, flying to the sun? Look what happened to him.
Lance Armstrong is a fascinating man.
I don't think he's a fascinating man. He got himself into the situation. He was concerned about cancer patients. But he lied and cheated. His situation was interesting. I never got the impression that he was Einstein.
Was there anything in particular that you read to understand Armstrong and his mind?
I would particularly recommend a book called Inside the Postal Bus, by Michael Barry who was in the bus with Lance for several years and he never mentioned drugs in the book. That was particularly illuminating.
But when you are looking at his story, how do you try and portray his other side, his positive personality?
He was very good to cancer patients. That was fantastic. And the overcoming of cancer. And it is not the other side of his personality. You can't leave out the cancer and the charity.
But you left out his personal life.
Yes. If you mean you want details about Sheryl Crow. She's actually really interesting. She has never spoken about it. Seems to me a rather dignified way to behave.
First of all, I didn't want to make a biopic. I wasn't remotely interested in that. I am sure he was married, had children, got divorced.
I was making a crime story. But equally people who follow cycling are insane and obsessive about the details. They change their clothes and bikes every year. I knew that the film, among other things, would be watched by some people by binoculars. I wanted to get that right. So I had David Millar, the great Scottish cyclist as an expert, on board.
Did you ever want to meet Lance?
No, why would I want to meet him?
To look him in the eyes and ask questions?
Well, he is a liar.
And most probably he would not meet you if you were making a film on him.
No idea. I never asked him.
What do we read from the film about heroes and people we believe in?
Watch out (he laughs).
Did you have a hero who disappointed you in life?
Well, I was a great Elvis fan and he ended up in a catastrophe. I understand about disillusionment if that is what you are asking about.
When you look at the Tour de France it is such a long and difficult race.
It's huge. They are bonkers, absolutely insane to do it.
Do you think it is possible to win it without drugs?
It's a good question. But if you were to ask Christophe Bassons, the Frenchman who didn't take drugs, he would say, yes it is. If you ask David Walsh he would say Chris Froome didn't taking drugs.
But they only have to go into a chemist shop, 'Oh, look at that one!' It never stops. They might be able to get some advantage out of a particular skin cream.
We have the same problem in the US with baseball. The whole steroids story keeps going on. They get caught and newer drugs come into the market.
The money is so phenomenal.
Can you talk about the casting? How did you decide to cast Chris O'Dowd as David Walsh?
I met Chis and I was quite puzzled by him. You are casting a writer and in my experience there are actors who can play writers and there are actors who can't. It's a particular quality. Chris is highly intelligent, articulate and Irish.
And Ben Foster, I look at the film and say wow, we got Ben. But I never thought about it. He seemed immediately the right person. And he is a terrific actor.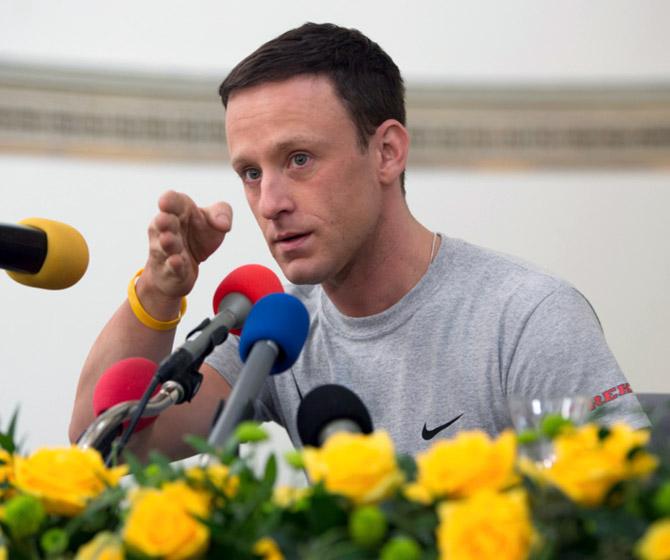 IMAGE: No, that's not Lance Armstrong. That is Ben Foster playing Armstrong in Stephen Frears's film, The Program.
There is a strong resemblance.
Yes, that also happened with Joe Orton. Gary Oldman started to look like Joe (in Prick Up Your Ears). It was quite sort of innocent.
I don't think it is a fair question to ask you, but how do you think Americans will react to this film because he was such an American hero.
My sense is that a year ago they couldn't deal with it, but now they can. In the end the wound is beginning to close up.
I can see it was a traumatic experience for Americans. It was the reversal of everything they believed in.
He was a national hero. In America football and baseball is played by city or state teams. But Lance was representing America. I live in New York so I am asking this question.
I can see what you are saying. I am sure the film won't be very popular in Texas. But they are also quite grown up. You have to deal with these things in life.
Did you see Alex Gibney's documentary The Armstrong Lie?
Lance didn't film himself taking drugs, which is the centre of it all. Alex Gibney, it seems to me, he was really unlucky. He got it right, but Lance was always present and he is such a controlling person, as I understand. I never met him.
When our film was made, Lance had no control over it at all.