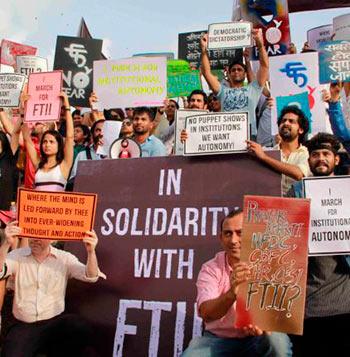 'They say this man (Gajendra Chauhan) might have a political agenda. Don't we all have political agendas and ideologies? If you are an adult, you cannot be brainwashed so easily, right?'
'What is wrong with having a political ideology? This is a democracy, you are allowed to have an ideology.'
'Any government tends to choose people who are sympathetic to them, has any government not done that? So what is the big deal here? Why are we getting so hot under the collar?'
Filmmaker Shyam Benegal, who as FTII chairman was himself gheraoed by students, gives us his point of view on the crisis facing India's premier film school.
Former FTII chairman Shyam Benegal seemed deeply troubled by the recent turn of events at India's prestigious film institute when a few students were arrested by the police.
In a conversation with Patcy N/Rediff.com, he tries to offer a solution to the problem.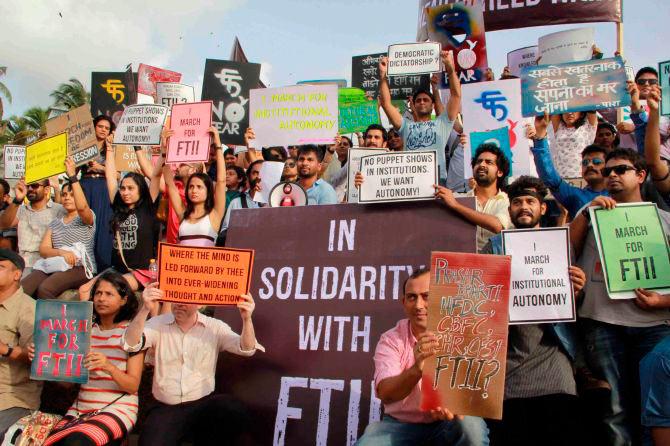 Image:

The FTII students are on strike for the last 69 days against the appointment of BJP member and TV actor Gajendra Chauhan as the institute's chairman. Photograph: PTI Photo.
Students gheraoed FTII director Prashant Pathrabe. How right was that?
It's not a question of right or wrong. There are certain actions that students can take, like call a strike or gherao, depending on the nature of the problem and the circumstances under which they are doing it.
Having said that, I feel there was no reason to gherao Pathrabe because their problem has nothing to do with the director of the institution but rather, (they have a problem with) the chairperson (Gajendra Chauhan). They should have met the chairperson. But before doing that, they went on a strike. That was unfortunate.
The students are questioning the choice of chairperson, that he has no credentials. According to me, credentials are not important. Capabilities are important. And nobody has checked his capabilities.
How do you find out if a person is capable or not? You have to meet him, question him and you look at his road map -- his plans and vision for the institution.
Without doing that, you cannot go on strike.
Something quite irrational has been happening.
But there was no need for the management to call the police either.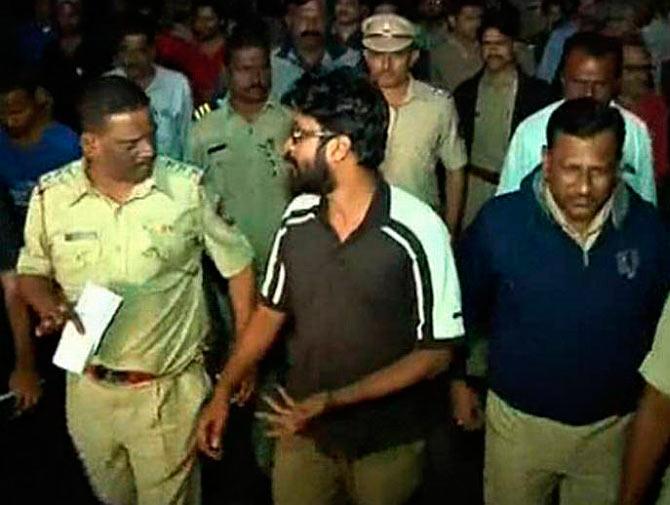 Image: FTII students being arrested during the midnight swoop by the Pune police. Photograph: PTI Photo.

Why do you feel so?
Calling the police has happened for the first time. I am absolutely shocked and appalled. There have been strikes and gheraos in the past but the police were never called.
If you have a problem within the family, you don't call the police to solve that problem. It makes no sense.
I was gheraoed for an entire night when I was the chairman. But I didn't call the police. Instead, I called the entire student body for a meeting. And it happened in a very civilised manner.
They asked me many questions, and I answered them. I asked questions also. Eventually, everything was sorted after one and a half hours.
I was the chairman of the institution twice, between 1980 and 1983 and then again from 1989 to 1992.
What was the reason for the gherao then?
The director had made a rule that male students could not go to the female students' hostel.
The problem with any institution is that students are young and tend to get emotional and charged very quickly. But they all mean well. They are not there to destroy an institution, so one shouldn't think from that point of view at all.
You must go at least halfway to meet the students. I personally would go more than halfway because you are the institution and they must have faith in you.
Ego business is useless.
These students are not teenagers. They are adults, doing a professional course. At the end of the course, they will be professionals in whatever craft they choose, whether cameraman, editor, sound recordist, writer or director... They are not kids, they are serious people.
If they are going on strike, there must be a very good reason for it.
They say this man (Gajendra Chauhan) might have a political agenda. Don't we all have political agendas and ideologies? If you are an adult, you cannot be brainwashed so easily, right?
What is wrong with having a political ideology? This is a democracy. You are allowed to have an ideology.
And how will he saffronise the institution? Its constitution has certain rules and regulations. There is a system in place for the last 50 years.
I can be a communist but one cannot automatically assume that once I become chairman, I will change the institute into a communist. That's not possible.
The institute has its own constitution.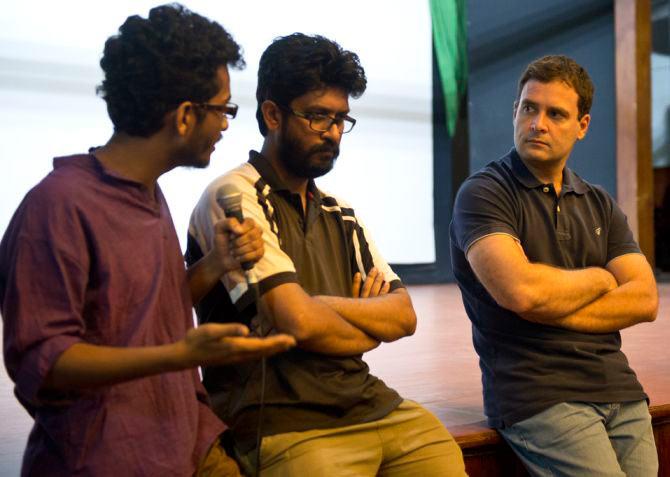 Image: Congress vice-president Rahul Gandhi interacting with the protesting FTII students in July. Photograph: @officeofRG/Twitter
Do you think support from politicians like Rahul Gandhi and Arvind Kejriwal has given the protest a boost?
It's unfortunate that the students brought national political leaders into this business. There was no need.
It's a very minor issue, it could have been sorted out in the institution itself. It's just a question of extending your hand to shake the other person's hand. You should sit down and talk. Discuss. Even shout at each other, if you want to. But don't polarise the situation and go to different ends of the room.
The moment a problem enters the political arena, you are no longer of any significance.
Do you think Gajendra Chauhan is not eligible as the FTII chairman?
I don't wish to comment on that.
The government has chosen him. But students feel he has no credentials.
But like I said before, credentials are of no great consequence, capability is.
You don't need people who have won national awards. You need people who are capable.
People said I was the chairman (of FTII) and have won so many national awards. But that's not of any consequence. What matters is capability, interest and enthusiasm in fulfilling the role.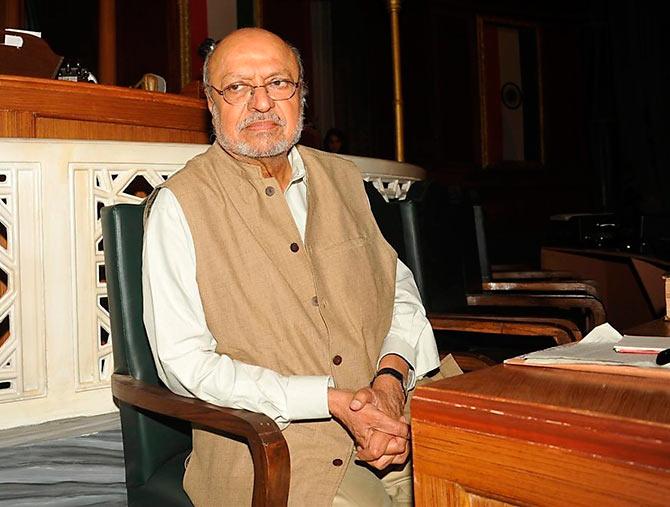 Image: Shyam Benegal. Photograph: Abhijit Mhamunkar
Do you think the protest against Gajendra Chauhan is justified?
I don't know what he has said and what he has not said. I have only read reports from the students. Has he said anything?
He said 'barring Rajkumar Hirani, the institute has not produced any important artist since 1987'.
(Laughs) This is becoming a bit bizarre. In normal circumstances, it would be considered a joke.
It's ridiculous; you cannot evaluate people (talking) like that.
Film personalities like Jahnu Barua and Anant Patwardhan have been quite vocal in opposing Chauhan's selection.
They may oppose him because they have political beliefs of their own, and are against his political belief.
But that is not the reason why you should oppose someone. Everyone has the right to his political opinion.
BPJ supporters like Mukesh Khanna, Suresh Gopi and Pahlaj Nihalani have been appointed chiefs of the Children's Film Society, National Film Development Corporation, and Censor Board respectively. Is the criterion for selection to these posts that one should be a BJP member or supporter?
Any government in power tends to choose people who are sympathetic to them. Has there been any government that has not done that?
So what is the big deal here? Why are we getting so hot under the collar?
Image: Arrested FTII students get bail. Photograph: PTI Photo.
Do you think education and politics should not be mixed?
No, they should not.
Education means you should open the windows to all the ideologies out there.
You must have the freedom to learn about everything.
An educated person means he can fit into the civilised space of society.
What, according to you, is the solution to this problem?
I would have sat with the students and discussed everything.
What is the 'assessment' process of projects that has been pending since 2008?
If a student cannot finish his three-year course, whose problem is that? Is that the problem of the students or is it the problem of the way the courses are run?
It cannot be the problem of the students.
If the student cannot handle the syllabus, the institution can drop the student or ask that student to do something else.
If the work of the 2008's students has not been assessed till 2015, there is something wrong with the system.