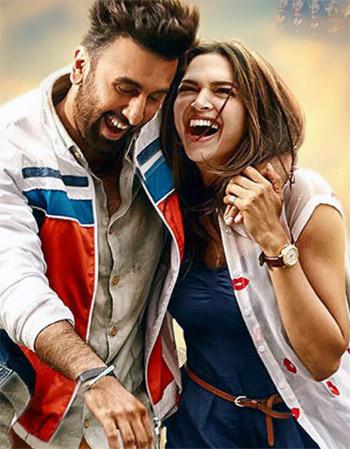 'Tamasha is a cross between Jab We Met and Rockstar because there is intensity, fun, humour and also a breeziness about how life is.'
'Tamasha, in a way, stands for the spectacle of your life. It has to have many emotions, including irony.'
Director Imtiaz Ali talks about his latest film.
Imtiaz Ali has never been in a hurry.
Even though he's been in the industry for a decade, he's directed only six films so far. And since he makes really good films, everyone is keenly awaiting his latest film, Tamasha.
The movie looks good, thanks to its lead pair Ranbir Kapoor and Deepika Padukone, and its exotic locations.
Imtiaz Ali talks to Rediff.com contributor Rajul Hegde about working with Ranbir once again after Rockstar, his chemistry with co-star Dippy and whether a film with Shah Rukh Khan is in the offing.
What was the driving force behind making Tamasha?
People behave differently at different places because they try to be suitable to the place and the society that they are in. But their inner self is something else.
I used to have that feeling as a kid and it has remained with me. But I didn't think I would make a film around that.
It was only after Rockstar that I thought this would become a movie as stories started coming in.

A majority of your films have had the lead characters discovering themselves in a life-changing journey. Are you trying to search yourself in the process?
I am not interested in searching for myself. I think all the discoveries I am probably interested in are to do with the world outside.
But it's true that there are times when I have looked at a film of mine and I discover something about the world or myself.
Yes, there is a certain relationship that I have with my movies. But I am not actually interested in myself to the extent of actually going for that search (smiles).

Apparently, Tamasha is not a typical romantic film as there is a dark side to Ranbir Kapoor's character in it.
Sometimes, I feel Tamasha is a cross between Jab We Met and Rockstar because there is intensity, fun, humour and also a breeziness about how life is. Tamasha, in a way, stands for the spectacle of your life. It has to have many emotions, including irony.

How different was directing Ranbir this time as compared to in Rockstar? What transformation did you see in him?
I think the boy has become a man (smiles).
Interestingly, I had no memory of Rockstar while making this film and I am glad I did Highway in between and wiped my slate clean. Even with Ranbir, he never reminded me of anything that he had done in Rockstar. It was like working with a new actor.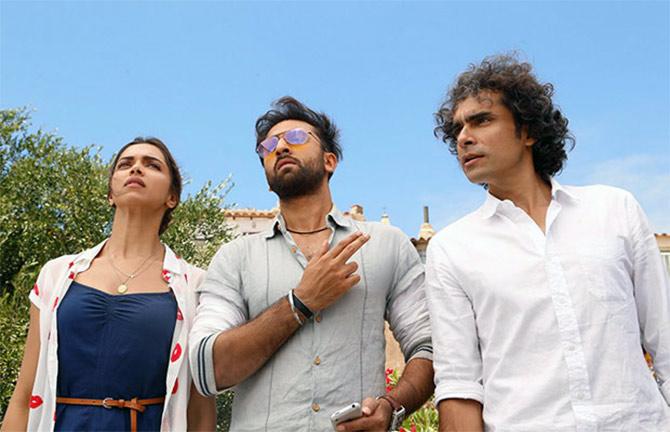 Image: Deepika Padukone, Ranbir Kapoor and Imtiaz Ali on the sets of Tamasha
Expectations are high from this film as Ranbir and Deepika are coming back together onscreen after the blockbuster Yeh Jawaani Hai Deewani.
If there is love and attention, there is expectation. So I don't mind it. It inspires us to do better.
What chemistry did you observe between Deepika and Ranbir during the making of the film? Do you think the chemistry between two actors can make a difference to a love story when it's translated on screen?
Ranbir and Deepika are very addicted to the true joy of acting. I am not concerned about them as actors and the kind of freedom that they have with each other.
The fact is that they love and respect each other as actors. They feel that they can take chances and feel free that makes them do better than they could have done with other co actors that I know.
The chemistry should be between the two characters in the story. Then the actors can contribute or not contribute to it. For instance, Shah Rukh Khan and Kajol have different levels of chemistry in different films and that's because the characters are like that.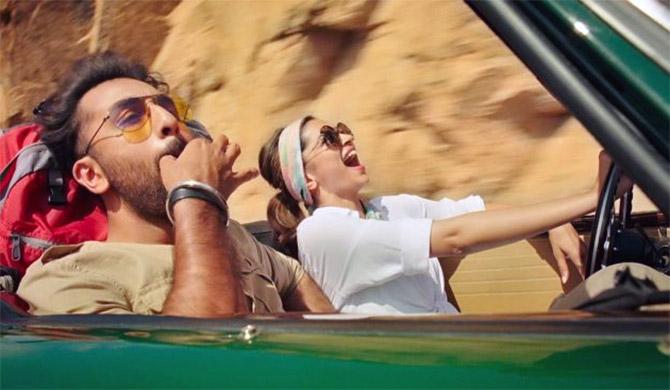 Image: Ranbir Kapoor and Deepika Padukone in Tamasha
Traveling is an integral part of your films. Do you personally like travelling?
Yes, I like travelling. When I am travelling, I feel it's an entertaining and dramatic time in my life. I guess that is why it keeps coming into my stories.
Also, I like the unique locations in the movies. When I watch other people's movies, I feel a sense of thankfulness to them if the movies show me a place where I am not likely to go on my own. I guess it's a kind of subconscious thing that happens in my movies as well. Like a lot of people went to places like Kaza and Kashmir after watching Highway.
I don't go to locations just because I want to go; the story goes to a location for a reason.
There were reports that you would be collaborating with Shah Rukh for your next. Is it true?
I have many plans and desires to make movies. I would love to work with Shah Rukh Khan but there is no confirmed plan that I can really boast of right now. I discuss a lot of things with him because we both are from Delhi.

Any classics you want to remake?
No. Last year, I had presented one of my favourite films -- Shyam Benegal's Junoon -- at the MAMI film festival. But I would prefer to represent a film, bring it back to the audience rather than remake it.
How concerned are you about box office numbers?
I am interested in the money that is invested in the movie to be returned to the investor. That is important.
I am not interested in how big the number is, it should be a bigger number than the cost. As far as the economy is concerned, the money that somebody spends to watch my movie should feel that it was worth that money.