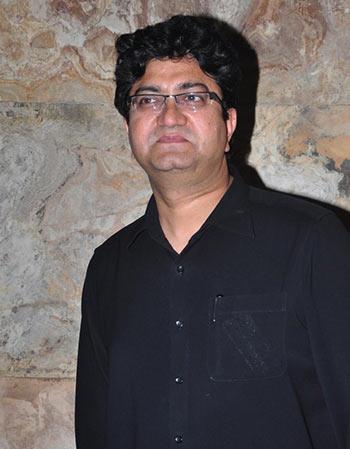 'When you go through the ups and downs of life you need someone who says that no matter what happens to you, whether you are successful or not, I am there with you.'
'In the absence of that person and that love, you have a society which is depressed.'
Wise words from Prasoon Joshi. The first of a two-part interview:
When most teenagers are grappling with their future, Prasoon Joshi, at 17, was a published poet.
The advertising whiz is now better known for his beautifully-written songs in films like Taare Zameen Par, Rang De Basanti and Bhaag Milkha Bhaag.
The poet -- currently, chairman, Asia Pacific, McCann Worldgroup India -- worked on the Bharatiya Janata Party campaign, 'Ab ki bar Modi Sarkar',
Joshi spoke to Syed Firdaus Ashraf/Rediff.com about poetry, the anti-suicide campaign he worked on with Aamir Khan and why we all need unconditional love.
What was your first reaction when you discovered you had been honoured with the Padma Shri?
My first reaction was to call my mother and tell her. For my parents, this award is different from other awards I have won.
They were there for the ceremony at Rashtrapati Bhavan and that moment was very special to me.
What can I give them at this age? Seeing them happy made me feel very good.
I am pretty connected to my parents, apart from being connected to my wife and children.
When I won the Lions (award) in Cannes, I called my mother. It took time to explain what the award was about, what the trophy looked like, what colour it was...
With this award, I don't need to explain. That is the joy.
Who would you credit for your success?
The people I grew up with -- my parents, my sisters, my friends, my wife, and to an extent, my daughter. A lot of people have shaped me.
I was the kind of person who constantly thought of ideas and poetry. I feel poetry should be part of the management course.
I sometimes worry when children are pushed to learn vocational things. It is good to learn skills, I am all for it. You should get an education you can use, but everything is not a transaction.
What literature and poetry does is it builds a very fine human being. It is not all about success and failure and achievements. It is about compassion, it is about largeness and accepting other people.
Poetry and literature make leaders.
If you do not have the dimension of poetry in you, you can be a great manager, but you cannot be a great leader.
When did you realise you would be a poet?
Very young; I was published when I was 17.
A friend of my father's read my poetry and encouraged me to publish.
My first book was Main Aur Woh. It was inspired by Nietzche (the German philosopher Fredrick Nietzsche).
Allama Iqbal (who wrote Sare Jahan Se Accha Hindustan Hamara) was also a great fan of Nietzsche...
I am a great fan of Allama Iqbal.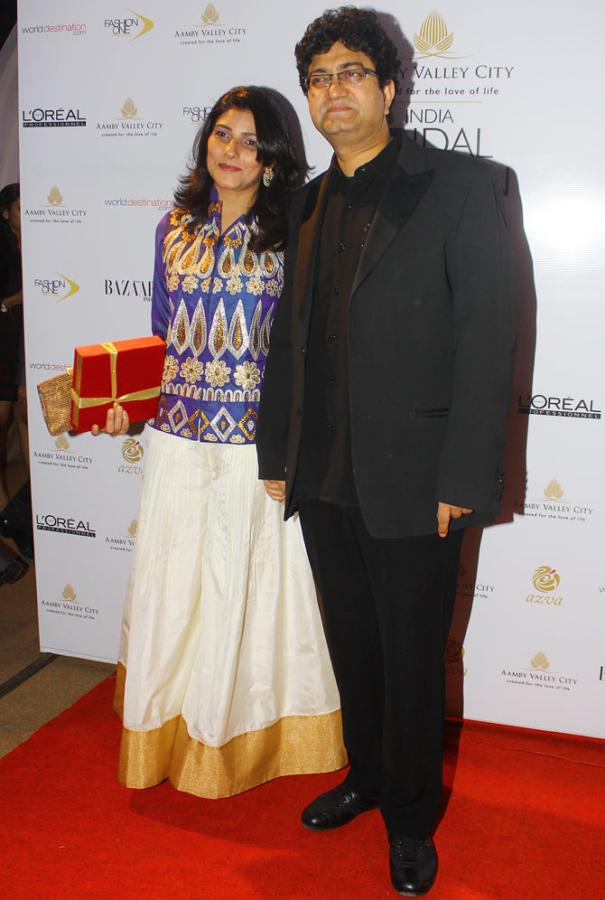 Image: Prasoon Joshi with his wife Aparna. Photograph: Hitesh Harisinghani/Rediff.com
Why did Nietzsche inspire you?
Nietzsche was a challenge. You must understand why Nietzsche made a difference to people like Iqbal and me -- and I am not comparing myself to Iqbalsaab here.
We are the product of our religious and ideological thinking. I was born into a religious, ritualistic family, a Hindu Brahmin family, where you are taught to look at the world in a certain way.
Then somebody comes and tells you that God is dead.
It challenges your thinking. Nietzsche is a nihilist.
That sense of there being nothing was challenging and therefore I was shaken.
Main Aur Woh reflects that. In one part, I am talking to myself, I say I am seeing a temple from here, so I can see God is there, and can God see me from there?
Is it me who has created God or has he created me?
These questions came into my head when I was 17.
I was exposed to Urdu and Hindi poetry.
Pakistani poet Ahmed Faraz once said that poets don't have money to run their households, how will they run the country? Did you feel you would not make good money if you pursue poetry as a career?
Farazsaab is not wrong. Unfortunately, our world wants poetry for free, like fresh air and water.
I wish our society was mature and evolved enough to understand how much value poetry adds to our lives.
I don't think poets want to be billionaires. But I can assure you that they also don't want to die paupers.
I also don't think poets want charity. You can't value and evaluate poetry by putting a price on it.
If you are a poet and also working in another field -- I also run a company -- the poetic eye can be of great help. It lets me understand the human mind.
Wherever you are functioning, you are dealing with people. The poetic eye lets you into the hearts of people -- what they are thinking and feeling.
Someone who could have spoken much more about this, but unfortunately cannot speak now, is Atal Bihari Vajpayee. He used a couple of my poems when he was the prime minister of India.
He invited me once to spend some time with him. I could see that his way of operating with people is very poetic. He used to look at life from a very different vantage point.
But it is difficult for poets to monetise their work. Ultimately, it is all about money, isn't it?
No, it is not about monetising poetry. It should be understood more holistically.
The effect of poetry on life should be analysed, not the money a poem or song fetches.
I operate in many fields. I would not have survived in the tough commercial world if I did not have poetry to fall back on.
Poetry is about a clean heart and clean soul in a world that is corrupt. The real world corrupts you and poetry keeps cleaning you.
I think a poet would be a better father, a better son.
So I have a problem with your question: How much does poetry fetch you?
Poetry is teaching you to live life. What is the price you will put on living your life?
Is this devaluing of poetry a universal attitude?
It is a worldwide attitude because we are living in a world where we ask always, 'What am I getting in return?'
The whole world is becoming transactional. If you go to a bookshop and ask the owner what people are reading, he will say, 'Self-help' books.
Poetry doesn't promise you such things. Poetry refines you, and our society does not value that.
If the attitude is so cut-throat, what sort of world will you create tomorrow? A world which has no compassion and no heart for other people, weaker people?
It is a very wrong notion if you think Faiz Ahmed Faiz was a weak man or for that matter, Mirza Ghalib or Hali.
Are poets weak? Does poetry means weakness?
Poetry means to live life in a different way altogether and have a different vision of life.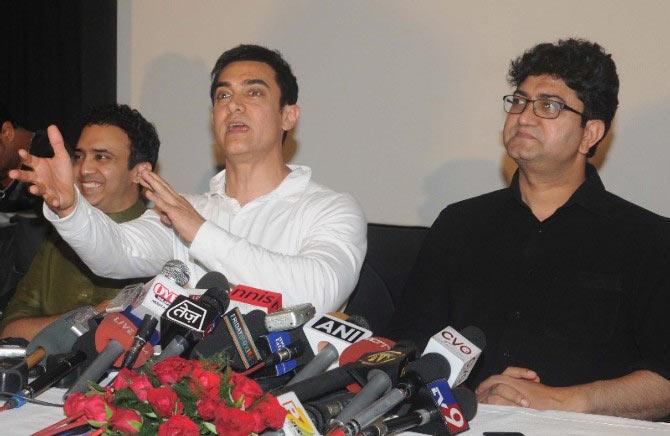 Image: Prasoon Joshi with Aamir Khan and Ram Sampath. Photograph: Pradeep Bandekar
Do you think sensitivity has disappeared from our society?
Yes, because it has become transactional. Aap sochenge agar main apne doston se milon toh fayda kya hoga? Apne falan family member se kyon milon, time barbaadi hai.
If you have to weigh everything, then aap apne rishton ko bhi tolengey, na?
Is that a healthier society? No.
Look at how much depression there is in society. There are anti-depression drugs and suicide rates are going up. Psychological diseases have increased. People want therapy sessions.
Aamir Khan and I do a lot of work together. We were doing an anti-suicide campaign because there were many suicides when exam results were out.
We had created a helpline with Dr Harish Shetty. I wrote an article on this issue because I wondered why anxiety among children was increasing.
I recalled that when my exam results were out, someone I really valued -- my grandmother -- gave me a lot of unconditional love.
We used to hide in her lap and she used to say no one will say anything no matter what the results.
When a child does not get that unconditional love, he goes into the lap of death.
You can't always be successful. When you go through the ups and downs of life you need someone who says that no matter what happens to you, whether you are successful or not, I am there with you.
In the absence of that person and that love, you have a society which is depressed.

Don't miss part II of the interview: 'India is such a fantastic country'