'The younger generation may be hip, modern and Westernised outside, but there is something very Indian and traditional in them.'
'It's debatable just how good the concept of marriage is, but this is the only system that has survived over centuries.'
Mani Ratnam reflects on hits and misses, life and love, in this fascinating interview with Shobha Warrier/Rediff.com
After his last two films -- Kadal (Tamil) and Raavan (Hindi) -- opened to mixed response, Mani Ratnam has shut up his detractors with his latest release.

O Kadhal Kanmani, the romantic comedy written, produced and directed by the acclaimed filmmaker that hit the marquee last week, has been a success in all the languages it was released in.
Mani Ratnam is relaxed now and understandably so -- he is enjoying playing golf and catching up on his reading and current affairs.
Sitting in his tastefully done and spacious Chennai office that overlooks a terrace full of plants, Mani Ratnam spoke to Shobha Warrier/Rediff.com about the bouquets and brickbats he's been subjected to in recent years.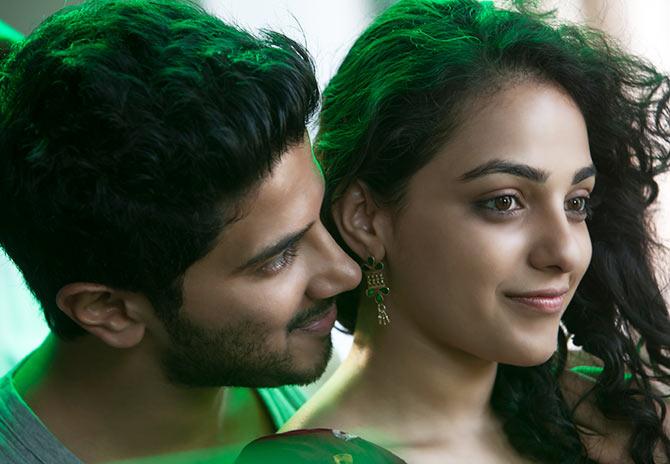 Image: Dulquer Salman and Nithya Menon in O Kadhal Kanmani.
Social media and film critics believe that Mani Ratnam is back! This comes after a lot of criticism for your previous two films.
This shows how much they expect from me. It shows how much the audience wants me to do well.
It also shows that there is a lot of love and affection for me and they get upset when I don't meet expectations.
Were you upset after Raavan and Kadal were somewhat panned?
There was no point in being upset. A lot of hard work went into both films.
We just have to take time to understand what went wrong -- the concept or communication.
You take that as your input and move forward. When you can accept the praises and applause, you have to learn to accept criticism too.
It is very difficult for human beings to accept criticism graciously.
Yes, it is difficult. You have to consciously get into Zen mode and try not to confront each criticism.
I hope that over time, they try to see something good in that film (Kadal).
Maybe they saw the film with a different expectation.
Maybe we didn't prepare them for the kind of film we had made. With new actors and the seashore as the background, it is very easy to assume that it would be a simple love story, but it was darker and I didn't prepare them enough.
I should have spoken with more clarity. You assume and jump a few steps in the narration, thinking there is no need to explain.
But sometimes the simplest self-explanatory form works and then you can carry them along with you instead of taking leaps and jumps assuming they will move along with you.
How important is it to prepare the audience for the kind of film you are going to present?
It is necessary to prepare the audience beforehand on what they can expect.
We prepared the audience for Kadal from the way the font of the title was designed to how the poster was designed.
We tried to communicate the tone of the film. What we did was not enough; something more was required.
That was why this time, with O Kadhal Kanmani, we went the extra mile on social media. We made sure that we communicated about the kind of film it was. It is a new form of marketing.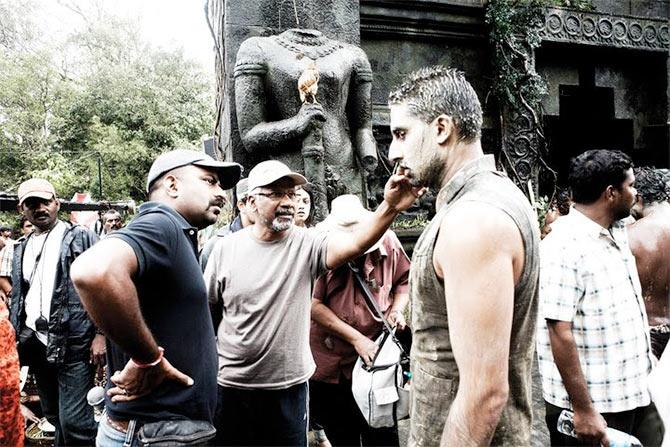 Image: Mani Ratnam directs Abhishek Bachchan on the sets of Raavan.
Has marketing a film become as important as making it, with the maximum number of people watching it in the first few days?
Of course, it is very important and necessary. We are showing films in a very Hollywood way -- in large number of theatres -- so the lifespan of a film has drastically reduced.
Within that span, if we want people to come and watch it, we have to market the film and hope that it gets in more people with word-of-mouth.
We just can't wait for the film to pick up, as theatres don't let it be there for the audience to come gradually.
Marketing is a very essential part of filmmaking today.
Hopefully, we will get some kind of balance, where films made on smaller budgets will get time to be liked and be available for the audience.
Before the release of O Kadhal Kanmani, your wife Suhasini said only qualified reviewers should review the film. Was that a panic reaction because of the past experience?
Not at all. Sometimes, words are interpreted differently.
Even if she did mean that, you and I cannot do anything about it. Movie criticism is very subjective and everyone has the right to voice their opinion.
You go to a movie and decide whether you like it or not.
With the onset of social media, ever movie-goer is now a sort of a reviewer, expressing thoughts online even while they're watching the movie.
Yes, and a filmmaker has to understand that this will happen.
The person who does that should also know that it will have a greater effect and it sometimes doesn't give a (slightly) different film a fair chance to survive.
But just like people write negative things, they write positive things too.
Maybe over time, it will settle down. Right now, with smart phones flooding the market, everyone wants to be the first to air an opinion on a film.
We should ride out this wave, accept the criticism and the appreciation, and the film will be able to survive like we have survived all these years.
Did you deliberately choose an urban love story this time because it is considered your forte?
Every time you make a film, you want to do it in a genre that is different from your previous film, so that there is something fresh about it.
My last two films were completely different from O Kadhal Kanmani.
You have a couple of ideas in mind at any point of time and one of them falls into place and you do that.
Three of your films had romantic relationships at their core -- Mouna Raagam, Alai Payuthey and O Kadhal Kanmani. It is interesting to see how the relationship dynamics have changed over the past few decades. Do you stand back and observe society?
I am part of the society just like you are. I don't have to stand back as an outsider to look at society.
Unless I am a part of the set-up, unless I am able to put myself into the shoes of the characters, what they think and why, I will not be able to understand their mind.
If I stand outside and pass judgment, I will never be able to reach out to them.
Unless you open yourself to their thoughts, their views and their preferences, and try to understand them, you will not be able to be a part of their journey.
If you are totally removed from their story, you will be judgmental. We need to understand their stances and dilemmas and see beyond that.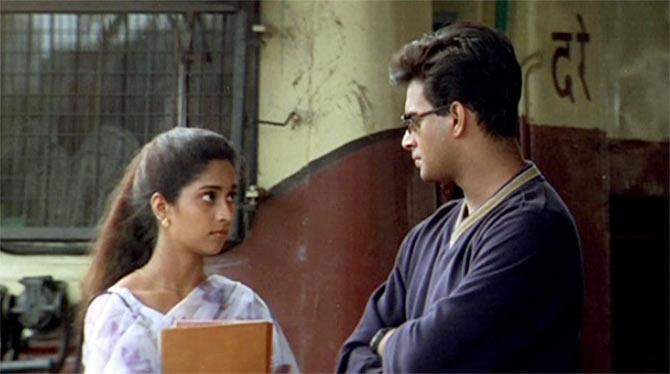 Image: Shalini and R Madhavan in Alai Payuthey.
You say you shouldn't be judgmental. But were you not judgmental at the end of O Kadhal Kanmani when you portrayed marriage as the most beautiful thing, and advised marriage?
I am not at all judgmental. The reason behind the idea was that was what the younger generation wants.
They may be hip, modern and Westernised outside, but there is something very Indian and traditional in them.
It is not my advice to them that they should do that. This is what they end up doing; eighty or ninety per cent of them end up getting married.
I don't believe in giving advice.

Despite the rebellion, I feel they are no different from those who fell in love and got married several decades ago. It was against the norm then. Love marriage was a prohibited thing in those days.
Now it's debatable just how good the concept of marriage is, but this is the only system that has survived over centuries.
This generation is open to a live-in relationship, but ends up getting married because inside each one of them there is that traditional, cultural Indian imprinted from birth.
You placed the story in Mumbai. Do you feel Chennai society is not ready for live-in relationships?
Do you think it is not happening in Chennai? Why do we try to cover it up?
Then, why did you set the story in Mumbai?
I chose Mumbai because these are two people displaced from home and family, in a strange place.
They are by themselves and all their decisions are theirs alone. They are not scared of what some relatives will say.
They have anonymity?
I would say they are liberated a little more and are not inhibited. If I place them in such a city, all the decisions are theirs and they cannot put the blame on anybody else.
They decide to live together and they decide to get married without the pressure of the society around them.
Why not Bangalore or Delhi or Hyderabad?
He is in the gaming industry and it is logical to place him in Mumbai.
Bangalore is still close to home and too dangerous for these guys -- at any time, anybody can drop in unannounced! (laughs)
The options I had were Delhi, Kolkata and Hyderabad. It will look like Mouna Ragam if it is Delhi, and if I chose Kolkata, they would say the film looks like Yuva . I thought I should put them where it is most likely to happen.
PART II: Mani Ratnam: Why I work with A R Rahman
REDIFF RECOMMENDS