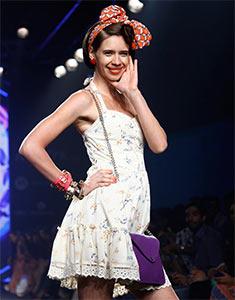 'I can't talk to the media about why Anurag and I split because it would be like writing an entire book to understand and do justice to it,' Kalki Koechlin tells Sonil Dedhia.
Kalki Koechlin has quite a few surprises up her sleeve.
While Happy Ending will see her in a fun role as Saif Ali Khan's ex-girlfriend, Margarita, With a Straw will see her play a character suffering from cerebral palsy.
Kalki talks to Sonil Dedhia about the challenges of playing a cerebral palsy character, why she thinks homosexuality in films is a reflection of the society and her equation with her estranged husband Anurag Kashyap.
Was it a deliberate decision to do a film like Happy Ending and follow it up with the starkly different Margarita, With A Straw?
Yes, it was a conscious decision not to repeat myself. I don't like being stereotyped.
I have never been offered a lead actress in a romantic movie but I'd like to do that.
I have done films that were not hits but that's fine. For me, appreciation of my performance is more important.
I get excited when I read a script and don't completely understand a character because then I start questioning myself about the character. That helps in developing it.
Was that the case with Happy Ending?
You're right! Raj Nidimoru and Krishna DK (the directors of Happy Ending) came to me with the script and we laughed so much during the script-reading session. But I asked them whether I would be able to play the character.
I am playing a crazy woman called Vishaka, a whacko who is an American-born confused desi.
She is Saif's girlfriend in the film who refuses to see the hints that he's trying to break up with her. She keeps trying to get the spark and romance back into their relationship (laughs).
The film is a spoof on our film industry, and on romantic comedies. But the good part is that it's a healthy spoof.
How did Margarita, With A Straw happen?
I was shooting for Yeh Jawaani Hai Deewani when Shonali Bose (Margarita's director) approached me. I refused her outright as it was impossible for me to get into the character (of Laila).
I requested her to give me six months to prepare for Laila but she refused.
She auditioned some 100 odd people but ultimately came back to me and told me that she was delaying the film by six months. I was really excited.
Was it difficult preparing for this role?
The story is based on Shonali's cousin Malini Chib, who has cerebral palsy. I really appreciate Malini because she was so patient and forthcoming.
It's not easy when someone is constantly staring at you and doing some research and I had to observe her in every situation. I am sure I made her feel conscious all the time but she didn't let that bother her.
We went to parties together, we got drunk together, we went to see movies together... I never thought people with disabilities could have so much fun. It was silly on my part to have such preconceived notions.
A lot of people would patronise her.
Malini has studied at Oxford University. I observed her at her workplace. She is heading an NGO called ADAPT (Able Disable All People Together).
I also spent a lot of time with Malini's physiotherapist and speech therapist.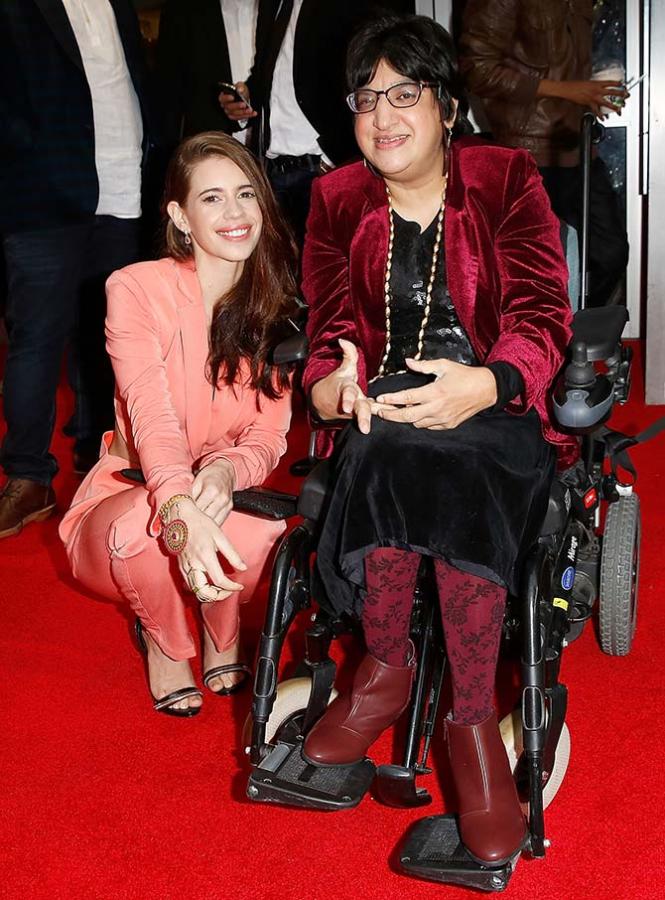 Image: Kalki Koechlin and Malini Chib at the London Film Festival. Photograph: Tim P Whitby/Getty Images
Tell us about your interaction with Malini Chib.
I remember Malini once told me, 'You can always get up and walk at the end of the day, but I can never do that.' I had tears in my eyes and it really struck me hard.
I realised if I had to play the character perfectly, I couldn't escape from my wheelchair.
From the minute I woke up, I would be in my wheelchair, except when there was some emergency.
This was for two-and-a-half months. It gave me severe back problems as my sitting posture wasn't correct, but I wanted to know what it feels like to stay in a chair all the time, to never be able to get up.
I wanted to know that frustration and pain.
The sad part is that we are concentrating on initiatives like Swacch Bharat and Clean India but there is no basic infrastructure available (for the disabled).
I remember going to a cinema with Malini and they didn't have a ramp for a wheelchair. She had to be carried by three men and it is so humiliating.
Do you think Indian audiences are ready to accept films that talk about cerebral palsy and homosexuality?
If a film like this can change my mind then I am sure it can change other people's perception too.
Before I started this film, I knew nothing about cerebral palsy. I had just watched Daniel Day Lewis's film My Left Foot.
Once I met Malini, I understood her world. I never imagined people with cerebral palsy would enjoy a drink, dance, watch a movie, and have sex.
For me, it was such a mind opener to see a person who is in a wheelchair being treated completely normal.
I am sure a lot of people who watch the film will come out with a different attitude towards handicapped people.
The film was showcased at the Toronto Film Festival. Sixty per cent of the audience was middle aged women. I was nervous whether they would accept this film. To my surprise, they loved the film. They laughed, cried and really enjoyed the film.
At the end of the film, we got a standing ovation.
Hindi films are still in the business of escapism. It will take a long time for our industry to make films on same sex love.
I don't think so. It's just that as an audience we don't have the choice to see these films.
I'll give you an example. I went to a multiplex last week and all seven screens were showing Happy New Year. I had no choice but to watch that film.
It's not that people don't want to see different cinema, but we don't have a choice. We are still small when it comes to independent cinema but I think with the help of various film festivals across India, we now have films which are getting recognised and it is also helping them to release.
There is an audience. It's an urban audience. It's a small niche audience but it's starting to happen.
Margarita, With A Straw is a film for an audience exposed to western cinema; it's for someone who watches Satyamev Jayate, because Aamir (Khan) also spoke about LGBT (Lesbian, Gay, Bisexual and Transgender).
There are still very real and conservative characters in the film. Laila's mother (played by Revathy) when she comes to know about being bisexual, she doesn't accept it.
It is a very relatable thing as any mother would react in a similar manner if she came to know her child is gay or bisexual.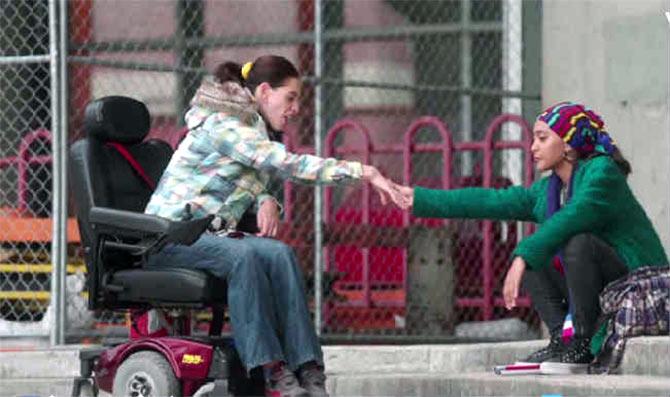 Image: Kalki Koechlin in Margarita, With a Straw.
Homosexuality in Hindi cinema is stereotyped. Isn't that very regressive?
It is regressive but at the end of the day it is a reflection of our society. I have seen so many teenagers who are so nasty when they talk about gay people.
They make fun of them, crack jokes. I do have a problem with stereotyping gay people. As an actor, it's my job to break the stereotype and show the real side of a character.
What has been your biggest learning from Margarita, With A Straw?
I didn't think about people with disabilities too much and whenever I saw them I would feel a little intimidated. I wasn't sure whether I should go up to them and help them.
Now, after doing this film, I am so aware of these people. I can go up to them and talk to them.
I realise how vulnerable a person can be because of cerebral palsy. My character in the film needs help even to go to the bathroom, which is a very intimate thing that we all do in private, but she can't.
Putting myself in these vulnerable positions really helped me understand life much better.
Anurag Kashyap and you have separated but we recently saw you catching up at the Mumbai Film Festival.
We are friends and we are cordial with each other. I can't talk to the media about why Anurag and I split because it would be like writing an entire book to understand and do justice to it.
We are both creatively strong-minded and independent and we are on the same path when it comes to doing something interesting in cinema.
We respect each other and as an artist, I will always have a connect with Anurag.
Does it bother you when you read about Anurag's relationship?
I have stopped reading because of course, it bothers me. I am sure it will bother him when he reads about me.
We lived together for six years and we have a lot of memories together. Of course it's not going to be easy for both of us.
If I started reacting to Anurag according to what other people said about him, I would have such a terrible opinion of him.
Is there a possibility of working with him in the future?
I would love to work with him if he has a good script and something which interests me.
Hopefully, we will work together some day.