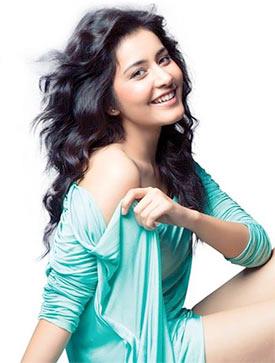 Raashi Khanna made an impressive debut in Oohalu Gusa Gusalade directed by Avasarala Srinivas.
The small-budget film, produced by Sai Korrapati, did well at the box office and earned critical acclaim too.
The pretty actor from Delhi also did a cameo in Manam.
Now Raashi is acting in a comic entertainer titled Joru with Sundeep Kishan, Priya Bannerjee and Sushma. Directed by Kumar Nagendra (of Gundello Godaari fame), the film releases onFriday, November 7.
Raashi speaks about Joru and why it wasn't difficult for her to do comedy.
Joru seems to be in total contrast to Oohalu Gusagusalade... What did you like about it?
I signed Joru post Madras Cafe and while I was shooting Oohalu Gusa Gusalade.
What I liked about it was my characterisation, which was in contrast to the one in Oohalu....
As an actor one wants to do a variety of roles and experiment.
Joru is a slapstick comedy and in a different genre to Oohalu....
I loved everything. There are many characters in the film and each character is properly defined.
What is your character like?
She is named Annapoorna after her grandmother. It's the story of her journey – from when she comes from the US to find her family, meets Sundeep and things keep unfolding.
She is highly emotional and cries at the drop of a hat. She is modern yet traditional.
The other two girls (played by Priya and Sushma) are also called Annapoorna. One must watch the film to know why they are called so!
Was it challenging to do a comedy?
Not at all. It was challenging to do Prabhavati's role (in Oohalu...) which was a bigger and better one than Annapoorna.
In the first film I did a character different from who I am. In my second film, the character of Annapoorna is closer to me and it was easier to do that.
There was no focus on emotions in the second film as it was all about comedy.
I had a lot of fun shooting for the film. People will laugh when I cry in the film as somebody like Brahmanandam will be with me.
This is your first film with Sundeep Kishan. What was it like working with him?
I had a lot of fun. We were like Tom and Jerry on the sets.
We would fight and he would tease me. We shared a comfort level since we are about the same age.
Sundeep keeps people engrossed and keeps chatting. He would make me sing on the sets. It was nice to act with him.
Did you sing in the film?
Yes, I recorded the title track. I wanted to be a singer but it got pushed back because of my studies.
I used to sing on the sets so Kumar Sir (Kumar Nagendra, the director) suggested, why not sing the title track.
We went to the studio to record it. It was the happiest day of my life.
I didn't expect my first song would be in Telugu!
Do you share screen space with the other two heroines, Priya Bannerjee and Sushma?
We do share screen space post-interval, especially in the climax, when we all come together.
We had fun. We were of the same age and we used to chat on the sets. There was no rivalry or jealousy. Priya is now one of my closest friends.
What was it like working with Kumar Nagendra?
Whatever I say about him would be too little.
He is talented and clear about what he wants. To manage such a big cast is remarkable.
He doesn't shout on the sets. He is inspiring.
How did you feel about your debut film Oohalu Gusa Gusalade which was critically acclaimed and did well commercially too.
It felt great. The film was accepted by everyone. Many guys tell me that they want a dream girl like Prabhavati!
It's feels nice to hear good things about the film.
Oohalu... blurred the line between arty and commercial films. It was a good script.
Is your film with Gopichand complete?
I am in the last schedule of the shoot. The songs still have to be shot.
Were you injured while shooting?
Yes, I was injured while shooting for Joru. While skating I fell badly and I was in bed as I had a torn ligament. The shoot was stalled for two months.
I shot the Kodi song and another one with the broken leg. I am much better now.
What's next on the agenda?
I have no agenda as such. I take things as they come.
After Oohalu... I was offered a lot of projects but I want to be choosy and not do just any film. I want to do good characters.