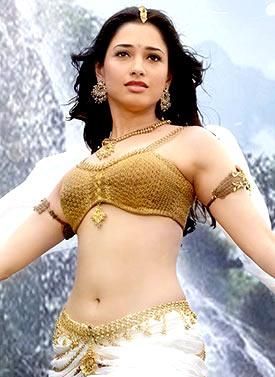 '...In films, of course!'
'In Hollywood, women doing action is a very common thing, but we still haven't warmed up to it here. I really hope something like Charlie's Angels is made in our country!'
Tamannaah Bhatia gets candid.
Her Hindi films may not have worked out but Tamannaah Bhatia claims that her stardom down south hasn't been affected.
The young actress plays a warrior princess in director S S Rajamouli's forthcoming epic film Baahubali, scheduled for release on July 10.
Tamannaah tells Sonil Dedhia/ Rediff.com why failure has made her stronger, and what it was like shooting action sequences in Baahubali.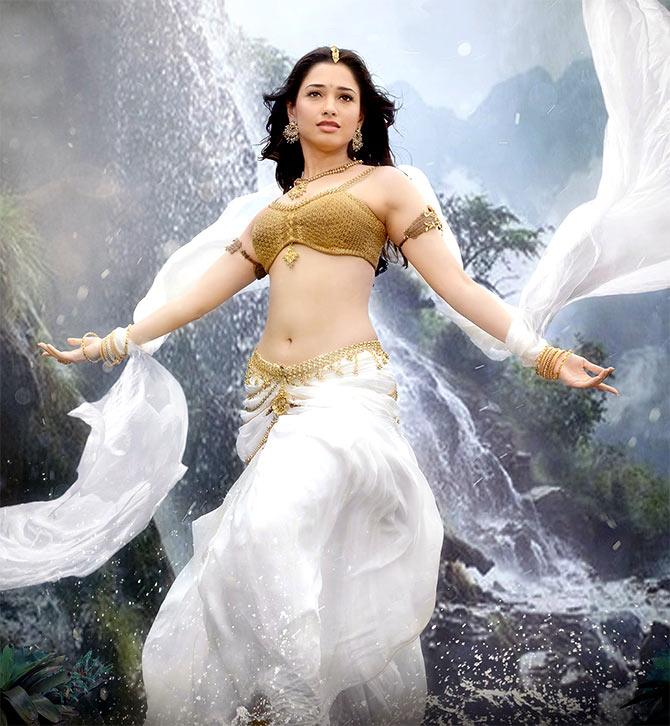 You are a big star in the South but your Hindi films -- Himmatwala, Humshakals and It's Entertainment -- haven't done well. Does that affect you?
The films have failed but it doesn't stop me from going ahead and doing what I want to do.
The success of a film doesn't teach you as much as failure does. It's like a reality check.
I plan to act. As long as I'm acting, I will choose the best offers from the ones that come my way.
Language has never been a barrier for me, otherwise I would never have gone to the South film industry. Just like I didn't expect Baahubali to come into my life, I cannot predict what will come next.
What have you learnt from your failures?
Failures have broadened my mind and made me more aware. Having these experiences has helped me get ahead in my career.
Being a part of Hindi films opened my eyes to a new sense of fashion. I could not understand why somebody fusses over a shoe or a brand before.
But today, fashion is a strong part of my life. So much so that I have launched an online jewellery line called White and Gold.
Has it changed your choice of films?
Yes, it has. I have become picky and I am trying to do films that I want to watch.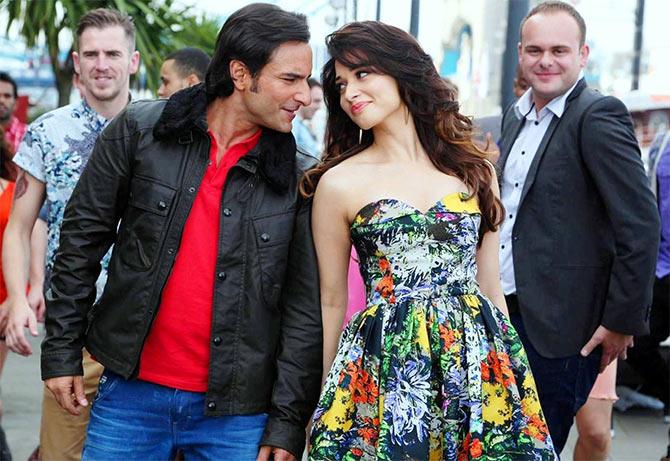 Image: Saif Ali Khan and Tamannaah in Humshakals
So, if Sajid Khan (director of Himmatwala and Humshakals) offers you a film, would you do it?
After Himmatwala, people wondered why I did Humshakals.
If something good comes up, I'd like to work with him again. I am not somebody who has a lot of hang-ups.
Sajid Khan has been bashed by everyone, but he gave me an opportunity in Hindi films and I will always have respect for him.
Does your failure in Hindi films affect your stardom in the South?
I am doing a lot of work down south so I am assuming it hasn't affected my stardom.
How was your experience of working in Baahubali?
When I was approached for the film, they had been shooting for more than a year.
S S Rajamouli makes likeable and relatable films. His films don't need a language as they are so universal in content.
It was a completely different experience working on Baahubali because I haven't seen a war film made on such a huge scale in India.
The good part was that Rajamouli sir had done one year of pre-production work. From our costumes, to the weapons, and even the elaborate sets, even the smallest details were taken into consideration.
You came on board after a year. What had you already heard about the film?
I knew that it was a period drama and a war film. I wondered what I would be doing in it.
I assumed I might have a special appearance in the film because there was already another actress (Anushka Shetty) in the film.
Till recently it was thought that I was doing a small cameo. When I finally heard what my role was, I was really excited.
If S S Rajamouli had asked you to do a cameo, would you have done it?
Yes, definitely. I think any actor would do any kind of role for him. The kind of experience you gain working with him is so good.
How did you prepare for your character?
We used to have mock shoots before we shot the scenes. I hadn't done this before for any of my films. We spent two days figuring out how we would shoot a scene.
We did this because at times there would be almost 3,000 people in the war sequences and you can't keep explaining to people what they have to do.
You do a lot of action in the film.
Yes, there are a lot of action sequences involving me in the film. It was physically challenging.
On some days, we shot for almost 18 hours.
I had to train in sword fighting, martial arts and rope work.
Most of the scenes that I am in are action scenes, which is not something I'm used to. So, I had to prepare really hard.
The stunt choreographer, Peter Hein, helped us a lot.
Rajamouli sir's craft is so strong that even if you are giving your worst performance, he can still project what he wants to.
In Hollywood, women doing action is a very common thing, but we still haven't warmed up to it here. I really hope something like Charlie's Angels is made in our country because it would be quite cool to see women fight (smiles).
Would you like to do an action oriented chick flick?
Yes, why not? I'd love to.
It would be interesting to see women fight (smiles).
What was working with Anushka Shetty like? Did you have any apprehensions working with another actress?
No, I don't think that would happen with me. I vividly remember my first interaction with her.
When I came on board, I didn't have a costume designer and I didn't know who to approach. I went to her and she was kind enough to give me her costume designer's number.
She is a huge star, not only because she is professionally successful, but also because she is a really nice person.
We didn't have many scenes together, but I had a great time working with her.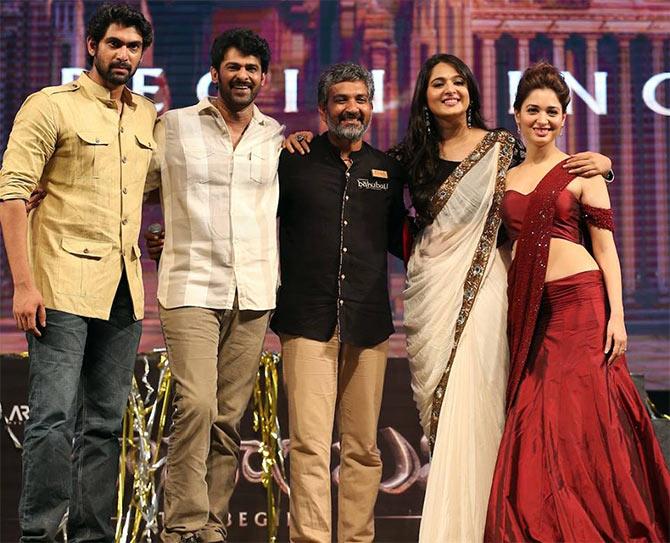 Image: Rana Daggubati, Prabhas, S S Rajamouli, Anushka Shetty and Tamannaah at the audio launch of Baahubali. Photograph: S S Rajamouli/Facebook
During the Hindi trailer launch of Baahubali, you seemed to be in awe of S S Rajamouli.
Yes, I am a fan first and then an actor (smiles).
On the first day of the shoot, when I reached the venue and saw this elaborate set, I lost my appetite to have lunch (laughs).
I was overwhelmed to be part of Baahubali. In my first scene, I didn't have much action, but from the second day it was all action. I didn't have time to think. I was kept on my toes all the time.
Rajamouli sir is a very calm and composed guy. Despite the many people on the sets, he never lost his temper. He is simply a genius director.
Karan Johar is presenting the film in Hindi. Do you think it will help the film get a wider reach?
Karan Johar's faith in Baahubali has reassured us a lot because a director of his stature taking up a regional film and putting it out there is definitely reassuring.
If anybody can project this film to its optimum, it's Karan and we're lucky to have him.
With the release coming closer, are you nervous?
I haven't been scared for the bad films I've done, so for a film like this, I'm not at all nervous (smiles).
What lies in the future?
I am doing a bilingual film (Tamil and Telugu) with Nagarjuna and Karthi. I am paired opposite Karthi.
The film is loosely based on the French film The Intouchables.
I am also doing a film with Ravi Teja, which is a straight Telugu commercial film.