'Initially, I was worried how the Calendar Girls would gel. But we bonded on screen and off.'
'On the sets, we were very mischievous. We were called the Calendar Girls School Girls! Madhur sir was like principal. He would actually tell us to calm down and maintain discipline!'
Meet Calendar Girls' Akansha Puri.
Akansha Puri will get a dream launch with Madhur Bhandarkar's Calendar Girls, and she's visibly thrilled.
That, however, is not her first film.
Akansha has done two films down south already, and a third -- Kannada film Lodde -- will release on July 31.
Akansha tells Patcy N/ Rediff.com about her journey into the movies.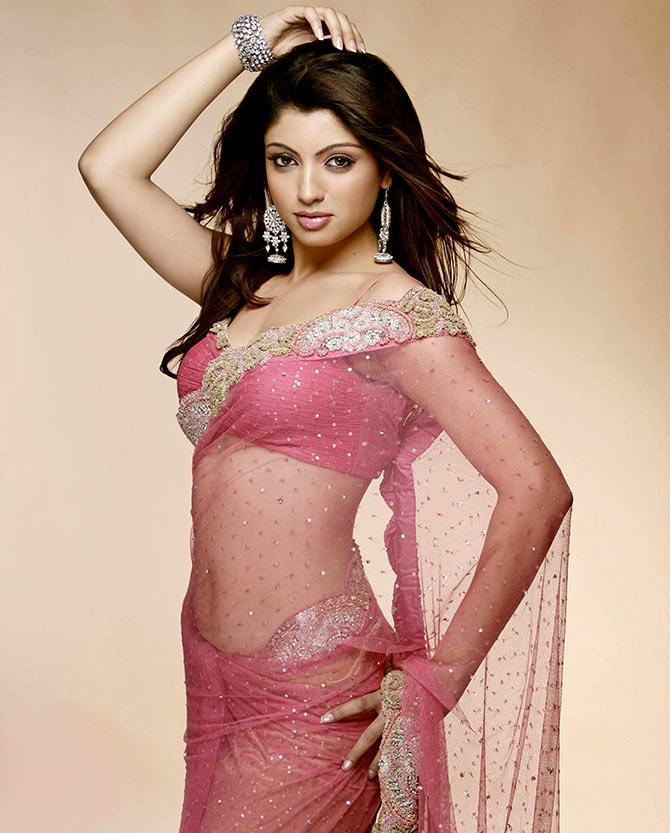 How did you get selected for Calendar Girls?
I was shooting for the Malayalam film Praise The Lord in 2014 in Kerala, when a few model coordinators started calling me to audition for Calendar Girls.
I did not pay attention as I felt everyone would be going for the auditions and I would have no chance. Plus, I thought the main criteria for getting the role would be that one has to be a supermodel, and I wasn't.
When I was back to Mumbai, I got a call from the production house and my appointment was fixed with Madhur Bhandarkar. But by then, 3,500 girls had given auditions, so I thought I may not have a chance.
Still, I decided to meet Madhur Bhandarkar.
The meeting went very well. He told me he had found his Nandita Menon (her character in the film) five minutes into the meeting, and started talking about the film. He asked me to go for a screen test and look test.
After the screen test, he told my about my character. He was clear that all five girls in the film would play models.
Tell us about your character.
I play an independent and confident South-Indian girl, who has a strong family background. She gets chosen for the calendar, and meets other four girls and forms a strong bond with them.
The story of Calendar Girls starts after the calendar is shot, what happens to the lives of the five girls.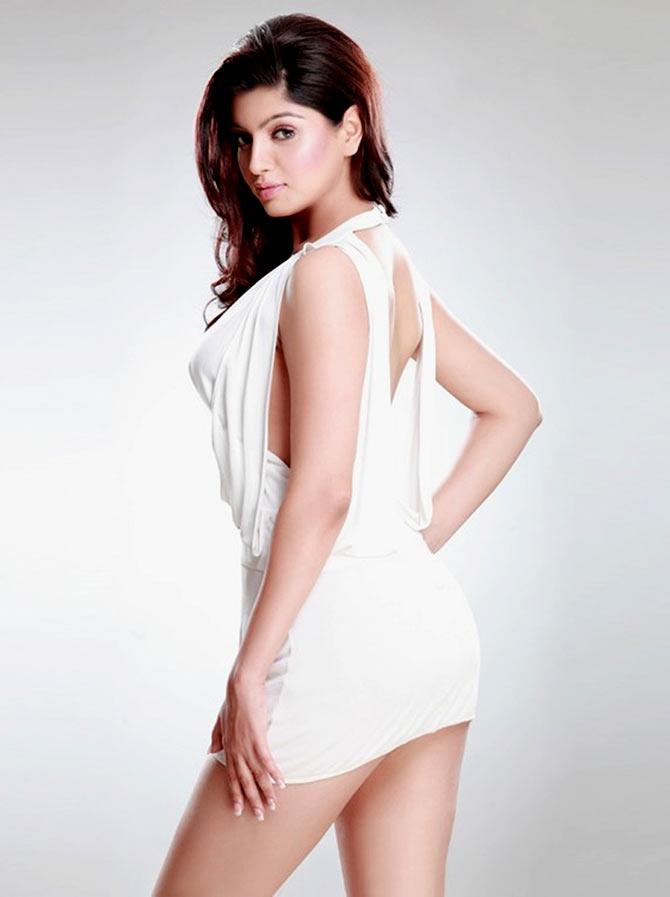 Who are the other four girls in the film?
Satarupa Pyne plays a Bengali character called Paroma Ghosh, Kyra Dutt plays a Catholic character called Sharon Pinto, Ruhi Singh plays small-town girl called Mayuri Chouhan, Avani Modi plays a Muslim character, Nazneen Khalid.
We bonded well on screen and off. Even now that the shoot is over, we still meet for coffee and parties. We've made a group on Whatsapp.
I was initially worried how we would all gel but it was super fun.
On the sets, we were very mischievous. We were called the Calendar Girls School Girls! Madhur sir was like principal. He would actually tell us to calm down and maintain discipline!
What was it like working with Madhur Bhandarkar?
For a newcomer, it is a blessing to work with a National Award-winning director like Madhur Bhandarkar.
He has a unique dictionary of words like 'jalwa', 'aag hai', 'dard hai'... We started using these words!
He's very simple and down-to-earth. He's a lot of fun too.
Madhur Bhandarkar lets his actors be themselves. We actresses were very similar to the characters we play. That's why we did not have to prepare much.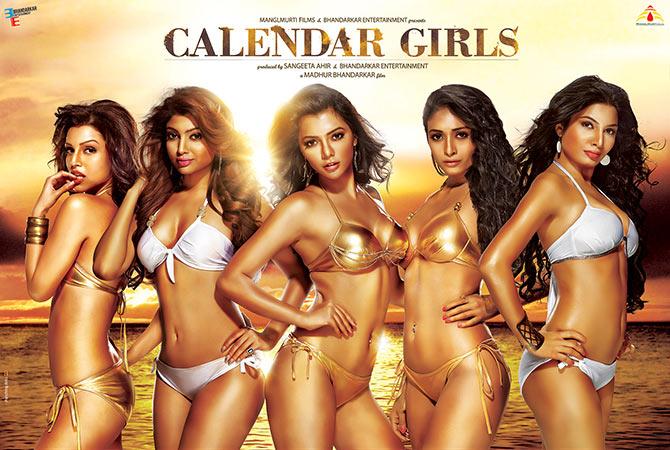 Which was your most difficult scene?
It was difficult for me to shoot in a bikini. It wasn't a big scene, it's basically a photo shoot. Yet, it was difficult.
My mother told me to be confident, since this is my profession.
I was very conscious and not confident at all. But the other girls made me comfortable. They have shot in a bikini before, as two of them are models. So they were comfortable. They complimented me and made the whole environment relaxing. Thanks to them, I could pull if off.
Madhur sir told me: 'If it doesn't look good on screen, I will not let you do it.'
Now, I am confident of wearing anything.
Did you ever get stuck in any scene?
I did not have to give many takes for any particular scene because Madhur sir feels that you should not do many takes as the scene starts looking stale. Instead, he would make the scene simpler.
Frankly, in my case, he did not have to do that because I had an edge over the other girls -- I had the experience of doing four films; I'm very confident in front of the camera.
Plus, I knew the cinematographer and art director, as they were from the south.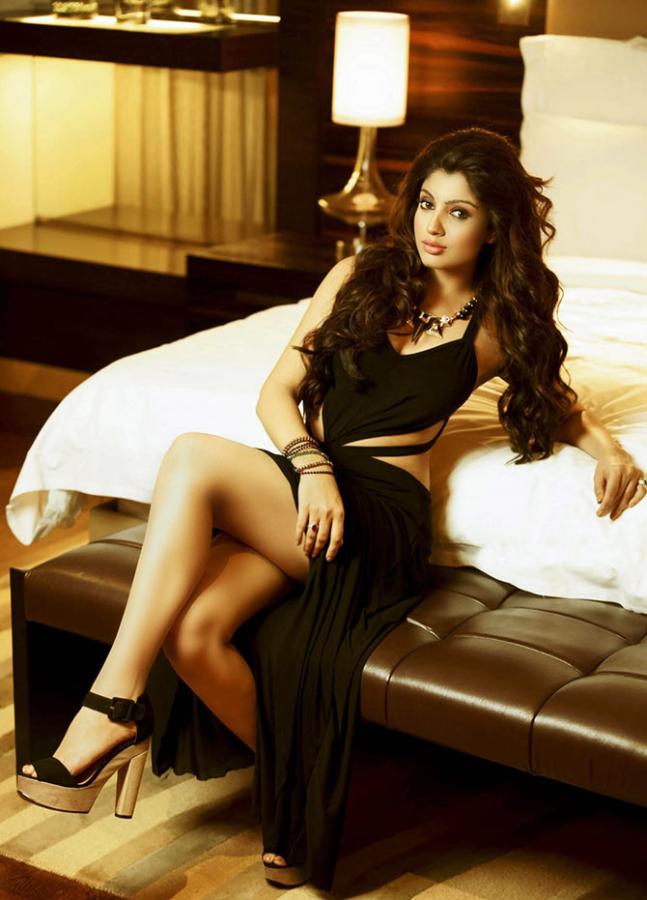 So who is Akanksha Puri?
I am a Punjabi, born in Indore. I studied in Bhopal.
My father RK Puri is a retired police ACP (Assistant Commissioner of Police) and my mother Chitra Puri is an astrologer.
How did modeling happen?
After graduation, I worked for Kingfisher Airlines. My friend and I were vacationing in Chandigarh. My friend was going for an interview and she asked me to come. We gave the interview and both got selected. I was posted in Bangalore.
I started my modeling career because of this job.
I met a model coordinator in a flight, and she suggested that I start modeling. So I did modeling in my free time -- I did 80-90 commercials and print ads.
After that, I was transferred to Mumbai and my life changed.
What was your parents reaction to your career choices?
They have always been supportive. My parents gave me freedom to decide what we wanted to do.
How did you get your first acting offer?
I was always interested in acting. I have grown up watching Salman Khan films; I'm a big fan. I would envy his co-stars.
One of my advertisement hoardings was seen by a Tamil production company. They called me for narration and I got my first break into films without any audition!
It was a big film called Alex Pandian in 2013, starring Suriya's brother Karthi and Anushka Shetty.
Karthi is very energetic and positives. He is fun and yet, very reserved. He speaks only when it is required. He is very professional.
Alex Pandian was made by his production house, so he was always there to help. If I needed anything, I could directly go to Karthi.
You have worked with superstar Mammootty as well.
In 2014, I did Praise The Lord with him.
Working was Mammootty was such an amazing experience. The superstars down south are very down-to-earth. Initially, I was nervous but when I went on the sets, it was so much fun. We would listen to songs and do masti.
Mammootty is very humble. He speaks to his fans, clicks pictures with them… He speaks to everyone on the sets and treats them nicely. If he got different food from the rest of the unit, he would order for me as well. I was treated equally. I stayed in the same hotel as him also.
Mammootty is very health conscious, so he only has specific juices. He only has oats and rotis in his meals. Whatever he ate, I tried as well.
What other films are you working on?
There is Malayalam film Samrajyam II: Son of Alexander with Unni Mukundan, which was dubbed in Tamil as Tihar. There are some issues about its release.
The other release is the Kannada film Lodde, starring Komal Kumar. It will release on July 31.
I am shooting a Malayalam film with Prithviraj called Amar Akbar Anthony. It will release at the end of the year.