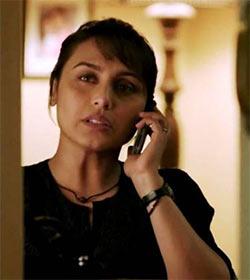 'My last two films didn't do well... I was so hurt that I am scared of laughing or being happy now.'
Director Pradeep Sarkar discusses Mardaani with Patcy N.
After two back-to-back flops -- Laaga Chunari Mein Daag and Lafangey Parindey -- Pradeep Sarkar has directed the Rani Mukerji-starrer Mardaani.
The film has been well received, but Sarkar is too scared to be happy.
He tells Patcy N why.
Did you think that Mardaani would be appreciated so much?
I feel good that the film is appreciated. I hope more people watch the film, particularly 12-year-olds for whom the film is made as they are so vulnerable.
Your last two films were duds. Critics say Rani Mukerji has saved you with Mardaani.
The media has never been rude or harsh to me. My last two films didn't do well but I was not criticised that much.
But, yes, I was sad. That is the reason it took me four years to make my next film.
I was so hurt that I am scared of laughing or being happy now.
I am a pessimist. I think if I am too happy, things will go wrong.
Did producers shy away from you?
Aditya (Chopra, producer of Mardaani) did not shy away. He allowed me to do the film. I am thankful I came up to his expectations.
It is so nice that people like the film. The best part is that my 21-year-old son and 19-year-old daughter are proud of me again.
When my last film failed, my son was shocked but now he is asking me for a day to day report and also updating me.
Why choose Rani for the lead role?
I wanted an actress who could dedicate herself fully. I got that from Rani. She threw herself completely into the role.
You have worked with both Rani Mukerji and Vidya Balan (Parineeti). Who is the better actress?
Rani and Vidya both acted in No One Killed Jessica. You know how they were together. What should I say?
Are you planning a sequel?
If many people like this film, then we can think of Mardaani 2.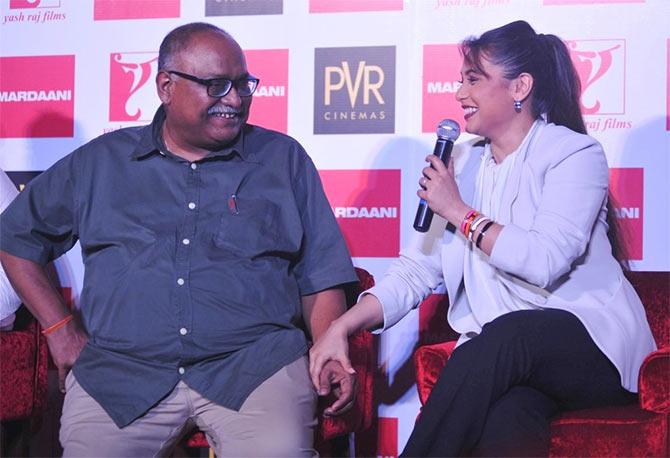 Image: Pradeep Sarkar and Rani Mukerji at a promotional event for Mardaani. Photograph: Abhijit Mhamunkar.
What kind of research went into the film?
The police helped us tremendously. Gopi (Gopi Puthran, the screenwriter) went into the details with them.
He met lots of police officers. They helped us in the re-creation of what happens during human trafficking.
It took one-and-a- half years of research.
You have taken a newcomer as the villain?
We decided to create a world where all the actors were new.
Nowadays, youngsters get experience very soon and they are taking over everything, their mindset is so different.
They have courage to do anything. They are less emotional and are bigger achievers.
We wanted a boy who was very intelligent, but a school dropout, who would get into doing something wrong. We realised we didn't need a big-name villain. It could be some normal guy.
Tahir (Bhasin) got into the role really very well.
It seems that whenever an actress is the main protagonist, no established actor is paired opposite her…
This is soon going to change; this whole attitude will go.
In fact, it is already changing. The happy space will come because people are getting more and more involved in the story rather than the actors.
How are you on the sets?
This time I did not shout, but otherwise I shout a lot. Artur Zurawski, my director of photography, who is Polish cannot understand why Indians shout so much.
On the second day of shooting, he bought ear plugs! That's when I realised we really scream and I stopped it and started using sign language.
This time I was not checking shots on the monitor near the camera; I had a portable monitor so I could walk up to the actor or anyone and speak softly.
I stopped speaking from the mike because every time I used the mike, Artur would not reply. So I had to sit next to him. I have changed myself a lot.
When I was shooting in Connaught Place in New Delhi, I was shouting so loudly a police officer came up to me and told me 'Sir, don't shout so loudly; you may get a heart attack!'
What next?
I have not decided anything yet. I don't get easily convinced to make a film. I don't like just any subject.