'I try and be a part the audience to get reactions. If I can predict the expression you will have on your face when you are watching it, then I am in the business of feelings.'
Neerja director Ram Madhvani gets ready for his first feature film.
One of the biggest names in the field of advertising Ram Madhvani is ready with his first feature film, Neerja, starring Sonam Kapoor.
Incidentally, it was Ram's experimental short film Let's Talk in 2002, that put Boman Irani on the Bollywood map.
Will Neerja work wonder's for Sonam's career as well?
That remains to be seen.
But what Ram really wants his film to do is to inspire us.
He tells Jahnavi Patel/ Rediff.com why.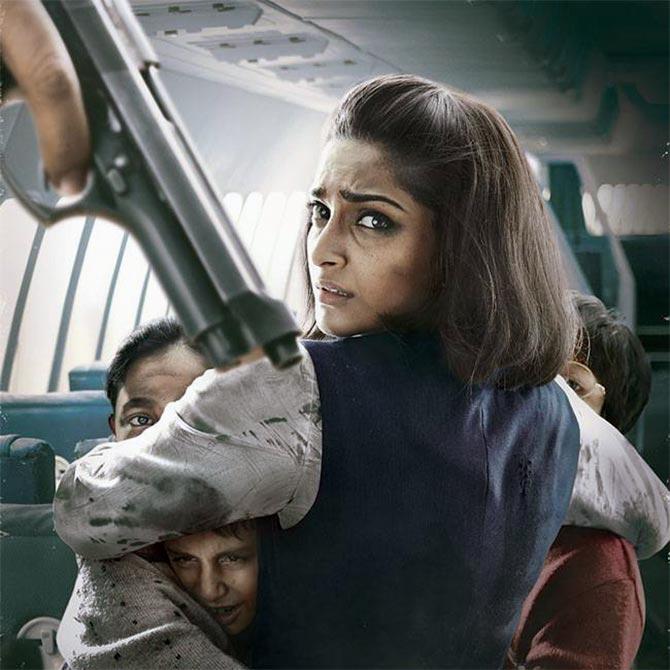 Image: Sonam Kapoor in Neerja
How did you come up with the idea of directing a biopic?
It happened with a phone call.
I've known (photographer) Atul Kasbekar for many years and he called me. He's been telling me to direct a film, and he's discussed many subjects. When he called me and told me about Neerja, even before he said her surname, I said yes.
I have known about Neerja Bhanot. My wife's closest friend was in the same class as Neerja, in college.
The day Neerja took the flight, one of my partners, Ayesha Sayani was shooting an ad with her.
I had never met her but I have known her story and have been inspired by what she did.
I said yes to this film because I want more and more people to know her story.
Go on…
We met her family in Chandigarh. Saiwyn Quadras came on board as writer, and Sanyuktha Chawla as the dialogue writer.
After we finished the script, we spoke to Sonam Kapoor about the idea and she said yes. She liked the script as well.
We went to Fox Star and they liked it too.
All this took two and a half years.
It felt like the universe was conspiring to get it made. From day one, the film has been blessed. Whenever we've had any hassles, it's been sorted out.
Did you always want Sonam to play Neerja's role?
Yes.
She had agreed to the idea and we had to read her the whole script. You're always nervous because the idea and concept may be good but how will the script turn out?
Thankfully, the script convinced her. She had tears in her eyes, but until she said yes I was very nervous.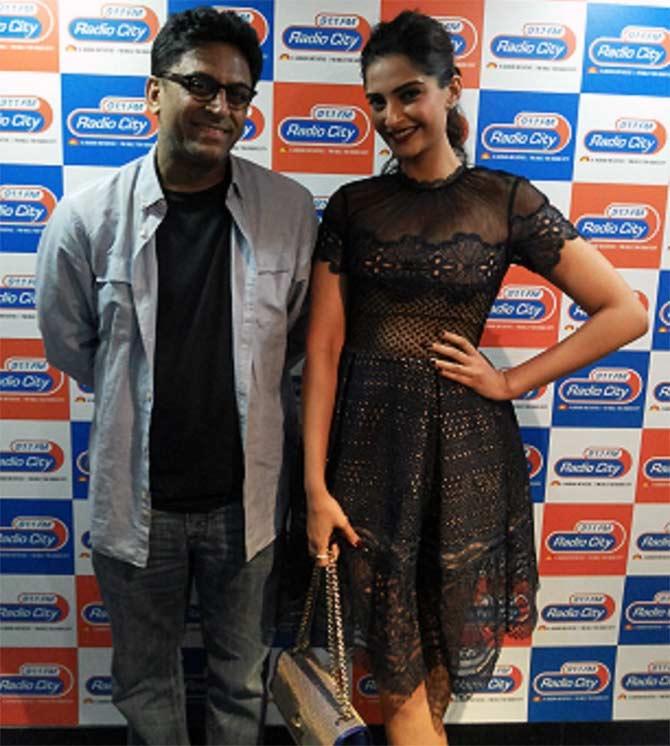 Image: Ram Madhvani and Sonam Kapoor at Neerja promotions. Photograph: Pradeep Bandekar
How much research did you do on the subject?
It's a very well documented piece.
We have a huge responsibility on my shoulders because the people on the plane who survived it were going to watch the film. How I portray their feelings, as they sat through it for 16 hours, was important.
The research was mainly to try and see what really happened -- not in terms of the narrative but the feelings. A lot of it was psychological and emotional.
Her family has been pretty involved in the film. They attended the trailer launch as well.
Yes. On Day One of the shoot, her brothers (Akhil and Aneesh) and her mother were present.
Her mother is very, very special. She is a positive and spirited lady, who has great energy. She blessed us, so I made sure the entire unit was present.
She did puja, put teeka on everybody and we touched her feet. It was an extremely emotional day for everyone.
She came even though she wasn't well.
But my biggest regret was that I could not show her the film on the trailer launch as it hadn't been complete.
It would have been the greatest memory of my life if had been sitting next to me during the screening.
You're doing a film after almost 14 years.
That was a small independent English film called Let's Talk.
This is really my first film in many ways -- my first Hindi commercial film.
It wasn't that I was looking out for a biopic, that just happened.
What you do is take a great story, and make it. We keep saying it is a story of a 23-year-old because the incident happened just two days before her 23rd birthday.
No One Killed Jessica and Talvar were incident-based films, like Neerja seems to be. How different will this be?
Firstly, it's an incident that's not so fresh in our memories. At the same time, it is an incident which is very relevant because of what we are facing today. All of us have fear, and how this girl overcame her fear by showing courage.
She did something incredibly memorable.
The responsibility is to tell people her story so that they can get inspired by it.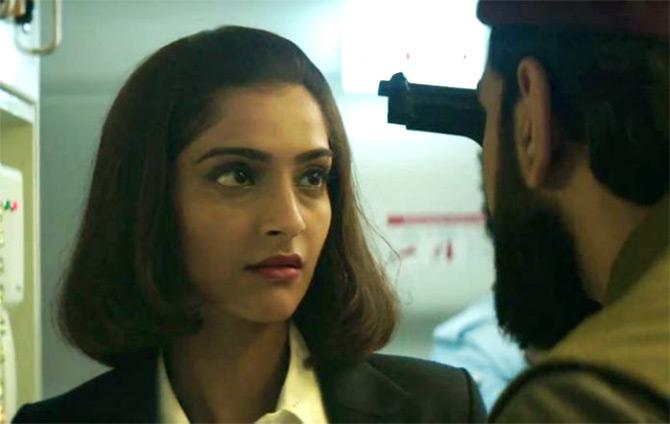 Image: Sonam Kapoor in Neerja
You're one of the biggest names in the ad industry. Why didn't you direct a Hindi film before?
Things did not work out.
Neerja happened because everything came together very smoothly. There was a group of like-minded people -- from Fox Star to Atul Kasbekar to (co-producer) Shanti Sivaram Maini to my wife Amita, who is the associate producer -- who came together.
I hope my next film will not take so long. I am desperate to make films.
Are you aiming for an award with Neerja?
Why not? I'd love it.
How much did your advertising background help you?
People are reacting to her.
When you watch it, you're not watching it for the craft.
I try and be a part the audience to get reactions. If I can predict the expression you will have on your face when you are watching it, then I am in the business of feelings.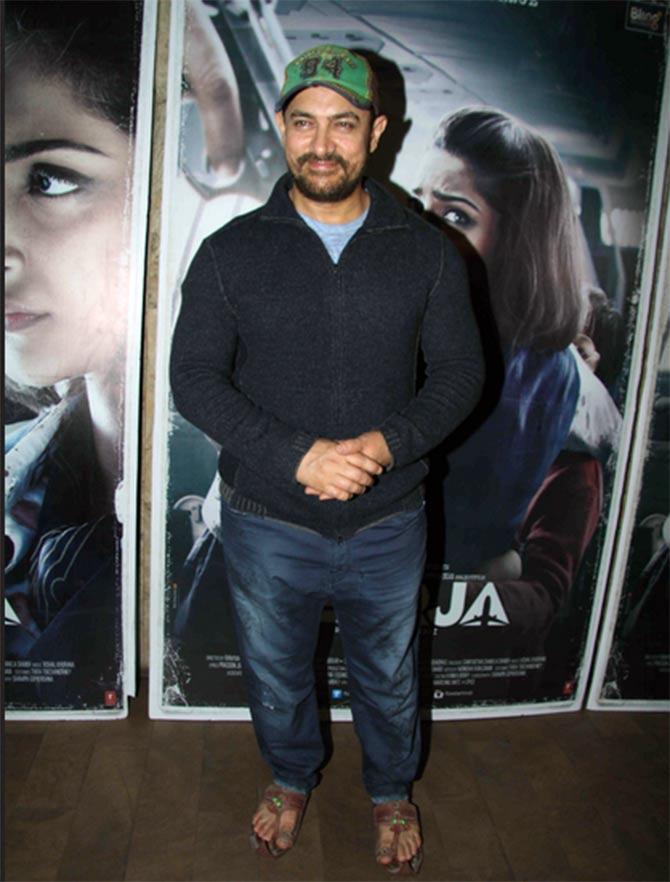 Image: Aamir Khan at Neerja special screening. Photograph: Pradeep Bandekar
You had directed a song for Taare Zameen Par and Aamir Khan tweeted praise for Neerja's trailer. What is your equation with Aamir?
I respect and look up to Aamir.
I have been fortunate enough to interact with him for the Taare Zameen Par song, as well as in advertising.
He asked me to direct the theme song of Satyamev Jayate.
My dream is to direct Aamir Khan in a film.
If he calls me and asks me to direct a film, I will say yes.