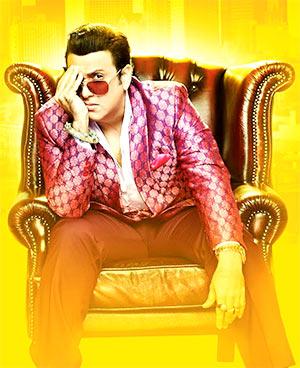 'There was a time in my life when I looked for work because I didn't have any work. Mujhe lagta tha ki agar kaam mil jaye toh meri taklif door ho jayegi (I thought that if I could get work, my troubles would go away),' Govinda tells Sonil Dedhia.
Govinda does not consider himself a superstar and neither does he think that stardom is everything.
He is as funny in real life as he is in his films.
The 50-year-old actor has lost a lot of weight and after a sabbatical of four years, is all set to reboot his acting career with a negative role in Kill Dil.
Govinda tells us why he was hesitant to play such a character, why he doesn't mind playing father roles, and why he doesn't look down on any kind of work. Sonil Dedhia listens in.
You have lost a lot of weight.
Yes, I was 114 kilos when I was in politics. For Partner (2007), with Salman Khan, I lost 17 kilos. I went on a diet, did a lot of gymming, yoga and several other things, but couldn't reduce any further.
Then someone explained metabolism to me and advised me to do Savitri chantings, which is the scriptural knowledge of the gods.
You read and chant certain things every day and it helps keep away the negativity. With that, I have reduced a lot more.
The audience loves the promos of Kill Dil.
I am happy that people have accepted me in a negative character and like the promos of Kill Dil.
I never thought I could play a hard core villain. I wasn't confident of playing a negative character.
When we began shooting, I told Shaad Ali (the director), 'Shaad, let's shoot for a couple of days. If you feel I don't fit the role, we'll make some excuse and I'll move out of the film.'
Luckily, the role worked and I enjoyed doing a negative character.
I have played a negative character only once in my career (Shikari, released in 2000). At the time, I was at the top of my game and was confident of playing any kind of role.
I believe your wife Sunita convinced you to do this role.
Yes. She felt the movie would be good for my career.
Some of my movies were stuck for various reasons, and I felt disheartened. I refused to take up work and was sitting at home.
My wife told me that if work is coming to you, don't refuse it. Initially, my mother used to guide me about many things in life. After her, my wife Sunita has been my guiding factor.
How was your experience of working with Yash Raj Films (YRF)?
I remember Shah Rukh Khan played a villain in Darr and it worked really well for him because of YRF.
At YRF, even a villain is presented as a hero (smiles). It's amazing how they do it.
I had a dream of working with YRF. I used to visit their studios and see pictures of various actors drawn on the walls and would always feel that my photograph was missing.
Now that I am working with them, they will paint mine too (laughs). I guess it was worth the wait and I had a marvelous experience.
Would you do more negative roles in the future?
Any person who is giving you money and respect is not a bad person at all (laughs).
Agar koi mere pass role leke aata hai jisme I can earn good money, then I will do the film provided it's a good role.
Ranveer Singh is a self-confessed fan of yours and has been praising you a lot. How was your relationship on the sets?
He is an amazing actor. I recently saw Ram Leela and I whistled at a lot of places as I really enjoyed his performance.
Ranveer and Deepika (Padukone) look really good together. It's a joy to watch them performing on screen.
He has an amazing physique; I don't think I can ever have such a physique (laughs).
Ranveer does not cheat with his work. He genuinely works hard for any character he does. I hope he stays true to his work all his life.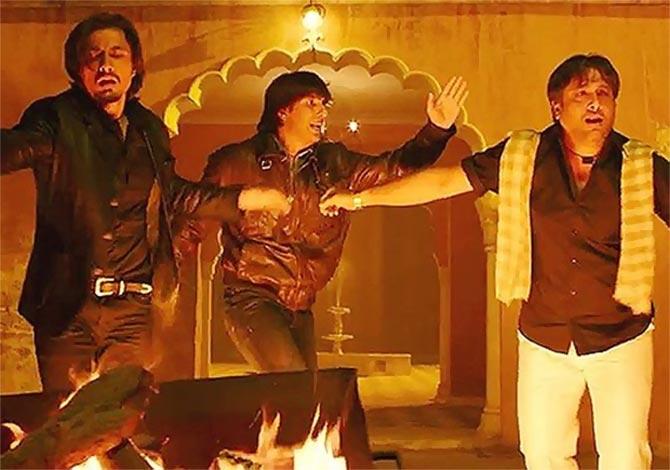 Image: Ali Zafar, Ranveer Singh and Govinda in Kill Dil.
He said that you have never got your due. Do you agree with him?
I don't think that's the case. I come from a very poor background and I became so popular, so all things are enough for me.
I don't think awards and rewards are everything.
I don't think stardom can get you everywhere.
For me, my fans' love is important and that I think is where I get my due from.
Do you think anyone can become the new-age Govinda?
When I was working it was a different phase. I did 48 to 49 films at a stretch, which is not possible today.
Today's actors are doing well in what they are doing.
Comedy today is completely different from what you did. Would you be comfortable doing a sex comedy or a film that has a lot of double meanings?
Main har jagah comfortable hoon (I am comfortable anywhere).
I am open to good work and I don't mind playing any kind of character.
Is it true that you quit Vikas Bahl's Shaandar because he offered you the role of a father?
No, these are all rumours. I am open to playing a father or even a grandfather if the character is good.
I quit Shaandar because the makers of the film had told me that they would narrate the script to me, but they didn't because they were busy.
Later on, a couple of weeks before they started shooting, they called and told me that they would narrate the script to me on the set itself.
I refused to work in the film because I have never done a film without hearing the script in advance.
Salman Khan is trying hard to convince you to work in his home production, which is a remake of the Marathi film Shikshanachya Aaicha Gho.
I refused Salman's film because I didn't want to do an art film. Unki film ka jo subject hai woh art film jaisa hai (The subject of the film is like that of an art film).
I did Partner with Salman. Jo Partner jaisi film karta hai woh art film karega to acha nahi lagega na. (If someone who does a film like Partner does an art film, it won't come out well)
I did a film with Ravi Chopra (Banda Yeh Bindaas Hai) in which Salman played a cameo just because I requested him to do it. After Partner, I have never tried to involve Salman career wise.
I have never troubled anyone for that matter. I think if someone is a good human being and has a good heart, then you should not exploit that person.
Salman and I have been friends even before we started working together. Maine kabhi socha nahi tha ki hamari dosti career mein kaam ayegi (I never thought that our friendship will be useful in my career).
A lot of people questioned your decision to do the Sandhi Sudha commercial.
I don't look down on any kind of work.
There was a time in my life when I looked for work because I didn't have any work. Mujhe lagta tha ki agar kaam mil jaye toh meri taklif door ho jayegi (I thought that if I could get work, my troubles would go away).
I did an advertisement for Navratna oil at the peak of my career. People asked me, 'Govinda, kya tel bechne nikal pade?' (Are you setting out to sell oil?).
I faced a lot of criticism. But a few years later, Amitabh Bachchan and Shah Rukh Khan did the same commercials and no one seemed to mind.
Your daughter Narmada has changed her name to Tina Ahuja and will soon make her debut in films. Do you guide her in terms of how to get about in the industry?
She is educated enough to think and do what is right for her. I believe that she will do some good work and will excel in whatever she does.
I can assure you, the day she is launched, she will be a stunner.