'I have experimented a lot with my acting, now I want to get into the commercial heroine space.'
'I am toning myself up to live up to the hotness standards of Varun and Jacqueline.'
'I am trying to get there.'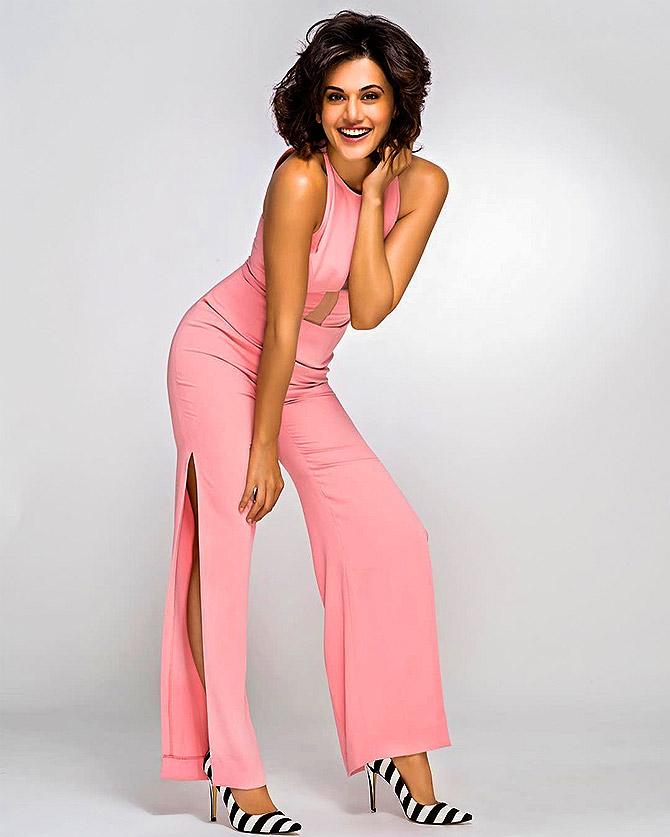 Photograph: Kind courtesy Taapsee Pannu/Instagram
After a terrific performance in PINK, Taapsee Pannu is all set to reveal her fierce side as Shabana Khan in Naam Shabana,
The film is a prequel to Akshay Kumar's Baby, and will see Taapsee do a lot of action.
After Naam Shabana, Taapsee steps into Judwa 2 where she will hot things up with Varun Dhawan and Jacqueline Fernadez.
Taapsee tells Rediff.com contributor Rajul Hegde what we can expect from her.
Naam Shabana is a spin-off of Baby. Your character in Baby gets centre staged in Naam Shabana and a back story gets established.
Is there any pressure since you play the central character?
The pressure is on producers Neeraj Pandey and Akshay Kumar; I am in the most comfortable position.
I couldn't have asked for a better film for my first female protagonist role. Look at the people involved, I'm the last person to get stressed.
It's the same makers and the same cast; they are equally good actors.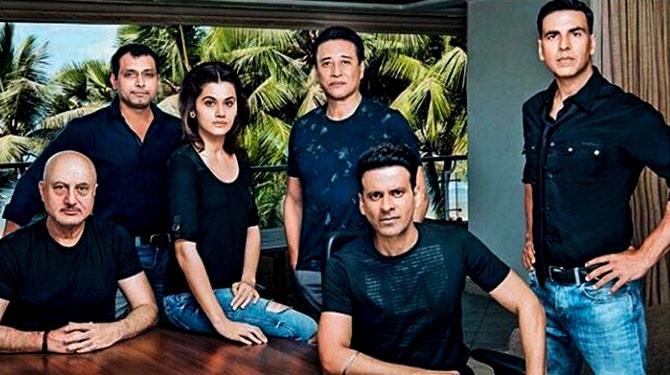 IMAGE: The Baby team who goes forward to Naam Shabana: Taapsee, Anupam Kher, Danny Denzongpa and Akshay Kumar. Manoj Bajpayee stars too.
Photograph: Kind courtesy Taapsee Pannu/Instagram
Going by the promos, it looks like you have done a lot of intense action scenes. What kind of preparation has gone into it?
Soon after Baby released, the makers decided to come up with Naam Shabana.
So my training pretty much continued and it was intensified closer to the start of the shooting. But it happened over two years.
I did a lot of preparation for the role -- I learnt Kudo, MMA and Krav Maga. What we have used in the film is just 40 percent of that.
Action is extremely exhausting. But since I was prepared for the worst, I didn't feel it that much.
I trained in such a way that my muscles became stronger. I was ready for any kind of injury if it happened, but I did not have any.
IMAGE: Taapsee in Naam Shabana.
Are you adventurous?
I was an extrovert as a kid. I would be the one playing all those street games.
I was probably the only girl amongst the boys till Class 12.
I was a hyper active kid and loved sports. I used to play basketball in school, volleyball briefly.
For one-and-a-half years, I have been playing squash.
So it was easy for me to learn martial arts because I treated it like a sport.
What was the experience of working with Akshay Kumar again, after Baby?
Akshay is extremely funny -- his straight-faced humour is out of the world!
One thing I have learnt from him is that we should keep working.
In Baby, he appointed people to train me and it continued for this film. He would supervise it and get my report card every day.
He has always been accessible for any kind of guidance.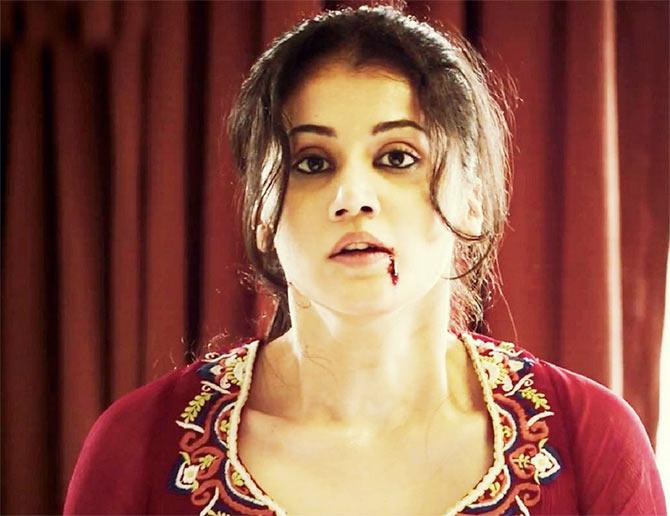 IMAGE: Taapsee in Baby.
Since you are an outsider, how tough is it to get work in the industry?
Getting work has never been a challenge; getting the right kind of work is a challenge.
I still face that and don't know when it will end.
Nepotism and being an outsider are two sides of the same coin.
It will exist till the time Bollywood exists; we will never get rid of it.
Being an outsider, you have to prove yourself again and again.
One big hit will not seal your position, unlike a star kid.
Nobody puts in a phone call for us.
But it's not like I did not know about it when I entered the industry.
One thing is easier is that being an outsider, we don't carry a lot of expectations, which star kids do.
Even before a star kid wants to become an actor, they start receiving flak for anything and everything.
If it was me, I would have probably gotten scared and run away.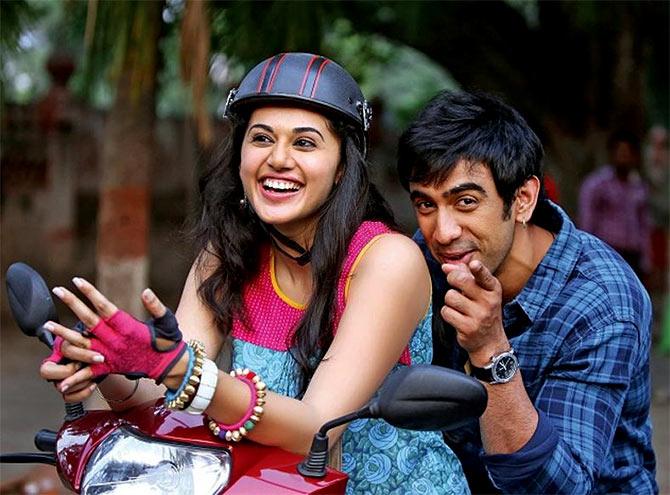 IMAGE: Taapsee and Amit Sadh in Running Shaadi.
Are you disappointed that your last film Running Shaadi didn't do well?
Yes. I have given flops before, it's not like I don't how a flop is.
I can see my film and know if it's going to work or not. The audience is also vocal enough to tell me it's a stupid film.
But people who saw it had very good things to say. Even today I get one or two tweets about the film, that doesn't happen with flops usually.
So I have realised that it's not just good or bad films that make it a hit or a flop; sometimes it's the way the film has been presented.
There are many factors, like the way it is marketed, released and presented at the right time.
I will probably be more careful in how my film is presented in future.
I am extremely proud of Running Shaadi. It's a very good rom-com and it delivered what it promised.
Which film of yours is the turning point in your career?
PINK.
It made people say, 'Okay, she can act.'
But people took notice of me in Baby. They said, 'Let's see what she does next' and that sealed with PINK.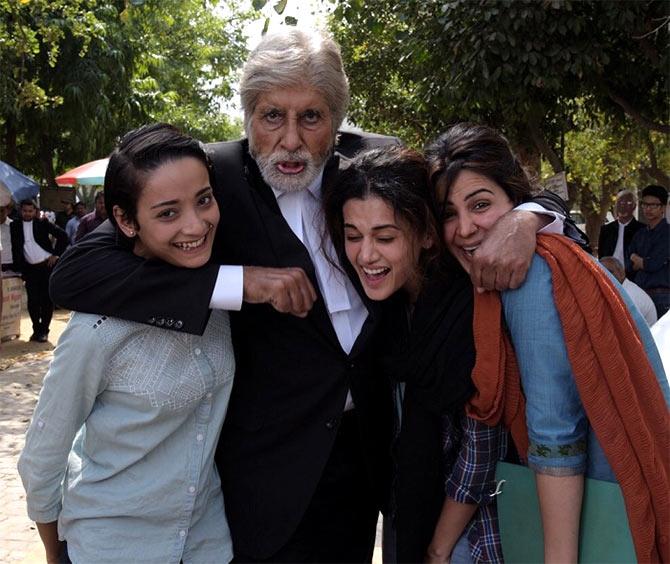 IMAGE: Taapsee enjoys some fun moments with her PINK co-stars: Amitabh Bachchan, Andrea Tarang and Kirti Kulharite. Photograph: Kind courtesy Taapsee Pannu/Instagram
You met President Pranab Mukherjee during a screening of PINK.
Yes. The President liked the film; he watched the film without an interval which I felt was too hard because it's a hard-hitting film.
Having dinner with the President is something I will remember for the rest of my life and tell my kids!
I don't know how many films he will watch, but how many people get a chance to sit next to him and have dinner?
I was very cautious that I should not violate any protocol. I observed him each and every second.
Is there anyone whose biopic you would like to star in?
I am inclined towards sports, so I would love to do a biopic on probably Sania Mirza.
If it's a political film, then Indira Gandhi.
If someone takes me in her biopic, I will be sorted for a few years!
It will take at least 4, 5 films to justify her life. One film cannot show her entire life.
What about sexual harassment at the workplace?
We should speak out.
It is there in every industry. Because we are in front of the camera, people are inquisitive about us and it's gets highlighted. Otherwise, it is more rampant in other industries than the media industry.
People need to speak up at the right time. If you lose your job, that's not the end of your life.
Nothing is worth if you are going through that torture every day.
Do yourself a favour by speaking at the right time and pose an example for others, who will get the confidence from you.
Have you faced it?
Fortunately, no.
I did not want to become an actor; it happened by chance.
Acting is not the end-all of my life. It's a part of my life.
There are so many things in my life that are equally important.
It's not like I am going to pawn everything else for acting in a film.
I have always been like that because acting was never on my agenda.
Till the time I get good roles, I will do it. I have never been desperate or insecure.
That's why nobody probably thought of taking advantage of me.
Your next film is Judwaa 2 with Varun Dhawan and Jacqueline Fernandez. Have you watched the original film?
Even though I am not a movie buff, I remember it. Oonchi Hai Building is one of my favourite songs at parties.
At parties, I can dance only to Bollywood songs.
Have you met Varun Dhawan before?
I have met him a couple of times. He is one energy bunny! I expect to have a lot of fun working with him.
We are experimenting with my look for the film. I will make sure I look my glamorous best!
I have experimented a lot with my acting, now I want to get into the commercial heroine space.
I am toning myself up to live up to the hotness standards of Varun and Jacqueline. I am trying to get there.
Which director would you like to work with?
Mani Ratnam and Rajkumar Hirani.
Shoojit Sircar, as a director (he's one of the producers of Naam Shabana), and Imtiaz Ali.
I am coaxing Neeraj Pandey sir to make a film with me as an antagonist.
The day I tell a director and they make a film with me, I will believe that I am a star. (Laughs.)
Who are your friends in the industry?
No one.
I have a great equation with the people I work with, that's probably why they have repeated me in their films.
I intentionally don't stayed connected with people after pack up because I need to go back to normal life to grow as an actor, to be in touch with reality.