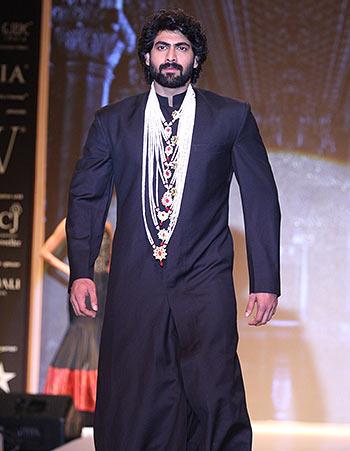 'I have done seven films in the last five years, and that's a lot for me,' Rana Daggubati tells Sonil Dedhia/ Rediff.com
Rana Daggubati doesn't seem to enjoy promoting his films but he remains in good spirits as he spends an entire day interacting with the media.
The Telugu actor is presenting promoting his latest film, Baby, co-starring Akshay Kumar.
"This is just my 20th interview of the day, so I hope you ask some different questions," he says with a wink.
In this freewheeling conversation with Sonil Dedhia/ Rediff.com, Daggubati talks about being selective with his work, working for three years on the magnum opus, Bahubali, and why he doesn't like run-of-the-mill action entertainers.
You don't seem to enjoy promoting a film.
I have never understood why promotion is such a big thing in Hindi films.
You can shoot a film down south in the number of days you allocate to promoting a film here (laughs).
Telugu cinema is regional; we target only one state and one pocket of the NRI audience. For Hindi films, they need to reach out to an entire country.
Nevertheless, promotions are good as that is the only time you get to talk about your film.
How did you land up in Baby?
It's been a while since I did a Hindi film. For the past three years, I have been working on one film, Bahubali. I wanted to just come out of that zone for some time.
I was offered a bunch of Hindi films but none of them excited me much. I have been looking for a role that is in a space I am comfortable with. That's when Baby happened.
Director Neeraj (Pandey) called me for a brief narration and I really loved the film. It's a great team and a great space -- that of an action thriller with a great story.
Have you watched Neeraj Pandey's other films?
Yes, I am a big fan of his films. I loved A Wednesday; it is one of my top favourite films of all time.
I also loved Special 26.
He sticks to real cinema. This is the first time he is making an action film.
It was a treat to work with him. He knows the film perfectly and knows what he wants from his actors.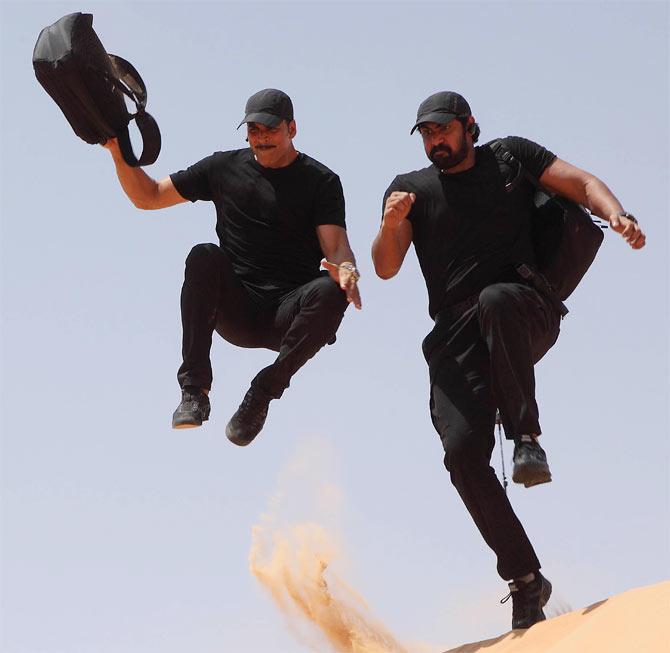 Image: Akshay Kumar and Rana Daggubati in Baby
You have done just seven films in five years whereas your contemporaries have two to three releases every year.
I am aware that my contemporaries are doing two to three films a year but that doesn't bother me nor does it affect my career.
I don't want to do what they are doing and I don't think they want to do what I am doing.
I have selected a path for myself. Right at the start of my career, I chose to do films in Telugu, Tamil and Hindi. I am running my own race and want to compete with myself.
As you said, I have done seven films in the last five years, and that's a lot for me (laughs). For the last three years, I have been shooting for Bahubali so I have been busy with work. It's just that I haven't had a release.
You haven't done over-the-top action films, which are generally a hit with the masses down south.
Yes, you are right. I have been doing films in various genres. My debut film Leader was a political drama.
Dum Maaro Dum was a thriller.
My last Telugu film Krishnam Vande Jagadgurum was an action adventure, which didn't even have elements of comedy.
I don't enjoy doing over-the-top action entertainers.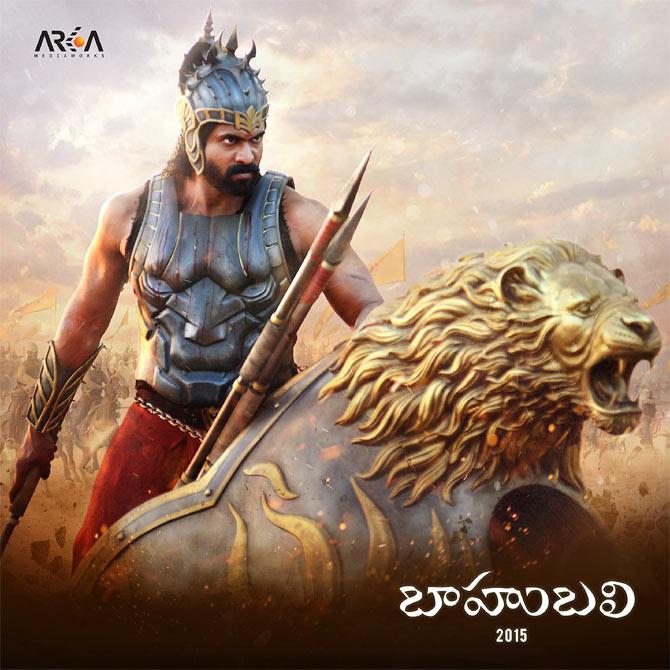 Image: Rana Daggubati in Bahubali
Tell us about Bahubali.
It's an epic action drama. It's a war movie. It is fiction and is based on the story of two brothers played by Prabhas and me who fight for a kingdom.
The action has been planned on a scale not seen in India so far. It's huge.
We've shot the war for about 120 days. It's 120 days of just shooting action for the first part of Bahubali.
Bahubali is our Gladiator. We will start shooting for the second part (Mahabali) very soon.
The film is shot and not dubbed in Hindi, Telugu and Tamil.
Isn't giving three years to a film so early in your career a big risk?
Prabhas and I agreed to do this film because of the sheer joy of being a part of the film. I don't think we will ever be part of such an epic film again.
It could be one of the greatest films in Indian cinema.
For us, it is pretty normal to commit to a project of that scale. We didn't even think of the number of days or years.
I am sure not many actors would take such a risk. But I have committed to it and I am sure the results will pay off.
Don't you miss having a personal life?
For me, going on a film set is having personal time. Every day I wake up excited to go and shoot for something.
I get bored when I am not shooting. Films like Bahubali excite me even more because you are creating an era which never existed. It's always fascinating to be part of good films.
You stay with your father (Suresh Babu) and grandfather (Daggubati Ramanaidu) who are successful producers. What do you inherit from them?
I have inherited a lot of knowledge about cinema.
My grandfather has been producing films for the past 50 years and my father has been doing it for almost 30 years. So it's like walking around with two encyclopaedias (laughs).
I ask them questions and consult them about my scripts.
Your uncles Venkatesh and Nagarjuna are also big stars. Do you consult them too?
Yes, most of us usually run a script to everyone. When my uncle Venkatesh likes a script, he consults my father and my grandfather.
It's a healthy combination that helps all of us.
Have you watched any recent Hindi films?
I watched PK recently and loved it. I watched it twice and liked it better the second time.
You have produced films in Telugu. Any plans to produce Hindi films?
As of now, there are no plans but I'd love to do it. I am sure it will happen in the future.
Which actresses who you find attractive?
I find Katrina Kaif attractive and would like to work with her some day.