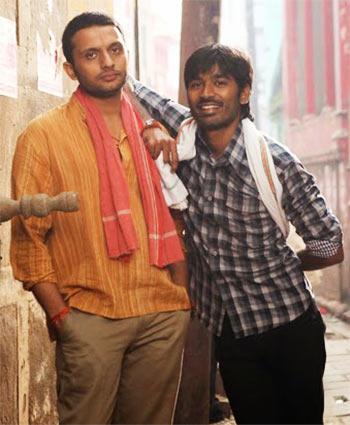 'I have been offered the main lead many times now, including romantic and action hero roles. But they're not interesting.'
'I want to do films like Aandhi, Angoor, Ram Aur Shyam, Mela, Deewar, Zanjeer and Sholay but I don't have a plan.'
Mohammed Zeeshan Ayyub gets ready for the next level.
One of the actors we fell in love with recently was Mohammed Zeeshan Ayyub.
He was brilliant as the hero's best friend in Raanjhanaa, where his character would dole out advice from time to time and go to any length for the sake of friendship.
The young actor from Okhla ( an industrial suburb in New Delhi ) has played the hero's best friend in many movies -- he rattles off a list as he says this -- and now, wants to move on to other roles. Unless, of course, he's playing best friend to Shah Rukh Khan, in Raees.
Zeeshan tells Patcy N/ Rediff.com how it all started for him: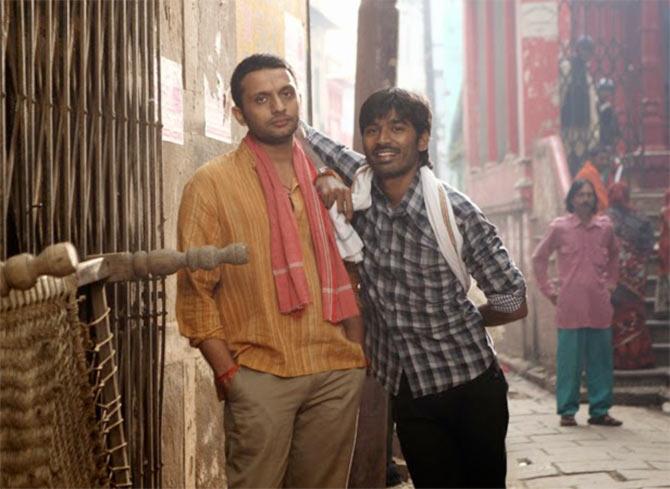 Image: Mohammed Zeeshan Ayyub with Dhanush in Ranjhaanaa
M y parents were theatre actors but I was never interested in acting. I was more inclined towards studies. But when I went to college, I joined a theatre workshop and that's what got me interested.
After graduation, I came to Mumbai to become an actor. Within month I realised that I didn't know much about acting.
One day, I was watching the film Aks and when I saw Manoj Bajpayee's performance I realised that I didn't even know how Manoj Bajpayee created the surreal character; how he approached it.
So I went back to Delhi.
I thought of giving up dream of acting and started studying for a Masters degree in Mathematics.
Meanwhile, a senior from my college, who I had done a play with, was very keen on me becoming an actor. So he enrolled me for NSD (National School of Drama). They asked me to come down for an interview and written examination.
In my first year in NSD, I realised I didn't know anything. There were students who knew how to create sets in the carpentry class just by seeing the mechanical drawing. People knew advanced make-up, how to sing and dance... but I knew nothing.
That made me feel very low. But it also helped me because I realised that I was starting from zero, and didn't have to prove anything.
Slowly, I started getting bigger roles, and the faculty became very fond of me.
I realised one has to surrender oneself and be relaxed. You don't have to prove anything to anybody, except yourself. That was the biggest lesson I got from NSD.


'I am settled financially now but my father never saw me in this comfortable position'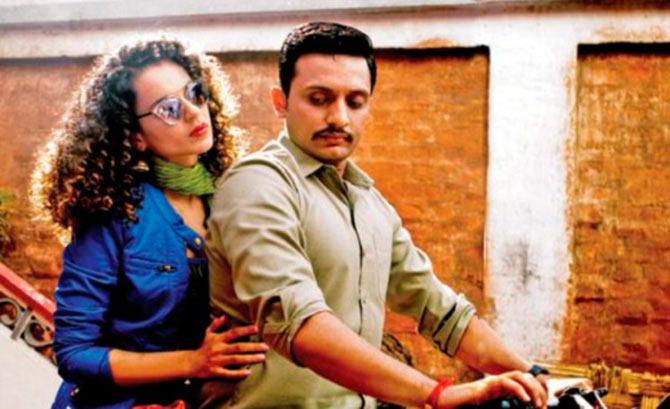 Image: Mohammed Zeeshan Ayyub with Kangna Ranaut in Tanu Weds Manu Return
I nitially, my father wasn't keen on me getting into acting. But he happened to see one of my performances and was very happy. In fact, he motivated me to join NSD. He thought I must train myself if I wanted to take this path.
I was in the third year of NSD, when he passed away. I am settled financially now but he never saw me in this comfortable position. I really feel bad, because he would get happy at the smallest recognition that I got.
After I finished NSD, I took up a job as director of an acting school in Dubai.
But I wanted to work in India, so I returned after three months, in December 2007. I did theatre in Delhi for two and a half years, with eminent directors.
In December 2009, I came to Mumbai to catch a flight to New York -- I was going to teach at the Lee Strasberg Theatre and Film Institute for three months.
Suddenly, I ran into a friend from college, who was the associate casting director for the film No One Killed Jessica. He said he wanted to cast me in the film.
I said no initially since I was going to New York. But he coaxed me to meet up for tea. I went to their office and Gautam Kishanchandani, who was the casting director for the film, convinced me to audition just for fun.
My audition got selected, so I bagged the role.
That's how I started acting in films. It wasn't planned at all.
During the shooting of No One killed Jessica, I got Mere Brother Ki Dulhan. The day it released, I got a call from (director) Kunal Deshmukh, who was making Jannat 2 . After Jannat 2, I was sitting idle for eight-nine months.
Then Raanjhanaa happened and my life changed completely.


'Things have become easy, financially and in terms of getting work'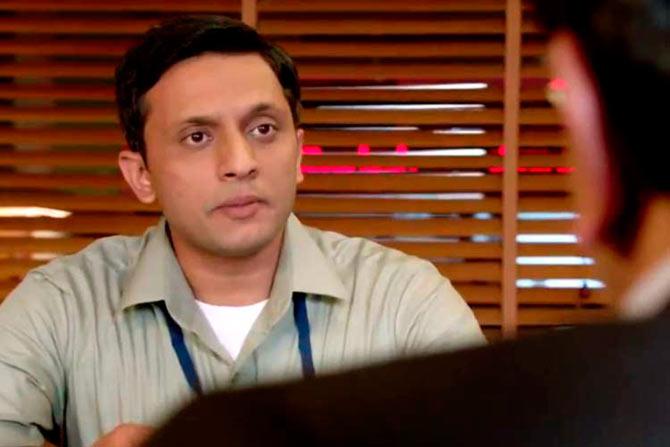 Image: Mohammed Zeeshan Ayyub in Phantom
P eople started recognising me now.
Things have become easy, financially and in terms of getting work. People think of me as a good actor and consider me for good roles.
I have mostly played a small town guy but in Phantom, I played an educated, well-dressed person for the first time. That was exciting.
It was amazing to work with Kabir sir (Khan, Phantom director). He is very clear in his mind. He knows exactly what he will do with the film, and the shots. He can even tell you the exact edit for the shot. He will you ask you to pause in between a shot where he wants to insert a different scene that he had shot earlier. It becomes very easy for the actor.
I don't want to play the hero's friend any more but that doesn't mean I won't do it. In my generation, I think I have played the hero's friend the most -- in Raanjhanaa, Dolly Ki Doli, Tanu Weds Manu Returns, All Is Well.... In Raees again, I'm playing the hero's friend. But my role was different in Phantom.
If it's a good character, I will play the hero's friend again. But I will not play a typical Bollywood friend, who has nothing to do in the script. The character must add something to the film.
I just had a few scenes with Saif Ali Khan in Phantom, so we did not interact. But he's very kind. He came over and introduced himself. I spoke to him for a very brief time.
I spent more time with Shah Rukh Khan on the sets of Raees. He is a very cool person, and one of the most intelligent people I have ever met. He knows himself and his work inside out. He knows how the economics work. He knows what the audience wants and how something should be changed. I have learnt a lot from him.
He is very good with his co-actors and colleagues. He's not shy of talking to people and speaks to everybody. He rarely goes inside his vanity van. If the scene isn't complete, he will sit on the sets and chat with everyone.
I would talk to him about anything -- from Delhi to theatre, how theatre has changed, how films work, politics, social issues, how the camera works...


'I cannot compete with Naseersaab'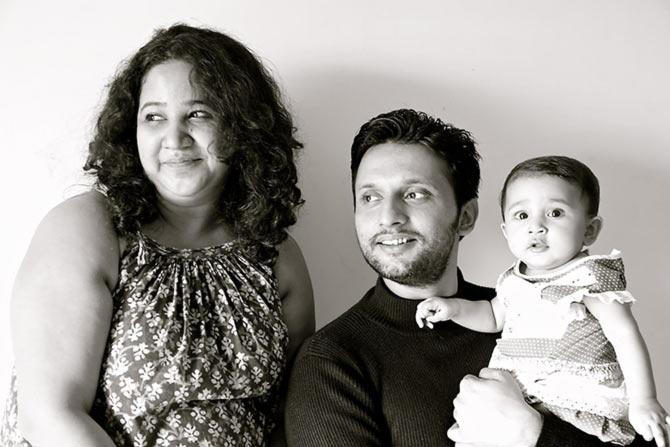 Image: Mohammed Zeeshan Ayyub with his actress wife Rasika Aghase and daughter
I have been offered the main lead many times now, including romantic and action hero roles. But they're not interesting.
I want to do films like Aandhi, Angoor, Ram Aur Shyam, Mela, Deewar, Zanjeer and Sholay but I don't have a plan.
At the moment, I'm doing the Katha remake, where I play Naseeruddin Shah's role. Manish Paul will play Farooque Shaikh's role and Sharmila Mandre will play Deepti Naval's role. Khalid Mohammed has directed it.
When I signed Katha, I was very nervous. I cannot compete with Naseersaab; he was my teacher. So I looked at doing the role in another way. The characteristic of the characters are similar, and yet not the same. My character is very innocent and cute. He is different from Naseersaab's take.
The film will release in October or November.