'Saif thinks he is a good cook but he is not. I would like him to learn how to cook.'
'I can cook well but I haven't entered the kitchen in the last six years.'
'My mom always says a good cook is someone who can make good dal. And I can make excellent dal!'
Kareena Kapoor Khan gives us an insight into her life.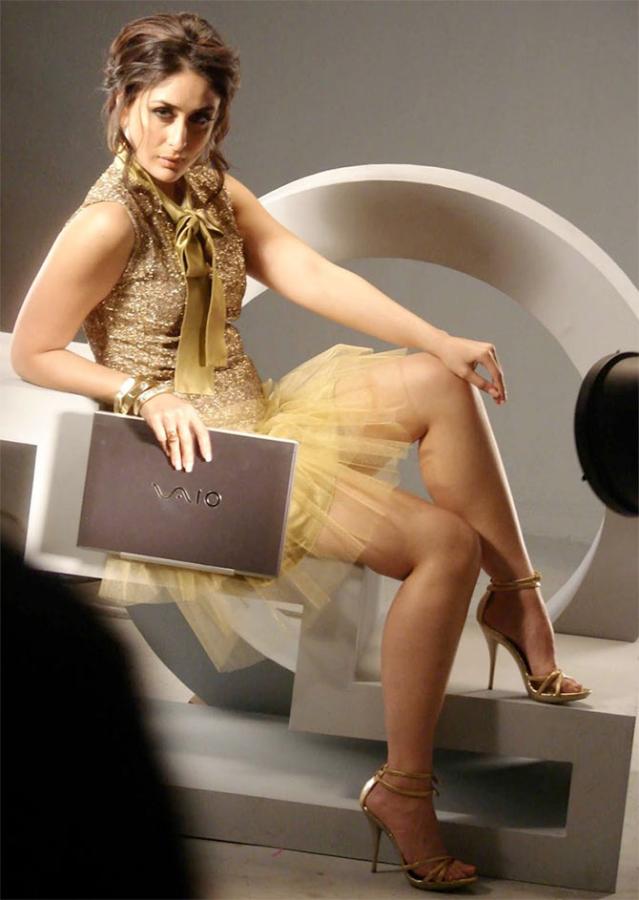 IMAGE: Kareena Kapoor Khan in a Vaio ad
Kareena Kapoor Khan had to ditch her Gucci and Prada outfits for the more 'affordable' Mango and Zara labels to play a 'normal' working girl in her new film, Ki & Ka.
The actress may have an expensive taste in fashion but her diet is very simple -- she claims her favourite food is dal and karela ka sabzi!
As she sits in husband Saif Ali Khan's Illuminati Films office wearing no make-up at all, Kareena fields all kinds of Ki & Ka questions. Jahnavi Patel/ Rediff.com listens in.
What attracted you to Ki & Ka?
I liked Balki's concept.
The fact is that this does happen in India, there are stay-at-home husbands but nobody addresses the issue. People talk about it in hushed tones.
Balki had the kind of courage to make this quirky and out-of-the box kind of a film.
Do you think you could do justice to the role?
Yes, of course. Both Arjun and I have followed the director's vision. Ultimately, filmmaking is a director's medium, and it's his vision that comes on screen.
I am a director's actress completely.
Balki is an amazing director just to come up with such a concept, and make it in such a spirited way.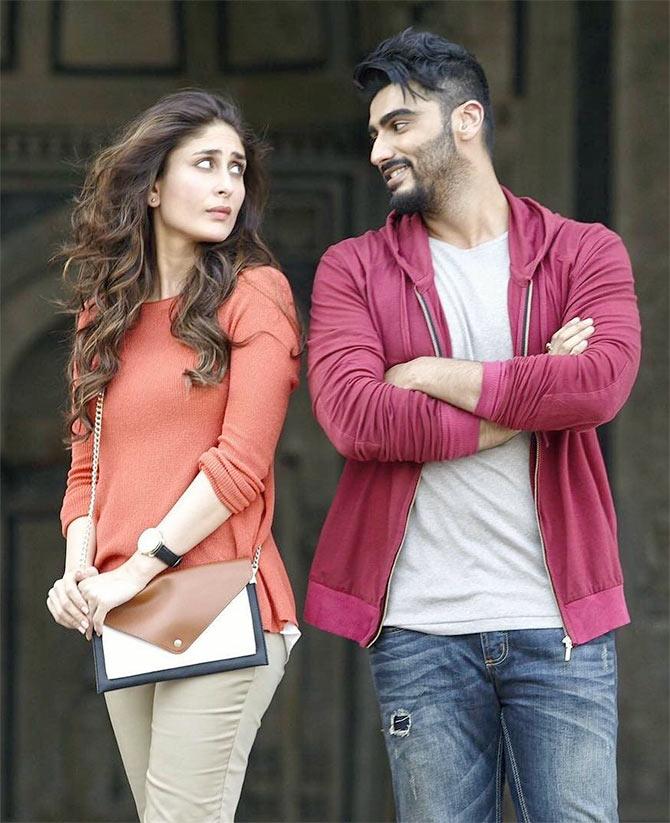 IMAGE: Kareena Kapoor Khan and Arjun Kapoor in Ki and Ka

In an interview, Arjun had said that he would make you laugh by singing 'Bani Bani' (the Main Prem Ki Diwani Hoon title track). How is your equation with him?
We are very good friends. He keeps teasing me or message me some random dialogue from one of my films that I don't even remember.
He keeps entertaining me. We have been friends even before he was an actor, so that helped us get along. I'm fond of him and his mother, so we share a good relationship.
Could you connect with your Ki character on a personal level?
Well, we're married, working and independent, so it was similar in that way.
But Ki has kind of experimented with her marriage with this guy, who has no ambitions and wants to be like his mother. Normally, you meet men who want to be like their fathers, nobody says they want to be like their mothers. That's a slightly different take.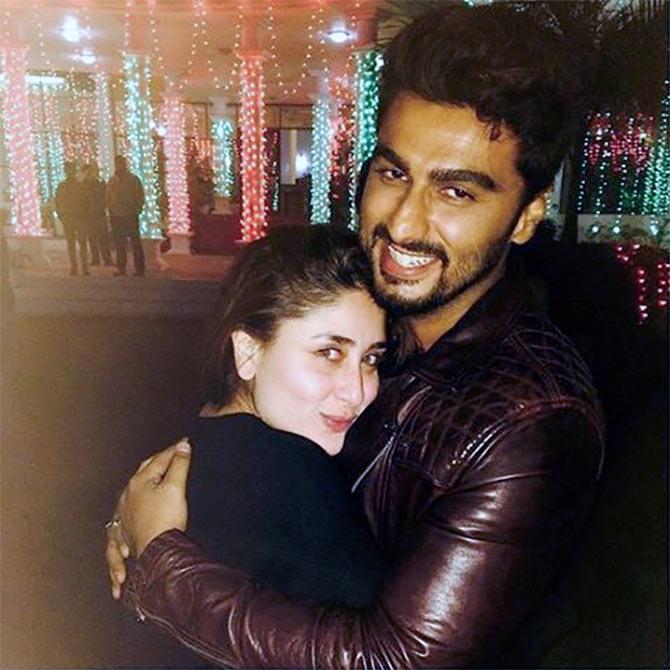 IMAGE: Kareena Kapoor Khan and Arjun Kapoor. Photograph: Arjun Kapoor/Instagram
Do you think men's attitude towards women will change after watching this movie?
Men have a different kind of attitude now anyway.
There are a lot of working women. There are husbands who allow you to work and follow your dream.
Not many people would want to play a role that is slightly offbeat but I thought it was very interesting.
Most people think that after marriage, your career will not be great. But that's broken now.
You can be married, working and successful and enjoy being married as well.
Our Indian film industry is not just about 18 year old girls running around; there are roles for us as well.
How different is Balki from other directors?
Balki is very funny and quirky. His thoughts are like that. He doesn't think like a regular filmmaker and doesn't understand these glossy movies.
He makes the movies and characters very real.
Every time we wanted to wear a Gucci or Prada outfit, he would say we cannot wear that, that we must get clothes from Zara and Mango. He would explain to Manish (Malhotra) that she's a girl From Delhi, who works at an ad agency, so she cannot be shopping at Prada.
When you watch the film, you will see that she wears normal clothes, which are affordable, and that's what I feel proud about.
Has anything in the film touched you on a personal note?
Not many people would have the courage like Arjun to pick up this role, put on high heels and an apron and be in the kitchen at this stage of his career.
People want to show off their six packs, biceps and triceps -- that's the sign of masculinity and of being cool. But Arjun decided to do something so different.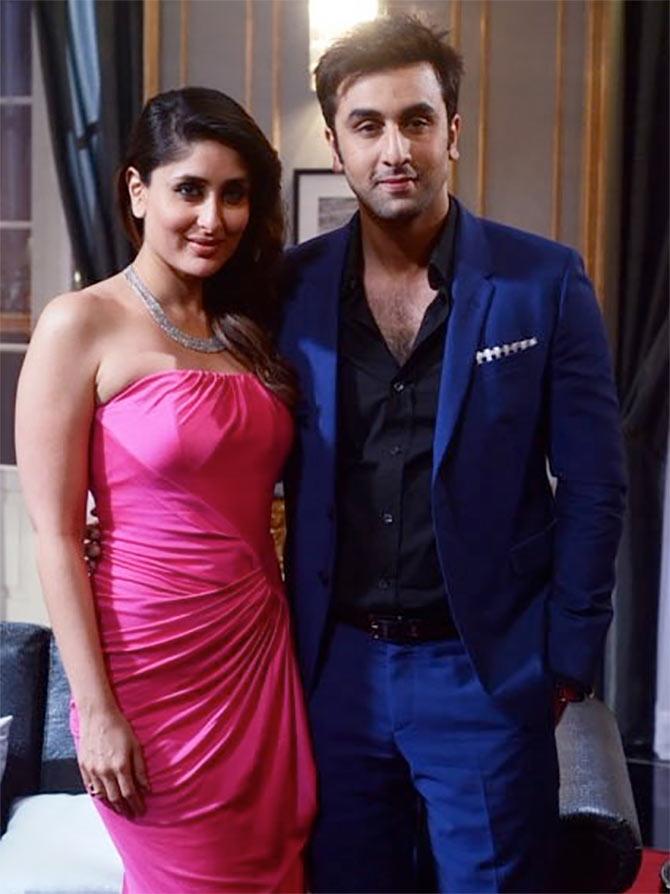 IMAGE: Kareena Kapoor Khan and Ranbir Kapoor
What next?
I don't know what I am doing and that's an amazing feeling. I'm not at that stage where I want to do five films a year.
I want to do maybe one or two films a year.
I want to have time for my family and for me.
Also, in the last six months, I haven't liked nothing. Every script I had heard has been terrible.
When will you do a film with Ranbir?
I would love to work with Ranbir but no good brother-sister script has come to me.
I never got a chance to work with my sister (Karisma Kapoor), so I want to work with my brother.
Is Karisma planning to make a comeback?
Not now. I know she is amazing but there are no plans now.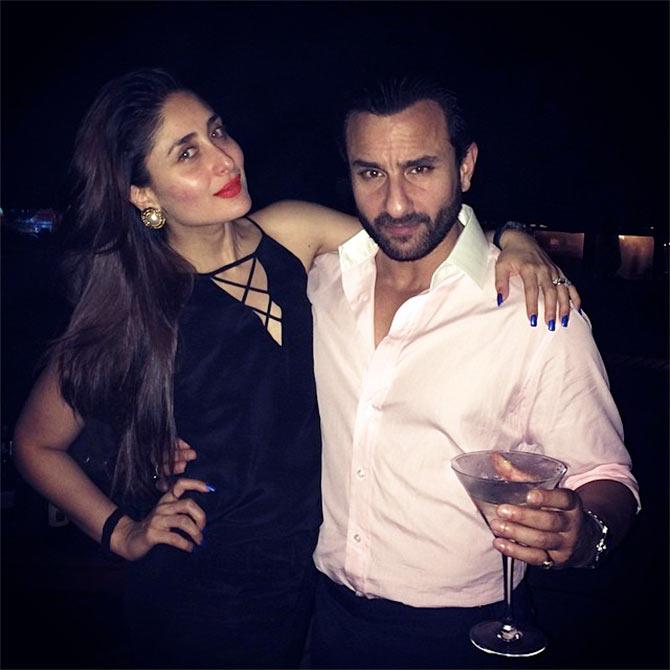 IMAGE: Kareena Kapoor Khan and Saif Ali Khan. Photograph: Karisma Kapoor/Instagram
If Saif becomes a stay-at-home husband, what would you like him to do for you?
Saif has worked for 25 years so I don't think he can be a stay-at-home husband now.
He thinks he is a good cook but he is not. I would like him to learn how to cook.
I can cook well but I haven't entered the kitchen in the last six years.
My mom always says a good cook is someone who can make good dal. And I can make excellent dal!
I am a very simple eater. I love dal and karela ka sabzi.
Saif is doing a film called Chef. Do you think he will learn cooking for that film?
If you ask him, he will say he knows how to cook. He can make spaghetti and not the typical Indian cuisine.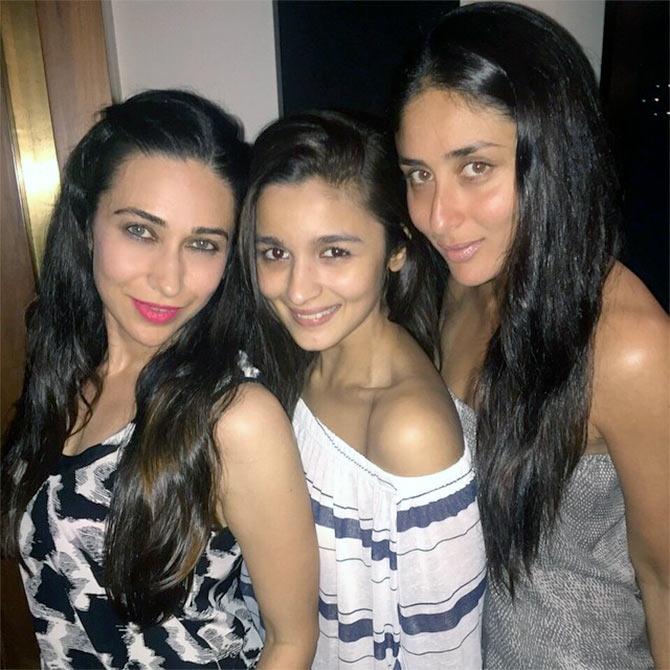 IMAGE: Karisma Kapoor, Alia Bhatt and Kareena Kapoor Khan. Photograph: Karisma Kapoor/Instagram
People compare Alia Bhatt to you. What do you have to say?
I don't think anybody can be me.
She's doing so well and people love her the way she is.
What do you have to say about the Hrithik Roshan-Kangana Ranaut fallout? Do you think actors should talk about this openly?
This is a very personal issue, I cannot comment on it.
I don't think people should comment on it. Like Kangana said, they should be given their space.