'People need to offer me exciting stuff.'
'I am stuck in a rut. People keep exploiting what has worked for me in a film, so they offer me the same thing over and over again. I guess people need to see me for the person that I am, and give me youth-centric roles, make me act with actors who are closer to my age.'
Prachi Desai believes she can do 'a lot more'!
Prachi Desai feels she's hit the jackpot after bagging Tony D'Souza's Azhar, where she plays the cricketer's first wife Naureen.
At the same time, the actress is yearning to play a youth-centric role, some' exciting stuff.'
Prachi chats with Patcy N/ Rediff.com about her new film, and what it was like playing Emraan Hashmi's onscreen wife.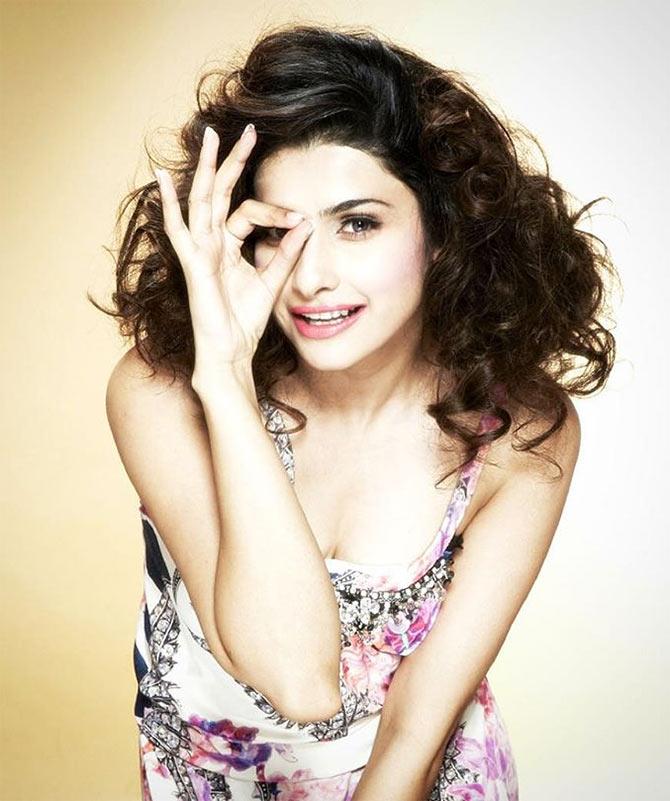 IMAGE: Prachi Desai/Instagram
You play Azhar's first wife Naureen in the film, who is rumoured to be very simple in real life. It matches your image.
I am not (simple)! (laughs)
We had a lot of pictures of Naureen, which gave us an insight into how she was, what she really looked like, how she dressed... the look has been designed keeping all these things in mind.
It was tough because people don't know anything about Naureen. I tried to do some research on her but could not find anything. I had to rely on our director Tony.
Naureen is a beautiful mystery, and the most important part of Azhar's life. They were married for nine years. Nobody knows about her; everybody knows him on the field, the amazing cricketing star that he was, his style statements and the controversies in his life.
But you don't know these two strangers (Mohammad Azharuddin and Naureen) were married to each other. She was only 16 (when she got married), he was a few years older. She saw him through all the upheavals of his life. She was his biggest support system.
Do you play a mom as well?
That part is not shown in the film. We are showing the younger Naureen and Azhar.
Do you think I can look like a mother on screen? Nooo! I play the younger Naureen.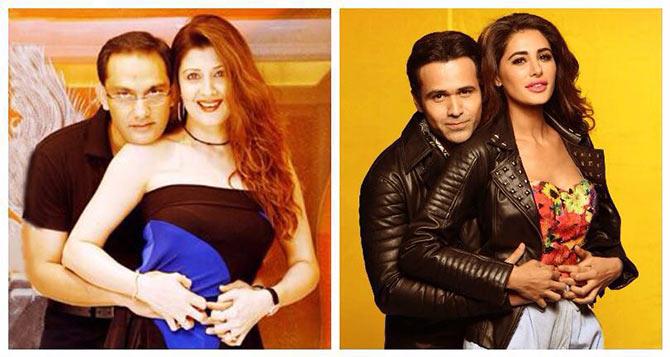 IMAGE: The real life Azhar and Sangeeta (left), with their screen characters: Emraan Hashmi and Nargis Fakhri (right). Photograph: Emraan Hashmi/Twitter

Nargis Fakhri plays Azhar's second wife, Sangeeta Bijlani. Did you ever want to play that character?
I am a very versatile actor and can do any role. I could have played the lawyer (played by Lara Dutta) or even Azhar...okay, I'm joking!
But Naureen's role is the best one. It's the longest role among all the other ones, a pivotal one. It gives an insight to this man's life that nobody ever has seen.
It is not one-dimensional -- it starts as a 16-year-old and becomes that of a mature woman, after nine years of marriage.
Did you ever feel that Nargis would steal the thunder away because she's more glamorous in the film?
An actor's job is to act and that's what I am doing in this film. If you act well, nobody can steal your thunder.
I think it (glamour) appeals to certain people and acting appeals to certain people. You have to do what you do best.
I can be glamorous as well. I am the one with the upper hand because I can be versatile.
Are you a cricket fan?
I am as much a cricket fan as any Indian girl. All my cousins are boys, so all my vacations would be spent playing cricket. But I did not play cricket after school. I watch cricket during the World Cup series, not otherwise.
I am sure I must have watched Azhar play cricket, when my dad would watch cricket, but I was so little, I don't remember clearly.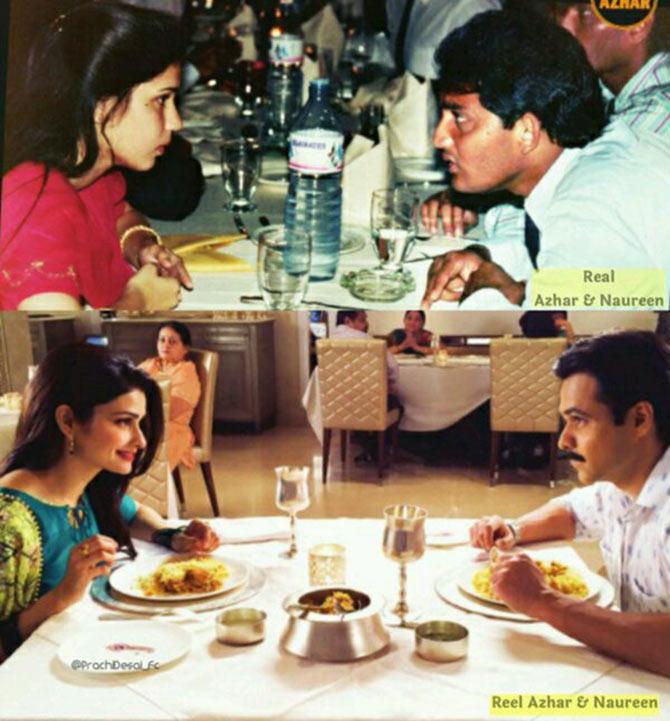 IMAGE: The real life Azhar and Naureen (top), with their screen characters: Emraan Hashmi and Prachi Desai (bottom). Photograph: Emraan Hashmi/Twitter

Naureen's turmoil when Azhar left her has been showcased in the film. Can you tell us about that?
It is one of the most important parts of the film.
Just imagine *our* turmoil because as an actor, we should not cross the boundaries and must respect the other person.
Naureen has been a private person, and nobody knows anything about her. I am not the sort of person to cross the line and ask her anything uncomfortable (when we met in Hyderabad).
With Azhar or Sangeeta, you can just watch their live feeds and interviews and get an insight into them, how they talk, how they are... but with Naureen, you don't know anything about her.
I would rather stick to the script. If I had any doubts, I would ask my director.
I met Naureen in a very personal capacity and got to know some amazing things from her. The kind of grace that she has, her eye contact was really interesting. There are moments in a song where a lot of emotions are expressed through eye contact.
All that happened only because I got to meet her and see her. I saw that she is a confident person when she speaks, which I wouldn't have guessed otherwise. One always imagines a Muslim conservative girl from the 1990s, from Hyderabad. But all those presumptions got cleared after meeting her.
Of course, I met a more mature version of her, but I could guess how she must have been in her younger years.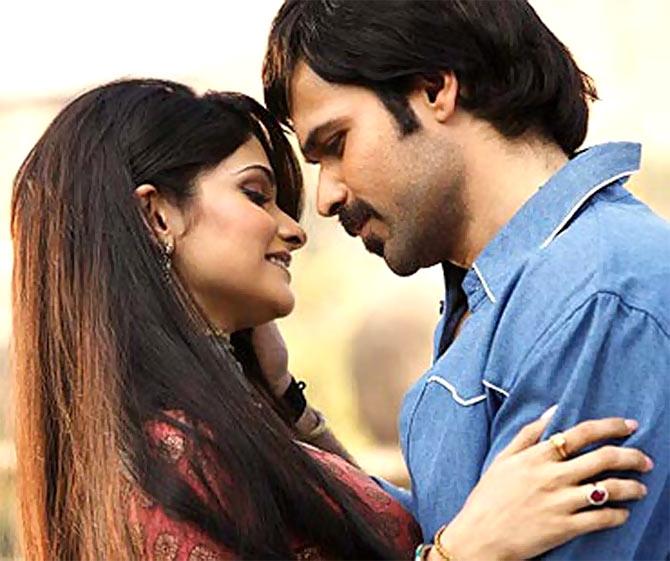 IMAGE: Prachi Desai and Emraan Hashmi in Once Upon A Time In Mumbaai
In Once Upon A time In Mumbaai, your casting with Emraan Hashmi was really appreciated. That was a naughty love story while this is not.
This one is more innocent because she was 16, and he was just a bit older.
They are two strangers, who had an arranged marriage. There was a silent love story because they don't talk so much. If you've seen the song, set in the 1990s, he's trying to steal a moment with her, but everyone is at home.
Even when they went out, it was not like how we go out today. It was different.
In Once Upon A Time In Mumbaai, these two people were in love with each other, against an underworld background.
It was very different because here, they were strangers while in that film, they were in love with each other. I was resisting, while he was always pursuing.
What's the one thing you love about Emraan?
His nasty sense of humour. It's become better because earlier, he would smirk when he cracked a joke but now he does it with straight face.
We are very comfortable and share a great on screen chemistry. I think he looks best with me.
Were you skeptical working with Tony, as his last two films -- Blue and Boss -- were not hits?
Absolutely not. Everyone deserves a chance. This industry is all about family business and if outsiders don't get a chance, what will happen to them?
As far as Tony is concern, he has soul in filmmaking and you will see that through this film. You may have watched his earlier films which may or may not appealed to you, but I think this story was very interesting and promising from day one.
Tony is a gem of a person. You will never see him frazzled. The smile that he had at the beginning of the day stayed till the end of the day, regardless of whatever situations may have cropped up.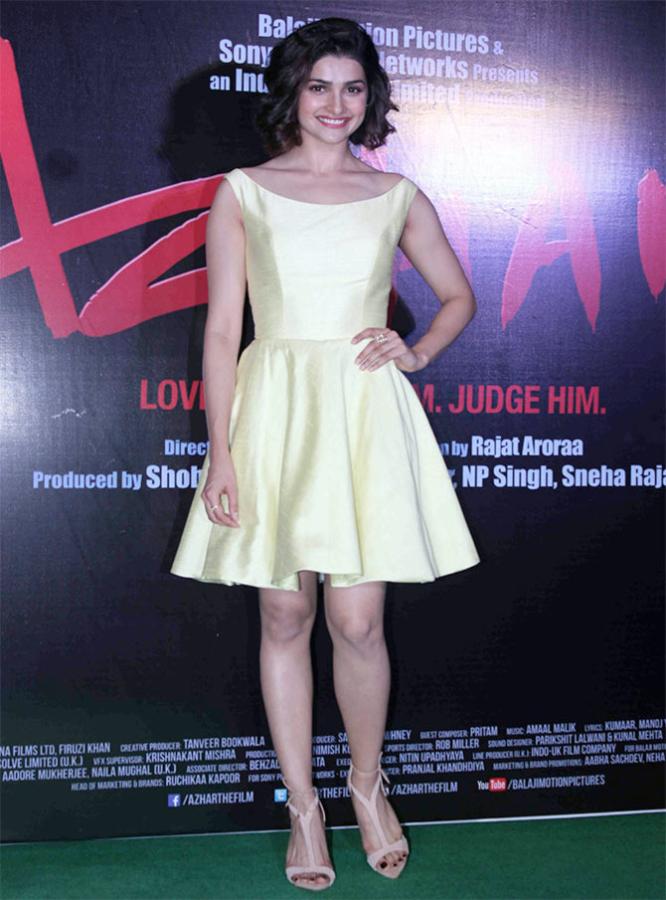 IMAGE: Prachi Desai at Azhar trailer launch. Photograph: Pradeep Bandekar
How is Rock On!! 2 shaping up?
Fabulous!
Rock On!! 2 has always been a film ahead of its time. A film on rock music is not the genre we usually tap, and we did that in Rock On!!
Why don't we see you more often on the big screen?
People need to offer me exciting stuff.
I am stuck in a rut. People keep exploiting what has worked for me in a film, so they offer me the same thing over and over again.
I guess people need to see me for the person that I am, and give me youth-centric roles, make me act with actors who are closer to my age.
I know I can do a lot more.
Whenever people need a good actor, they call me. It's a compliment but I want to have fun as well, with other kinds of roles.
If people like Vidya Balan and Kangana Ranaut took this long to prove themselves and get that kind of acknowledgement... don't tell me they were not as fabulous 10 years ago! They were fabulous from the day they entered the industry but we are acknowledging them only now.