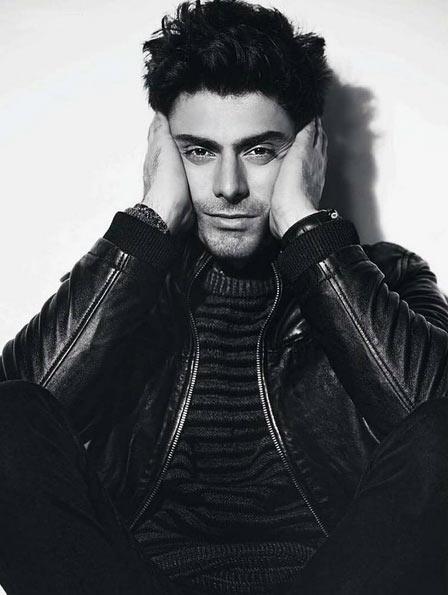 'Alia Bhatt is very intimidating.'
'We talked very little off screen because she's a very busy actor. She would come on set, work long hours, go to sleep and then leave for her other project.'
Fawad Khan discuss his Kapoor & Sons co-star, and much more.
Fawad Khan's popularity in India has been rising by the day. And it's not only the the younger female generation -- he's especially popular with older moms!
The actor will be seen next in Kapoor & Sons, co-starring Sidharth Malhotra and Alia Bhatt.
He tells Jahnavi Patel/ Rediff.com what to expect from the film, and puts an end to rumours: he's NOT gay in the film!
How has your journey from Khoobsurat to Kapoor & Sons been?
Many people feel the journey has been very slow. It took me two years to actually sign another film. But it has been rewarding, so I have no regrets. Now I am an official Kapoor!
Why did it take so long?
The film was offered to me late! (laughs)
No, some films were offered to me but before I tried something mainstream, I wanted to try something in my zone.
I was testing the waters with Khoobsurat and have dived in with Kapoor & Sons. After this, I will go deep sea diving.
Whatever was offered to me was great stuff but I did not agree with them. Suddenly when Kapoor & Sons fell on my lap, I knew it was what I wanted to do.
Will you still be picky about the films you do?
I am a bit of a bear, I like to go into hibernation for a long time. I don't like working too much.
Doing one film a year suits me, and my temperament because it's difficult to jump from one film to another. I wish I were talented enough to go from one set to another and just change my costume and be a different character, but I'm not.
What made you take up Kapoor & Sons?
Kapoor & Sons has an amazing script and screenplay, the sensibilities are very real. The world is so real that you get immersed in it when you play a character. It isn't a particular actor's film and that's what I like about it.
Films should be a collaborative effort rather than one person driving the story. This film gives an equal opportunity to everyone, and it has turned out very beautiful.
What is the core conflict in Kapoor & Sons?
That's obvious in the trailer -- Sid (Sidharth Malhotra) and I come home after many years because of our grandfather's accident. We meet him in hospital. Basically, he has been wanting to get the family together for one simple reason: he wants a picture to be taken. It's this old man's dream before he dies.
Obviously, the characters carry a certain amount of baggage. The conflict not just between Sidharth and me but also between Rajat sir (Rajat Kapoor) and Ratna ma'am (Ratna Pathak Shah).
The distance has really distanced everyone, so when they come back, there's a sense of paranoia. Alia (Bhatt) sees from an outsider's point of view, what it is like to have a family, as she doesn't have one. Then she realises that everything isn't what it seems like.
There are rumours that you're gay in the film. Is that true?
Everybody's gay, no? (laughs)
This movie is not about sexuality or love triangles.
If there was a gay role to be played, I don't think there would be anything wrong with it.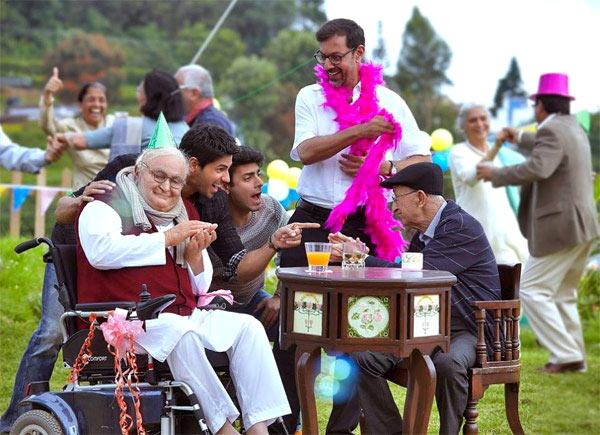 IMAGE: Rishi Kapoor, Sidharth Malhotra, Fawad Khan and Rajat Kapoor in Kapoor & Sons
How was your interaction with Rishi Kapoor?
Even though I don't usually have preconceived notions when I go into a new place, I had learnt from experience that senior actors tend to be cranky. And someone had told me that Rishi Kapoor would give you a really hard time if you forgot your lines. But I realised the truth was completely contrary to that. He is a wonderful person to work with, and an amazing person to hang out with.
He has always complimented me, been courteous with me, and is a good host.
Whose idea was it to have a clean shaven look in Kapoor and Sons?
I think it was Karan Johar's call.
Alia is a fantastic performer and she has so many years ahead of her but the unfortunate part is that she's very young, and we had to match her age.
How was your chemistry with Alia, on and off screen?
We talked very little off screen because she's a very busy actor. She would come on set, work long hours, go to sleep and then leave for her other project -- I think she was shooting for Udta Punjab at that time.
But as a human, Alia is very sharp and smart. She's as intelligent as a 35-40 year old person. Her observations about the film industry are really clear.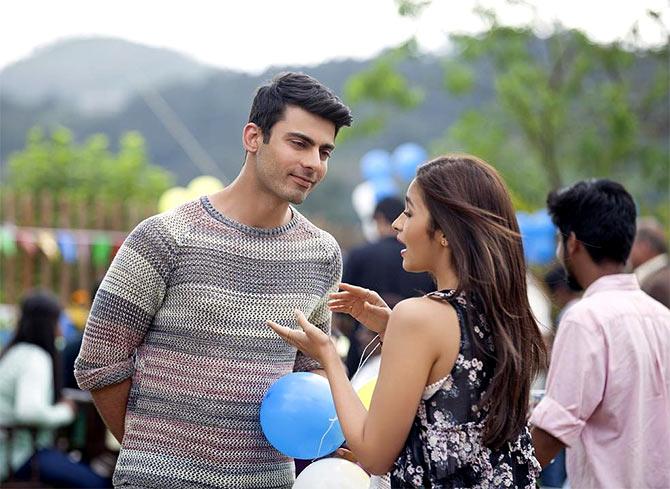 IMAGE: Fawad Khan and Alia Bhatt in Kapoor & Sons
Was it easy to break the ice with her?
No, she's very intimidating. She's spontaneous, who enters a room and lights it up. Frankly, I was taking her lightly, but she's on fire.
You had visited Pakistan sometime ago. Were you working on a project there?
I have been doing advertisements in Pakistan for the longest time. I'm not doing much work in films or television. I am an unlucky hero. Films haven't been offered to me in the last three years. I've been offered one now, and I have accepted it.
Besides Kapoor & Sons, you're doing another ensemble film called Ae Dil Hai Mushkil. Are you ever sceptical of being sidelined?
No. Why?
You read scripts before you sign the films.
I don't play the main character in Ae Dil Hai Mushkil but he embedded in the story. Karan Johar told me that he would like me to play this character, which is not exactly a cameo but a very important role in the film. I was fine with that. I feel you should focus on what you are doing in a film rather than seeing how much screen time you're getting.
Tell us about your character in Ae Dil Hai Mushkil.

I play a DJ, a very interesting one. The beard that I'm sporting again is for that character.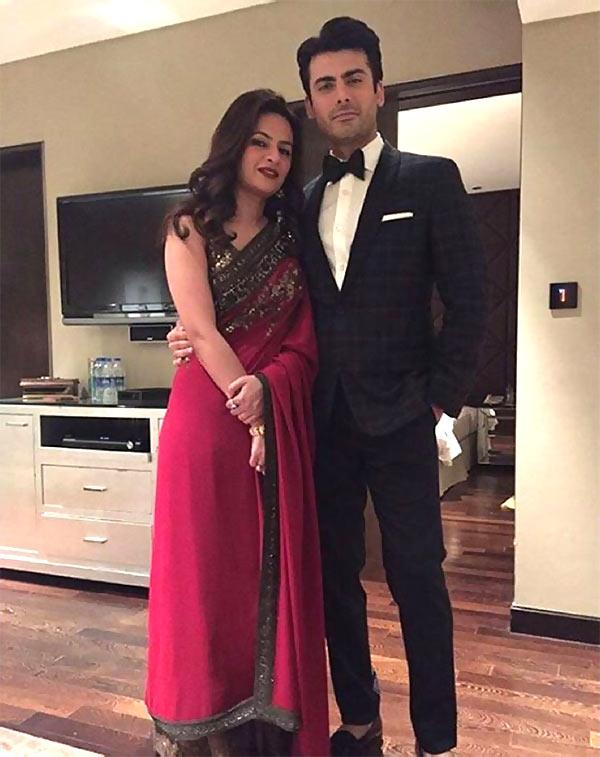 IMAGE: Fawad Khan with his wife Sadaf. Photograph: Fawad Khan/Instagram
Why do you shy way from female attention?
Because I am scared for my life! If I don't shy away from that attention, there will be someone waiting for me at home with a knife in the hand!
Karan Johar had said that you're the only one who can make his mother smile. Alia said her mother is your fan too. Are you aware about your popularity in that age bracket?
Yes, everyone keeps coming to me and saying that their mother is a big fan. That sometimes makes me sad (laughs) but I am enjoying it. It will be a trickle down-effect: if the mother likes me, the daughter will too.
You'd become a household name with the television show, Zindagi Gulzar Hai. Will you return to television if given a chance?
I'd love to do television again but in a different way.
I'm a big fan of shows like True Detective and House Of Cards and do something on the lines of that.
Biopics are trending in Bollywood. Is there anyone you'd like to play?
I am working in a biopic of a Pakistani pop star named Alamgir. He came to Pakistan in the 1970s when the Fall Of Dhaka happened. The biopic goes across four decades.