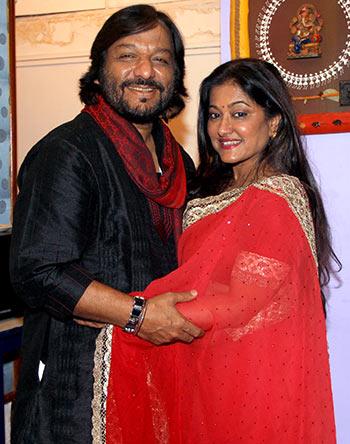 'Today, where are singers like Udit Narayan, Kumar Sanu and Abhijit Bhattacharya? They didn't sing anything apart from Bollywood.'
'When there is a change in trend, you are gone. But I will remain for another 50 years. I will sing for films and do other stuff too.'
The Rathods discuss their music.
Ghazal singer Roop Kumar Rathod and his wife Sunali completed 25 years together in music and recently released an album titled Zikr Tera, a tribute to the late ghazal maestro Jagjit Singh.
Roop Kumar's last Hindi songs were Tujh Mein Rab Dikhta Hain (Rab Ne Bana Di Jodi, 2008),O Saiyyan (Agneepath, 2012) and Kahe Sataye (Rang Rasiya, 2014).
The Rathods discuss their music with Rediif.com contributor Rajul Hegde. They also sing exclusively for us in the videos.
Why did you take five years to come back with a ghazal album?
Roop Kumar: We didn't want to come out with an album until we were satisfied with the product.
As it is, ghazals get very little promotion; nothing besides Bollywood music gets promoted today.
We released the album independently on the internet. We thought that the internet is so huge today we might as well release it ourselves rather than depending on others.
Sunali Rathod: We wanted to dedicate this album to Jagjit Singh when he was alive.
We sing the ghazals in the way he sang and composed, in a soothing way. Ghazal lovers are already in love with it.
Did Jagjit Singh know about the album?
Roop Kumar: No, we wanted to surprise him. His wife Chitra was very happy when she got to know about it.
He was very fond of me and my daughter (Reewa). I would meet Jagjitji at Mahalaxmi race course (in South Mumbai), where I used to take my daughter as she is a horse rider.
From there we would come home, have chai and spend hours together.
Whenever he heard one of my songs he would call and tell me, Teragaan suno. Bahut acha gaana hai.
His last recording was with Sunali, Hariharan and me.


Watch: Roop Kumar Rathod sings Maula Mere Maula from Anwar. Video: Afsar Dayatar
Sunali and you have been together for 25 years. How much have you learnt from each other? Were there insecurities and creative differences between you?
Sunali: We are together because of music.
There was a lot of opposition to our marriage initially. People said, 'This will be another Abhiman film story'.
The media constantly asked us about our insecurities.
I would say there was no insecurity but there have been creative differences. Sometimes we fight over the commercial aspect of a tune.
I like artistic finesse while he thinks whether it will work commercially.
I think it's a beautiful thing that both of us are musicians. It has worked very well for us.
Roop started (his career) at the age of 16 so he has a lot of stage experience. I am lucky that he constantly guides me while performing on stage.
Of course, there are some drawbacks too. He takes the liberty of saying 'Oh shut up don't do this'.
I say, 'Hello, I am your singer'.
He is a very strict and not convinced till one gets all the notes right...
Roop Kumar (interrupts): Only in the studio, not at home (smiles).
We are each other's critics and work hard to impress each other with our music.


Watch: Roop Kumar Rathod sings Tere Liye from Veer Zaara. Video: Afsar Dayatar
The ghazal genre has changed completely in the last 15 years. How have you managed to preserve it?
Sunali: I would say that it's our presence and our music throughout the years.
We have always tried to evolve with our music, to be innovative in our concerts and present different kinds of stuff.
I'd say that the brand has worked; people like to watch us together on stage.
We are lucky that we can present ghazal today when it's not so popular.
During a live show, our young audience often asks us the meaning of a word or about the ghazals we have sung. This means that a lot of youngsters like the genre.
Roop Kumar: Forget about cosmopolitan cities, there is a huge audience for ghazal in places like Uttar Pradesh and Madhya Pradesh.
They want to listen to good ghazals. That's why Jagjit Singh was so popular.
He never did Bollywood but only ghazals.
You have sung popular Bollywood songs. Why can't a ghazal singer be the voice of a mainstream Hindi film hero?
Roop Kumar: I have sung for Salman Khan, Shah Rukh Khan and Hrithik Roshan. So in that sense, I am a mainstream voice. But I need to balance both.
I am a performer and have grown with ghazal. I am more comfortable expressing my music and emotions through ghazals.
I do fusion, devotional, Sufi... and there are many other genres I can explore.
I am a little choosy about my music and I want to play a long innings.
I've been singing for 25 years and even today people wait for my songs.
Today, where are singers like Udit Narayan, Kumar Sanu and Abhijit Bhattacharya? They didn't sing anything apart from Bollywood.
When there is a change in trend, you are gone. But I will remain for another 50 years. I will sing for films and do other stuff too.
Sunali: As musicians, why should we depend on another face to become famous?
People recognise us by face. That is the biggest achievement in a country like India where Bollywood is everything.
So, ghazal itself is the biggest hero; you don't need Shah Rukh or Salman to promote it. Classical musicians are there for ever; they don't need the back up of film stars.


Watch: Roop Kumar Rathod sings Sandese Aate Hain from Border. Videographer: Afsar Dayatar
Are you picky about the lyrics when you sing for films?
Roop Kumar: Yes. I can't sing words like 'ishq kamina' because we belong to a different culture. It's our duty to guard our culture. If we do the same thing then what is the difference between us and them?
We are fighting for the Urdu language. We want to save the language.
We want to tell the government that this is not a Pakistani language. It's nothing to do with Muslims; it was our common language before Partition.
Hindi and Urdu are losing their essence due to today's song lyrics. When the language is gone, the culture goes too.
Is there any recent song that you both like?
Roop Kumar: We listen to everybody since we are in this field.
Sometimes I listen to Honey Singh. Arijit Singh is good. Aashiqui 2 songs are good.
Sunali: Vishal Bhardwaj is a brilliant composer. Amit Trivedi and Shankar-Ehsaan-Loy are great musicians.
Why do very few singers sing ghazals?
Sunali: Learning the language requires a lot of effort.
I started learning music at the age of 11. I had to learn Urdu because of the diction.
Roop Kumar: Ghazal can't give you instant stardom. Singers get instant recognition singing for films, but that doesn't happen with ghazals.
You are the hero in a ghazal. But it is film actors who are the face of film music.
No new singer has the patience to take that risk and so ghazals are not very popular with the younger generation of singers.
Reality shows bring overnight stardom to young singers. But where are the singers of India Idol? They have no work, they are struggling.
In a reality show, the focus is on grooming. Youngsters are fashionable and dance on the stage. But what about the music?
Sunali: We have been part of one reality show, Mission Ustad, which was different. We won it.
But we are not in favour of reality shows.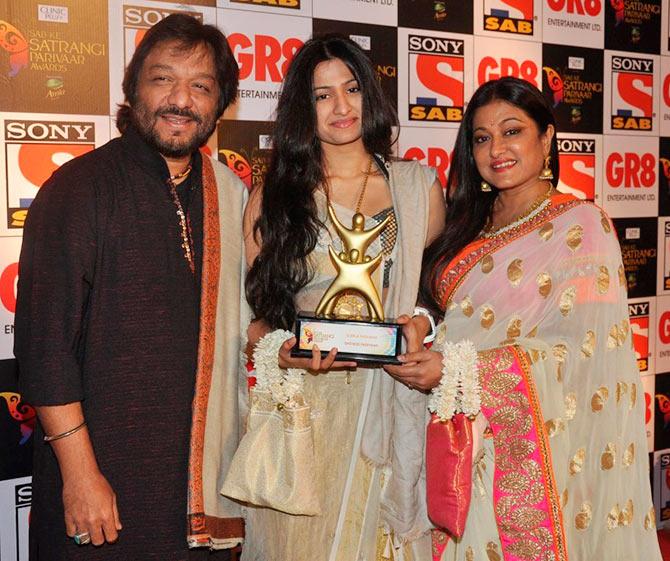 Image: Roop Kumar Rathod and Sunali with their daughter Reewa. Photographer: Abhijit Mhamunkar
How good a singer is your daughter?
Roop Kumar: Reewa is a gifted composer and singer. If you hear her sing western classical music and Carnatic music, you can't make out that the singer is the same.
She's taking things at her own pace and creating a niche for herself.
Can you talk a bit about yourself?
Roop Kumar: I was born in a well-known musical family. I learnt tabla at the age of six. I would accompany my father Pandit Chaturbhuj Rathod (a Dhrupad exponent) and play tabla during his concerts.
I performed with renowned ghazal singers and did 25 concerts a month.
I left all that suddenly when I decided to become a singer at 17.
That was a nightmarish time. I faced a big financial crisis. I wasn't a trained singer, but I decided to learn singing and worked very hard.
I learnt from my father for two years before he passed away. He appreciated my dedication but he didn't see me perform on a big stage.
Shyam Benegal was making Discovery of India and he called wanting to speak to my father for the role of Tansen.
I said my father had passed away but I was there. He asked if I could sing and I said yes.
He asked who would act the part. I replied that Tansen did not have a beard and I couldn't shave because my beard was my trademark. Finally, my brother Vinod played the role.
My meditation album was launched first, followed by my first ghazal album in 1985. I played tabla and sang.
In 1989, I got my first break as playback for the huge hit, Gumrah, starring Sanjay Dutt and Sridevi.
Bollywood came my way as I went along but it was never my priority.
I do approximately 50-60 stage shows a year. I am a performing artist; it gives me a kick to sing in front of a live audience.

Also Watch: Roop Kumar Rathod sings Tu Hi To Jannat Meri from Rab Ne Bana Di Jodi
Roop Kumar Rathod and Sunali sing Pyar Mein Chhup Chhup Ke from the album Mitwaa