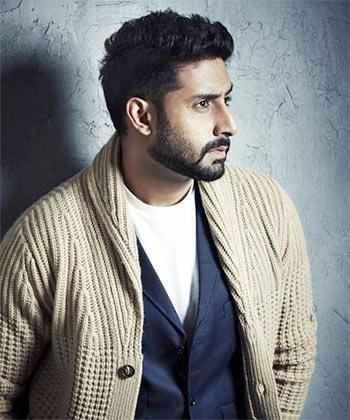 'I wake up every morning and get to make movies. This is the biggest highlight of my career.'
All Is Well for Abhishek Bachchan.
From the inescapable comparisons to his superstar father Amitabh Bachchan to making a name of his own, Abhishek Bachchan has come a long way.
The 39-year-old actor describes his 15 years in the film industry as a roller-coaster ride. "You have this smile on your face when you get off a roller-coaster... achieving that smile should be your aim," he explains.
Abhishek is now eagerly awaiting the release of his much-delayed film, All Is Well, a film on a father-son relationship.
Abhishek talks to Sonil Dedhia/ Rediff.com talks about the film, and his relationship with his own dad.
What attracted you to do All Is Well?
I thought Umesh (Shukla, director) was trying to say an important message.
With All Is Well, we are dealing with the subject of generation gap and miscommunication in a family.
The story is about a father and son. Chintu uncle's (Rishi Kapoor) character Bhajanlal Bhalla runs a bakery in a small village. I play his son, Inder.
Like most fathers, he wants his son to take up the family business but the son wants to become a musician. My character then leaves home to pursue his dream.
I liked the style in which he wanted to convey the message. He can put across a serious point in an entertaining way.
But this kind of story has been told before.
I'll give an example from our daily life. Today, we have become so busy in achieving what we want that we have almost become selfish.
We don't think about what our parents want, or what they think about our future. Rather than pausing and thinking about the good things, people are busy complaining about most of the things.
We don't appreciate our parents enough, and that's the theme of the film. A mother will always check on her child whether he has reached his destination safely or has eaten food but a child would rarely do that for his mother.
I am a pretty good son, at least I try to be. My family is my priority.
We don't realise the importance of what our parents have sacrificed for us. We don't appreciate them.
I see this perspective because I am a parent and can see both sides of the fence. All of us are working and earning money because we want a better life with our parents but they are the first ones we compromise on.
How was it working with director Umesh Shukla?
He is a very keen observer of life and has a very unique perspective. His biggest inspiration comes from everyday life.
What's nice about this film is that it is not a one-sided film. Umesh has kept a balance between the father-son perspective.
Chintu uncle has a good dialogue: 'Yeh zaroori nahi hai ki ek doctor ka beta, doctor he bane (A doctor's son doesn't have to be a doctor).' It's a message for parents also. They need to ask their children what they want to do or what they aspire to be in life.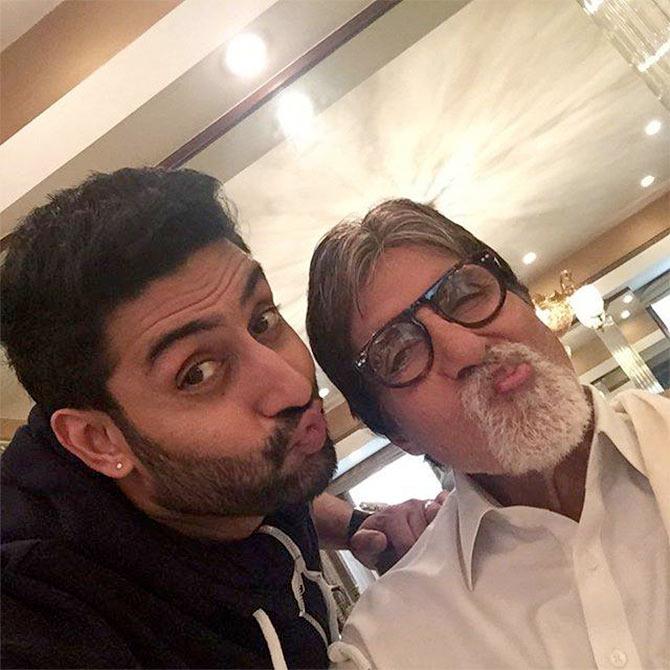 Image: Abhishek and Amitabh Bachchan. Photograph: Abhishek Bachchan/Facebook
What kind of relationship do you share with your father?
My dad is like my buddy; we have always had a friendly relationship.
I don't disagree with him much. If there is a difference of opinion, we reason it out.
Thankfully, we have never had any issues, where we disagree on something. If he says something I don't agree with, he gives me the opportunity to explain my point of view. If it makes sense to him, he's okay with it.
The film was supposed to release last year. Did the delay frustrate you?
Smritiji (Smriti Irani) was initially a part of the film. We had shot a lot of portions with her but she became Minister of Human Resource Development (last year).
Her duty towards the nation was far more important than a film. She tried her best to finish the shooting but it was not possible. She graciously told us about it and requested Umesh to replace her. It's wonderful for any actor to say this.
The film was practically shelved for almost nine months till Supriyaji (Supriya Pathak) came on board.
We had to re-shoot a lot of portions. During that time, I was shooting for Happy New Year and also busy with the Pro Kabbadi League (Abhishek owns the Jaipur Pink Panthers team), so it wasn't frustrating. But I wanted the film to be made. I am happy the film was revived.
Did you ever feel awkward shooting the same scenes with a different actor?
No. I have done a lot of work with Supriyaji. I call her my Nirupa Roy (laughs).
She has played my mother in four films. We're working together after more than 10 years. She is such a fine actor that it's always fun to work with her.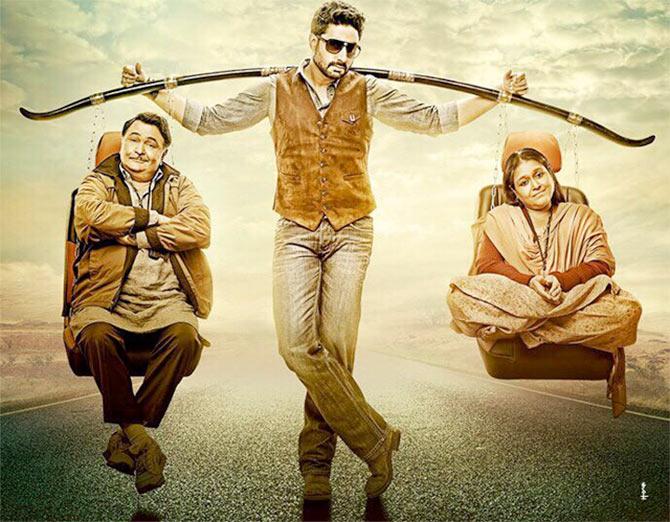 Image: Rishi Kapoor, Abhishek Bachchan and Supriya Pathak in All Is Well
How was it working with Rishi Kapoor?
I have earlier worked with him in Delhi 6.
On set, he is a friend who treats you like one and allows you to treat him the same way.
He just called me some time ago. He must have sent me a dirty joke and must be calling to ask why I didn't respond to him.
He has such a brilliant way of breaking down those formal barriers and making one feel comfortable in his presence.
He is one of the greatest actors we have.
You complete 15 years in the industry. What are the highlights of your career?
(Thinks hard) I wake up every morning and make movies. This is the biggest highlight of my career.
How many actors out there are blessed enough to have work even after five years? It's an honour to have worked in the industry for 15 years.
I am thankful to my fans, who have always supported me.
Besides, I don't like looking back over my shoulder. I try to aim for the horizon.
Any regrets?
I don't have any regrets because they make you very bitter. If something doesn't go according to plan, you need to know how to turn it into something positive.
A lot of my films haven't worked but I guess that's the case with every actor. I can't think of any actor, who has only given hit films. It's the things you learn from failure that will help you grow in future.
My failures have taught me more than my successes.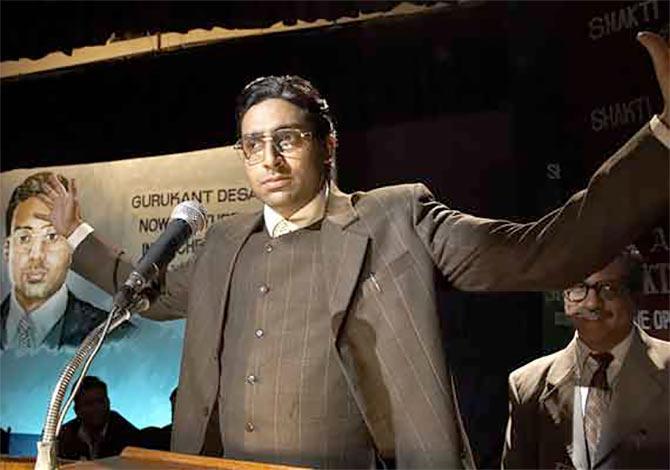 Image: Abhishek Bachchan in Guru
Which is your favourite film or character?
I don't know. I don't like to dwell in the past. I find it very difficult to retrospect.
I cannot rest on my past laurels.
I remember once I was playing cricket at Adi's (Aditya Chopra) house before I became an actor. Shah Rukh Khan was there and I asked him to name his dream role. He told me: 'Tomorrow, when you will become an actor, remember that your dream role should be the one that you are doing at that point of time. Because if that isn't the case, then you are not doing justice to it.'
But I get flattered when people tell me that I have done fantastic work in Guru or Sarkar.
Your father has been in the industry for more than four decades. Do you ever think what you would do when you reach his stage?
I really pray that I am able to do what he does at his age.
I can't see a life without films. I hope I am blessed enough that at his age also I can work in films.
He was the biggest, is the biggest and will remain the biggest star. I don't aspire to be like him. I will never be able to reach the stardom that my father has achieved. I would like to make my own path.
Sholay completes 40 years. What are your memories of the film?
It is one of the greatest films ever made.
I attended the premiere of the film in my mother's belly (Laughs). She was pregnant with my sister Shweta during the shooting of the film, and with me during the premiere.
I don't think there can be a more perfect masala film than Sholay.
After All Is Well, you have three comedy films coming up: Hera Pheri 3, Houseful 3 and the Bluffmaster sequel. Are comfortable doing comedy?
I don't look at Bluffmaster as a comedy. We still have to finalise the script. It's just that Riteish (Deshmukh), Rohan (Sippy, director) and I have all agreed to make it. It will take some time.
Also, I don't plan that since I have done a family drama, my next film would be a comedy.
I loved the scripts of Hera Pheri 3 and Housefull 3 and am sure they will be laugh riots. Initially, I was scared to take up Housefull 3, as the film has dedicated fans. I remember I told my nephew (Agastya) that I was offered the film and he told me, 'You have to do it, mamu. It's my favourite film. It will be great fun to see you in it.'