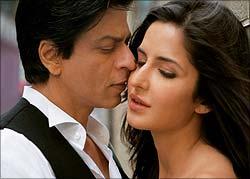 F
or Aseem Chhabra Yash Chopra's last film, Jab Tak Hai Jaan, signals the end of an era in Bollywood.

It was a perfect plan, before even a single frame had been shot. A master, a legendary filmmaker who commanded a tremendous amount of respect from the industry and the audience for his personal brand of romantic cinema that spanned five decades, had finally announced his next film.
And in doing so Yash Chopra put together the best imaginable package: First time collaboration with composer A R Rahman, lyricist Gulzar, along with the bright diamond in the gems he had gathered — Shah Rukh Khan, in the lead of what would was obviously expected to be a romantic musical.
So what if we did not know what the film was about, let alone what was its name. Chopra's yet-to-be-named 22nd film of his career was an event most Bollywood fans were looking forward to (there may be those who just do not like a Shah Rukh Khan film, and I wish them good luck).
It would be eight years since
Veer Zara
— the last time we got a taste of Chopra's fully realised, old-fashioned romantic cinema. In between those years, the production house that he launched and his older son now runs, produced a whole slew of films — a mixed bag, some hits and real fun films (
Band Baaja Baaraat, Chak De! India, Bunty Aur Babli
), but many of them unimpressive
(Neal 'N' Nikki, Jhoom Barabar Jhoom, Pyaar Impossible!).

But there was always the good old Chopra kind of cinema with attractive adult actors, falling in love — often in extra-marital settings, prancing on the Swiss Alps, sometimes in slow motion, to sweeping musical scores, lip syncing classical memorable songs that would fill our hearts. That is the kind of cinema Chopra promised to deliver, taking us back to the days of
Daag, Kabhi Kabhie, Silsila, Chandni
and even the fun
Dil To Pagal Hai.

Little details were revealed to us — in small portions. The new film was being shot in London, in Kashmir. The press was even allowed to be present at the shoot in Kashmir to get a glimpse of Khan's unshaven look. We saw videos of the songs —
Challa, Saans
and others. And as always there were heated debates among music critics and regular fans on whether or not Rahman was in his best form this time.
Then came two major announcements — that the film would be called
Jab Tak Hai Jaan
(and it took us some time to get used to that title after the early shock that it reminded us of Hema Malini's desperate dance for Amjad Khan's Gabbar Singh in
Sholay
) and Chopra added that this would be his final film.
Oh no, cried out the fans. How could that be possible? Where else would we find the good-natured gentle romantic films? All that changed October 21. That day at lunch with a small group of visiting journalists for the Mumbai Film Festival, I asked our host Amit Khanna, chairman, Reliance Big Industry, how Chopra was doing? The director who had recently turned 80 was in hospital being treated for dengue fever. Khanna told us he believed Chopra was recovering.
That evening the news broke out — on the Internet and social media sites, Chopra had died. What a shock that was. For over a year we were anticipating the good filmmaker's new movie and then suddenly he was gone. Indeed
JTHJ
would be his last film and it would signal the end of era in Bollywood.
Chopra's sudden death has changed the game. The only other time one can remember a director passing on before the release of his last film was in 1999. The Hollywood master Stanley Kubrick suddenly died in March of that year, four months before the release of his film Eyes Wide Shut.
Now JTHJ is not just another film from the grand master. It is not just a Diwali film with Khan (remember last year he gave the equally anticipated, but a dud —
Ra.One
). Fans of Chopra's cinema will now go see the film in theaters as their tribute to him, their way of thanking him for his decades of gifts of pure entertainment.
No one knows how good
JTHJ
will be. All the promos, the songs, the striking look of Khan and his co-stars Katrina Kaif and Anushka Sharma do not still make the film good. For that we will have to wait for Diwali day. But like many of Chopra fans I really want to like the film, to be transported into the unreal but very appealing world of romance that only good Bollywood filmmakers can do so well. I sure hope the film is good.