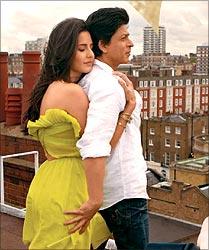 Yash Chopra definitely knew how to entertain, writes Aseem Chhabra.

A Bollywood giant, father figure to many stars and a man who defined romance for generations has left us.

Yash Chopra's death is a personal loss to his family, friends and colleagues. But as India marks 100 years of its cinema, the nation has lost a man whose career spanned half a century of filmmaking.

He was the symbol of our popular culture, a man who played a substantial role in how Hindi language cinema has shaped out as a medium of entertainment. I do not say this lightly, but his death is truly the end of an era for Bollywood.

Twenty-two films over 53 years, Chopra started his career as a director with a Rajendra Kumar, Mala Sinha and Nanda film Dhool Ka Phool (1959). His final film Jab Tak Hai Jaan, stars two of the youngest faces of Bollywood -- Katrina Kaif and Anushka Sharma, along with Chopra's favourite superstar Shah Rukh Khan.

That is such a long journey, and a remarkable one too. 
There were themes that Chopra explored often -- social dramas Trishul (1978) and Deewar (1975), reflecting the anger in the society in the 1970s, helped with tight dramatic scripts by Salim-Javed and the towering performances of Amitabh Bachchan, aided with Shashi Kapoor and Sanjeev Kumar.
Then, there was the romance of his adult characters, who made difficult, sometimes wrong choices in films like Daag (1973), Kabhi Kabhie (1976), Silsala (1981), Veer-Zaara (2004), and the candy floss entertainer Dil To Pagal Hai (1997), where Karisma Kapoor's and Madhuri Dixit's characters competed for the love of a choreographer played by SRK.
And then, there were his early works which became trail blazers of Hindi cinema -- the song-less thriller Ittefaq (1969), the first multi-star drama, Waqt (1965), and Dharamputra (1961), the rare popular film that explored Hindi-Muslim unity in post-independence India.

Other than perhaps in Dhool Ka Phool and Dharamputra, Chopra never showed interests in becoming a social realist like Raj Kapoor, whose early works found a healthy balance between social commentary and musical entertainment.

Chopra never set out to change the world but he definitely knew how to entertain. His legacy remains in taking us into the magical realm of popular cinema, where dreams, romance and heartache played on beautiful locations (often the scenic Europe), where beautiful actresses (Sridevi, Madhuri Dixit, Rekha) wore chiffon saris and ran around rolling hills or in the middle of fields of tulips, lip syncing to Lata Mangeshkar's voice, along with the good looking popular male stars of the time.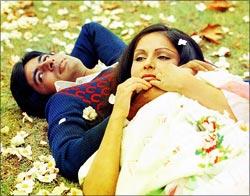 More than anything else, it was the songs that defined Chopra's films. I interviewed him 10 years ago on the occasion of his 70th birthday and he mentioned that the title song from Kabhi Kabhie might have been his all-time favourite. 

'There are two versions of the song,' he had said. 'It was originally written for a book recital but it came off very well as a thought. It was a new concept and the song has become immortal.'
And he added: 'I always say I would like to die with a good song.'
I do not know what song was playing in Chopra's mind as he was struggling with dengue fever in a hospital in Mumbai but there are many that I have been thinking of since I learned about his death.
The list seems endless and these are personal choices, but among my favourites are
Bhool Sakta Hai Bhala Kaun
(
Dharamputra
),
Aye Meri Zohra Jabeen
(
Waqt
),
Mere Dil Main Aaj
Kya Hai
(
Daag
),
Kabhi Kabhie (Kabhi Kabhie), Yeh Kahan Aa Gaye Hum
and
Dekha Ek Khawab To (Silsila
),
Lagi Aaj Sawan Ki
(
Chandini
),
Jaadu Teri Nazar
(
Darr
),
Koi Ladki Hai
(
Dil To Pagal Hai
), and 
Tere Liye, Do Pal
and
Main Yahan Hoon (Veer-Zaara).
I believe when great men and women leave us after living rich and full lives, we should celebrate them with the memories they gave us. Chopra has given a lifetime of entertainment -- films and songs that will always make us smile.
'I like to make films and I always think about films,' Chopra told me in the same interview. 'We started this journey and it has been a very interesting one. I always look forward. Never look back.'
There is still one part of his journey we will visit soon when
Jab Tak Hai Jaan
releases on November 13.