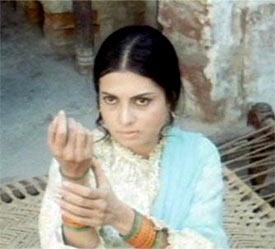 There is so much goodness in Garm Hava, says Aseem Chhabra/ Rediff.com
There are few films that speak about the India that our founding fathers wanted to build and the ordinary citizens whose lives shaped the country's destiny.
Among those films MS Sathyu's Garm Hava stands tall.
Based on a short story by Ismat Chughtai, a master at capturing Muslim lives in her stories, and a screenplay by Kaifi Azmi and Shama Zaidi, the 1974 film (yes, it is 40 years old) is an iconic piece of work to understand post-independent India, much more so than Richard Attenborough's slightly over-inflated Gandhi.
Garm Hava has been out of circulation for a long while, although a poor quality print was available on YouTube. So it is remarkable that some thoughtful business people have digitally restored the film.
The new version was shown at the International Film Festival of India in Goa in 2012 and I had the opportunity to schedule it last year at the New York Indian Film Festival, as part of the celebrations to mark 100 years of Indian cinema.
Now the good people at PVR are giving Garm Hava a limited re-release. There are only a few daily shows in Delhi, Mumbai, Bangalore, Pune, Allahabad and Lucknow.
It is essential for film lovers and students of India's tryst with destiny to experience this poignant drama about Salim Mirza (played by Balraj Sahini) and his family.
There is so much goodness in Garm Hava.
It is Sahini's last and most gentle performance, and the crowning jewel in his illustrious acting career.
The film also has a strong supporting cast in Shaukat Azmi (Shabana Azmi's mother), the woman who holds her small family together despite devastating tragedies; a young Farooque Shaikh, playing his first film role for which he was paid Rs 750; a likable AK Hangal, and a charming Jalal Agha, whose selfish acts lead to deep sadness in the Mirza family.
Kaifi Azmi and Shama Zaidi's script is also replete with humour -- an old lady who refuses to leave her ancestral house, and a little boy who wonders if he will be able to fly kites in Pakistan, the new nation his parents plan to take him to.
And then there is one of the best qawallis I have heard in my life. Maula Salim Chisti is performed by Aziz Ahmed Khan Warsi, in the dramatic setting of Fatehpur Sikri. The lyrics are powerful and heartbreaking, especially this line Har dard humne apna, apne se hee chupaya (Every pain of mine, I even hid from myself).
I have too many personal associations with Garm Hava. I have seen the film at least four or five times. I loved the qawalli so much that I spent many years trying to get a copy of it from HMV/SaReGaMa and music stores in Delhi and Mumbai. I now have an MP3 version of the qawalli on my laptop, thanks to the kind folks who restored the film.
The film was very important to my parents -- they arrived in Delhi in 1947 as refugees after witnessing horrible tragedies of the Partition. Garm Hava re-asserted their faith in a secular India that Jawaharlal Nehru had promised and a destiny of the country they believed in.
Coincidentally, a few years ago my son did a paper on the film for a class he took on Islam in India up to the Partition -- part of his undergraduate coursework at McGill University in Montreal.
Much of my own political understanding about the independent India that I was born in, and my strong belief that the Muslims who chose to stay back in the country, were partners in building the modern nation, was informed by Garm Hava.
Salim Mirza's family and the choice they make in the end of the film helped me relate to all of India's minorities in a way that no other life experience would give me an opportunity to.
A couple of days ago, filmmaker Hansal Mehta, director of last year's critical hit Shahid, posted this tweet about the film: 'Garm Hava reinforces the need to understand our history rather than live in denial or even worse hang on to a distorted version of it.'
Mehta's words say it all. If one needs to understand the real India then one should definitely see Garm Hava.