'No Indian citizen should be humiliated by the US authorities.'
'And Shah Rukh Khan happens to be one of India's most well known citizens,' says Aseem Chhabra.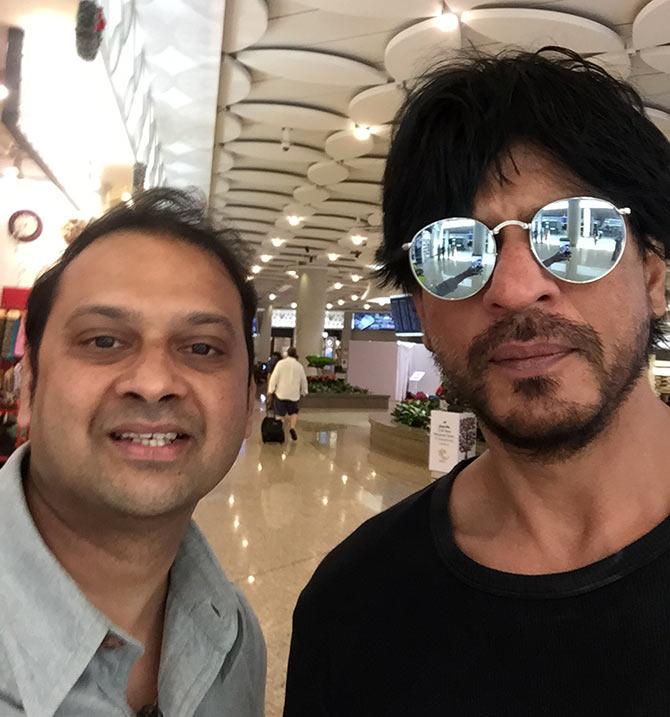 IMAGE: If only American airports were as welcoming for SRK as Mumbai's Chhatrapati Shivaji airport.
The superstar seen here in January with reader Prashanth Raghavendra, who sent Rediff.com the selfie for our Spotted section.
It happened again.
Shah Rukh Khan landed at the Los Angeles International Airport and when he got into the immigration line the system flagged his name and he was held up for further questioning.
It is not known how long Shah Rukh was stopped at the airport. The only information about this happening was a tweet by the Bollywood star where he acknowledged that he understood the need for security considering the world we live in.
He then added, 'but to be detained at US immigration every damn time really really sucks.'
I feel for Shah Rukh Khan, and more so because as a US citizen I hope that my country will be fair to all visitors. It is known that in the post-9/11 scenario US immigration officers have become extra vigilant.
And I am ashamed to state something else. It is widely believed that they often tend to single out people with Muslim sounding names.
This is at least the fourth time Shah Rukh Khan has been held up for extra questioning at a US airport. And the irony is that after each such incident he has been allowed to enter the US.
He was stopped once when he landed at the Newark Liberty International Airport as he headed to Chicago for an event.
Reports then indicated that he was held at the airport for approximately two hours. At that time a spokesperson for the immigration services told me he was stopped for a 'routine' check and it lasted less than an hour.
Another time Shah Rukh was traveling to Los Angles from London, when he stopped to switch flights in Toronto. Visitors entering the US via Toronto have to go through immigration check up at the Canadian city's airport. And so Shah Rukh was stopped there.
And in April 2012 when Shah Rukh was invited to speak at Yale University, he was questioned for an extended period of time at the Westchester County Airport.
It is unfortunate that a person traveling to the US after a long trip has to spend time answering questions from immigration officers, who often appear to be rude or abrupt. But to be stopped four times crosses the line.
People have speculated about why Shah Rukh may have been stopped so many times. Some friends have suggested that perhaps his name matches that of another person on the US immigration watch list. To me this is conjecture.
What I am surprised about is that the Indian government and the Indian embassy in Washington, DC have not dealt with this issue in the past. No Indian citizen should be humiliated by the US authorities. And Shah Rukh Khan happens to be one of India's most well known citizens.
After the news of Shah Rukh being held up at LA airport broke out, former Indian ambassador to the US Nirupama Rao said in a tweet: 'I don't think we can question the customs and border protection laws of any sovereign country. Live and learn.'
I know Rao and I respect her. But I beg to differ with her. I think it is precisely the Indian embassy's responsibility to raise this question with the State Department, as well as the Department of Homeland Security and ask why its Citizenship and Immigration Services group has singled out Shah Rukh Khan so many times.
It should be the role and responsibility of the Indian embassy, the Indian ambassador and India's external affairs minister to take up cases of Indian citizens, especially when it is an exceptional situation.
Earlier this week, India's External Affairs Minister Sushma Swaraj responded to a tweet by a man whose new wife had lost her passport, so she could not accompany him on their honeymoon. Swaraj suggested she would step in to help the couple. In the last two years she has helped out countless Indians stranded in different countries.
I do not know what Shah Rukh Khan's politics are or what party he votes for. But he is an Indian citizen. Swaraj and her government have to explain to the US authorities that this is perhaps a case of mistaken identity.
Shah Rukh Khan is an actor and as far as it is known, he is a resposibile citizen of India. It is really ridiculous that he is singled out each time he tries to enter the US.
PS: I just saw this tweet from Assistant Secretary of State Nisha Desai Biswal: 'Sorry for the hassle at the airport, @iamsrk - even American diplomats get pulled for extra screening!'
I don't know if this is an official apology, but Nisha is of Indian origin and she knows who SRK is!
Aseem Chhabra has lived in America for 35 years.