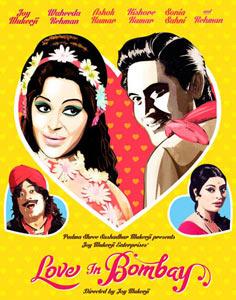 Love In Bombay is a piece of history, a fragment of a time that was. Letting us gaze at it is a great idea. Expecting it to compete with films shot six months ago, on the other hand, is dead wrong, writes Raja Sen.

A few years ago, Shaan returned to theatres.

The year was 2005, and Ramesh Sippy's follow-up to Sholay had just turned 25.

Twenty-five, it must be noted, is a number that -- in terms of how badly films get dated -- is invariably drinking-game age for all movies that aren't classics. And Shaan was no classic.

Don't get me wrong, it has a killer soundtrack, memorable scenes, two great leading men riffing off each other with tremendous expertise -- but it fell several leagues too short. Not least because Sippy, who had saluted the Western so magnificently in his last film Sholay, was gunning this time for a Bond film.

This, alas, proved far too ambitious.


When watching it on television, the seams show -- and laughably so.

Kulbhushan Kharbanda's Shakaal is, for instance, menacing enough as a Blofeld-ian villain but behind him swim, in a gloriously tacky special effect, tiny aquarium fish blown up to the size of sharks.

There's also the beggar song with the worst chromakey in history, and the Sunil Dutt death scene where he's running hysterically frightened on a beach, chased down not by a pack of rabid rottweilers but by adorable beagle puppies. It is a most enjoyable film, without question, but only as the guiltiest of pleasures, and watching a cheese-fest stretched across a giant screen makes the aforementioned seams look larger than fences. The re-release was a terrible idea.

Last week, a film hit theatres called Love In Bombay, 42 years after it was first made. 1971 was a big year for the movies, the year of A Clockwork Orange and The French Connection, the year of Anand and Hare Rama Hare Krishna. Somewhere in the middle of this year, Joy Mukherjee spent a then-astronomical sum of money producing (and directing and starring in) a film called Love In Bombay.

Mukherjee, 32, was staring redundancy in the face. A charming fellow, he had coaxed a successful career as a romantic hero out of his sheer affability. He was Mr Nice -- with the sunniest first-name of them all -- and while that worked well for him through the sixties, major roles dried up as that decade winded down and edgier leading men started taking over the marquee.
In a bid to capture the good-natured shenanigans of his 1960 debut Love In Simla and 1966 hit Love In Tokyo, Mukherjee embarked on Love In Bombay, a film he produced and directed himself. Owing to the vagaries of the movie distribution process, this film didn't release. Until last Friday, a year after Mukherjee passed away.

Now, Love In Bombay is a film that -- if you ran into on TV at the sort of hour when most channels are only showing infomercials selling miracle products -- you might well smile at. It is a goofy film involving a shipwreck, loony lovers, Waheeda Rehman dancing on a scarlet sportscar, strange villains, stentorian fathers and the inimitable Rajendra Nath.
There is all this, yes, but there is also a bad script -- one that criminally wastes the talents of Kishore Kumar -- and direction that lacks in finesse. It isn't the breeze it should be, and while that just makes the film an unremarkable period oddity to point and laugh at on TV, the light of the big screen is much harsher.

Mukherjee's film made it to theatres because his sons Sujoy and Munjoy found the old reels, digitally scrubbed them up, and in salute to their dear father, realised his dream of that film releasing in theatres. Bravo. But the late actor's memory might have been better served by re-releasing his hits, films that were cherished and loved in their time instead of a film made important purely by dint of nobody having seen it. Alternatively, if Love In Bombay was to be highlighted, it could have been taken to TV directly. There could have been some advance screenings (or DVDs sent out) so the press could talk it up, provide some context in which to consume the film.

Or, better still, it could have been exhibited at a one-time special screening, all nice and glitzy with the film fraternity turning up in support. There would have been applause and smiles and sharing of memories, all in fond tribute.

So much better than empty seats and cancelled shows.

Love In Bombay is a curio, a piece of history, a fragment of a time that was. Letting us gaze at it is a great idea. Expecting it to compete with films shot six months ago, on the other hand, is dead wrong. And having tickets with their stubs intact is just heartbreaking.